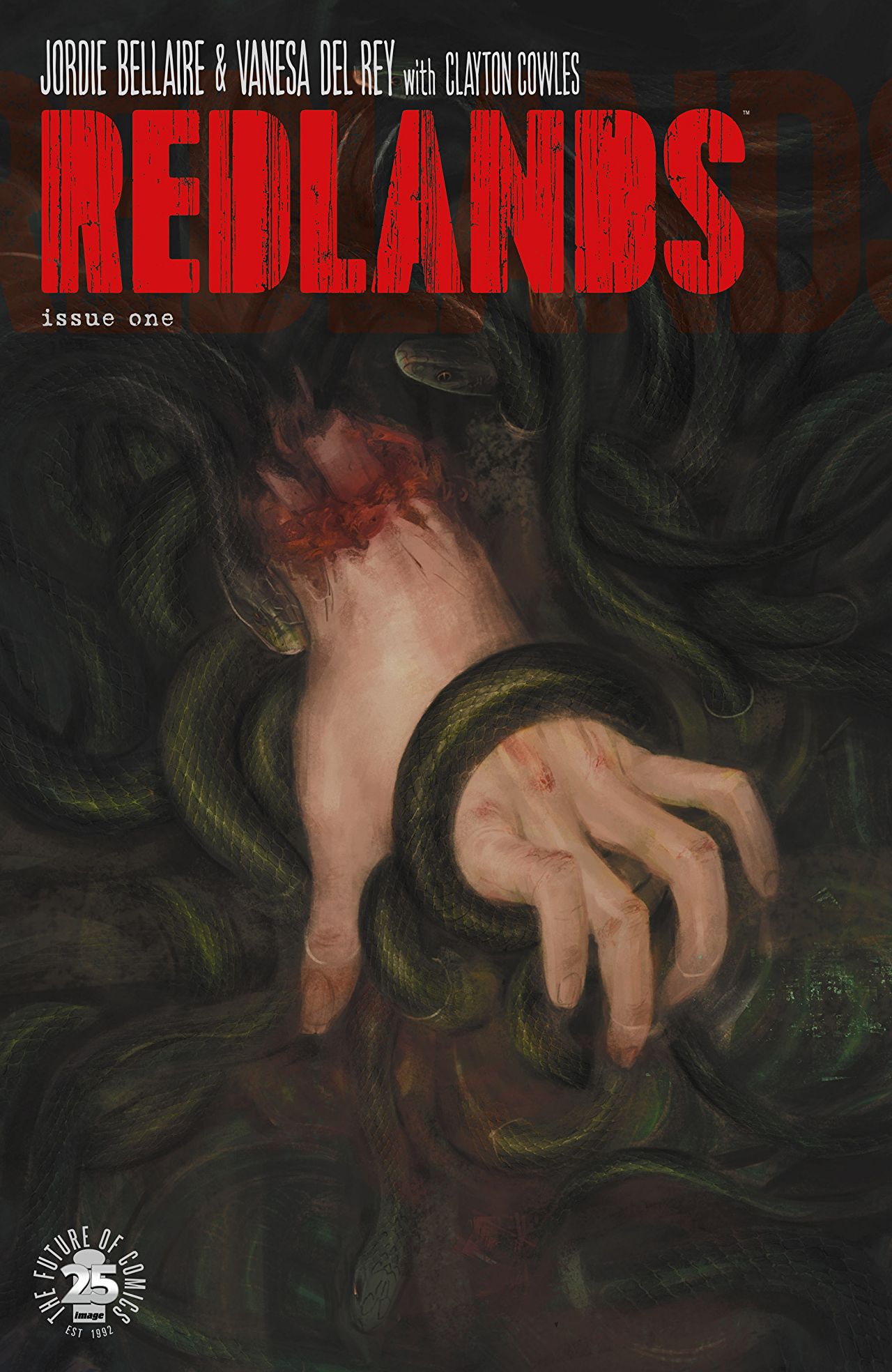 Author: Jordie Bellaire
Artists: Vanessa R. Del Rey
Release Date: August 9, 2017
Publisher: Image Comics
Genre: Supernatural horror


Rating:

Jordie Bellaire has become one of the most iconic creators at modern day Image Comics, a multiple Eisner award winner who has practically created a new look for superhero and independent books alike. She's a master of moody, unexpected splashes of color, with everything from the sharp absolute whites and complementing reds, golds and greens of Moon Knight to the psychedelic retro-sci-fi of Nowhere Men to the washed-out twisted take on the suburban aesthetics of The Vision. She's rarely been the one writing the story though.

Redlands #1 written and colored by Bellaire and drawn by artist Vanessa R. Del Rey is an all attitude approach to horror and it vastly works. The debut issue takes us to the eponymous Redlands, where a group of police holds off a desperate assault from mostly unseen supernatural forces, who slowly but surely slaughter their way through a group of modern-day witch hunters.

What works best is the visuals. Bellaire colors Del Rey here, using a very limited, almost page-specific color palette that renders figures and violence in sickly detail. The scene where Skip confronts the imprisoned inmates is rendered in a nauseating green that sells the eerie nature of the witch's assault.

Likewise, a scene where one of the witch's brood sows chaos from the inside erupts into evocative blood red crimson. It's a smart, fascinating approach to gut-wrenching violence, showcasing what the coven at the story's center is capable of, even when they're not on panel.

What's less successful is, well, the story and dialogue itself. Most of the story is communicated in short, clipped dialogue, meant to establish tone more than setting and character. The central characters of the series, witches Alice, Ro, and Bridget, are only briefly named and established, with their motives and history barely explained.

Some of that comes down to spending so much of the issue detailing carnage but the tradeoff is how little there is to grab onto here. It's interesting to hear why the coven has done what it's done but by issue's end, I'm not sure if that's enough make me to want to know what they do next.

Redlands #1 feels like a first issue in a lot of ways, both as the debut of a new story and a first major writing job for Bellaire. It's a debut full of enticing moments and exciting sequences but the connecting tissue between those scenes just isn't quite there. That's a problem that could right itself as the series' central thesis crystalizes.