San Diego Comic Con attendees couldn't turn one way or the other at the convention this year without finding some type of Mr. Mercedes promotion going on. From public busses that played haunting ice cream music, to the panel inside the convention center, to the Petco Interactive Zone where said ice cream was actually handed out, Mr. Mercedes made sure that everyone knew they were there.
Based on a Stephen King novel of the same name, which starts the Bill Hodges trilogy, the limited series premieres its ten-episode run on Audience Network August 9! When a psychopath, Brady Hartsfield as played by Harry Treadaway, begins taunting a retired detective, the titular Bill Hodges played by Brendan Gleeson, over an unsolved case where someone drove their Mercedes into a crowd, he's forced to come out of retirement to solve the last lingering case that still haunts his career.
During the day, Hartsfield works two jobs as an employee at an electronics store and as an ice cream man, who is charismatic and loved by kids – which explains all of the free ice cream they were handing out all weekend. Seriously, the ice cream was great for the weather and I probably made four meals out of ice cream bars alone.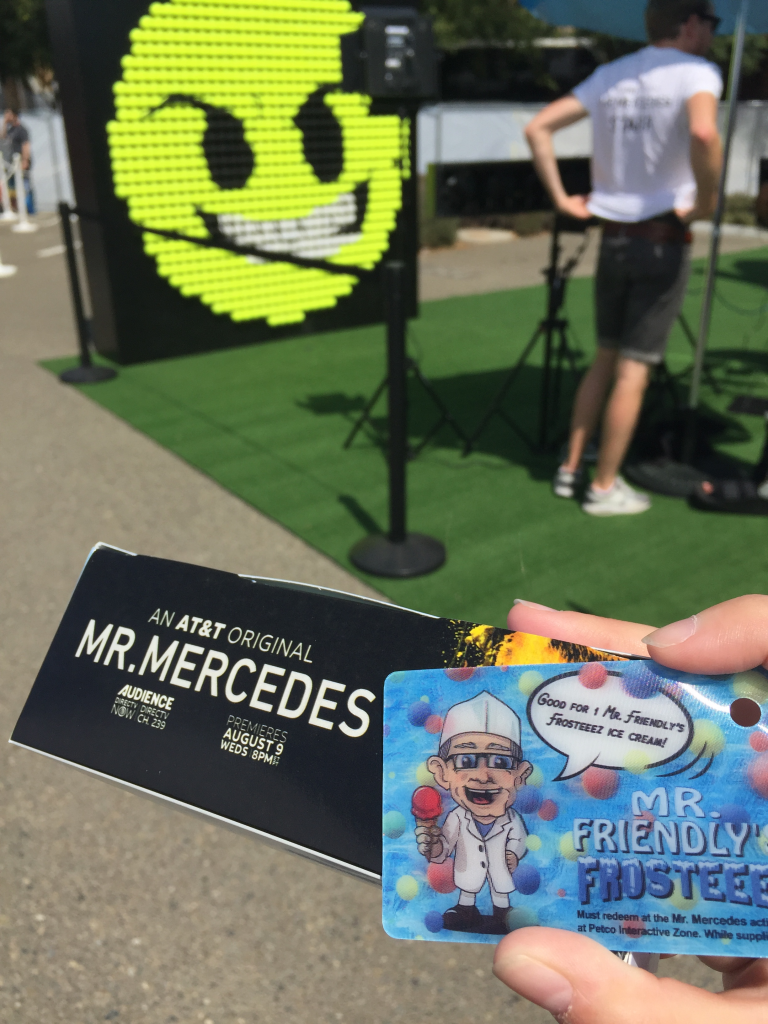 The show promises to be a dark, emotional, and unapologetic look at the monsters within people and what drives them. Fans of hard-boiled detective novels and Stephen King's writing will not be disappointed.
At the convention itself, Mr. Mercedes held a panel in one of the smaller rooms – which, if rumors on Twitter are to be believed, was packed to the brim with plenty of eager fans still awaiting entry by the time the panel started. It's unfortunate that Comic Con International didn't plan for a larger turnout for this limited series show and surprising given the names attached to the project.
Mr. Mercedes is Stephen King's first foray into the detective crime drama and it was a project doggedly pursued by Jack Bender (The Sopranos, Game of Thrones) for adaptation onto the small screen. Add David E. Kelly's name into the mix and the behind-the-scenes talent is already dynamite. On screen, Brendan Gleeson should be a household name with parts in the Harry Potter franchise and films like In Bruges.
Like many others, we unfortunately missed out on the panel, which included a Q&A with the cast and crew and some exclusive sneak previews, but we were able to sit down during the press roundtable interviews and talk with them about the show. Their passion for the show and dedication to making it great was infectious and made us that much more excited to see the final product!
Outside of the convention center, Mr. Mercedes sponsored the Wired Cafe this year and, though it was in an exclusive area, they created an opportunity for fans of the show to win a Friday morning brunch in that space – which we were fortunate enough to attend.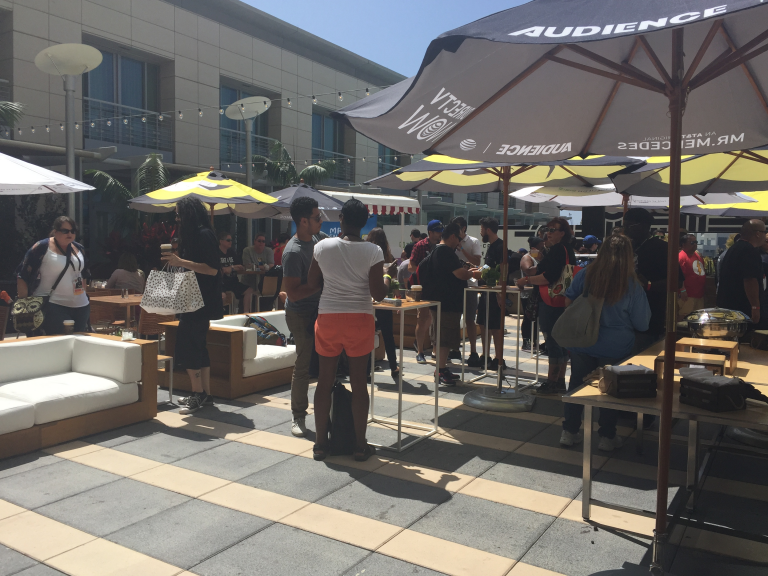 After entering a lottery, which was only open for a short time and on a nightmare website from the past that fits in with the show's timeline nicely, fans who won were notified of their luck and also received surprises in the mail. A handwritten envelope emblazoned with winners' names went directly to their homes and included a letter from Mr. Mercedes himself and a popsicle stick branded with the show title. It was suitably unsettling and thrilling.
Once winners got to the Wired Cafe, displays for the television show, including a desk that reflected the watcher's image back on them and screens that advertised the show were set up before a buffet of breakfast foods were put on display. The food was plentiful and quickly replenished even if the lines were a little slow from people toasting bagels.
There were also free drinks, free ice cream bars, and an exclusive pin that read 'Chaos' and was one of five that could be collected throughout San Diego Comic Con by interacting with various Mr. Mercedes things. It was a relaxing way to spend Friday morning and was topped off with an exclusive clip from the show especially for brunch winners.
But those who didn't win the contest could have nearly the same experience (minus the free drinks and breakfast foods) in the Petco Interactive Zone, where a t-shirt making station, a photo op, and a prize vending machine were all set up to promote the show. It was also where the stationary ice cream truck was giving out free ice cream to anyone who participated in any of those activities.
Fans could choose the color and design of their Mr. Mercedes shirt and have it screen-printed on site especially for them, which was an extra special way to get fans excited about the series. None of us need another black shirt that doesn't fit, but everyone could use a grey one with a menacing, melting ice cream cone, right?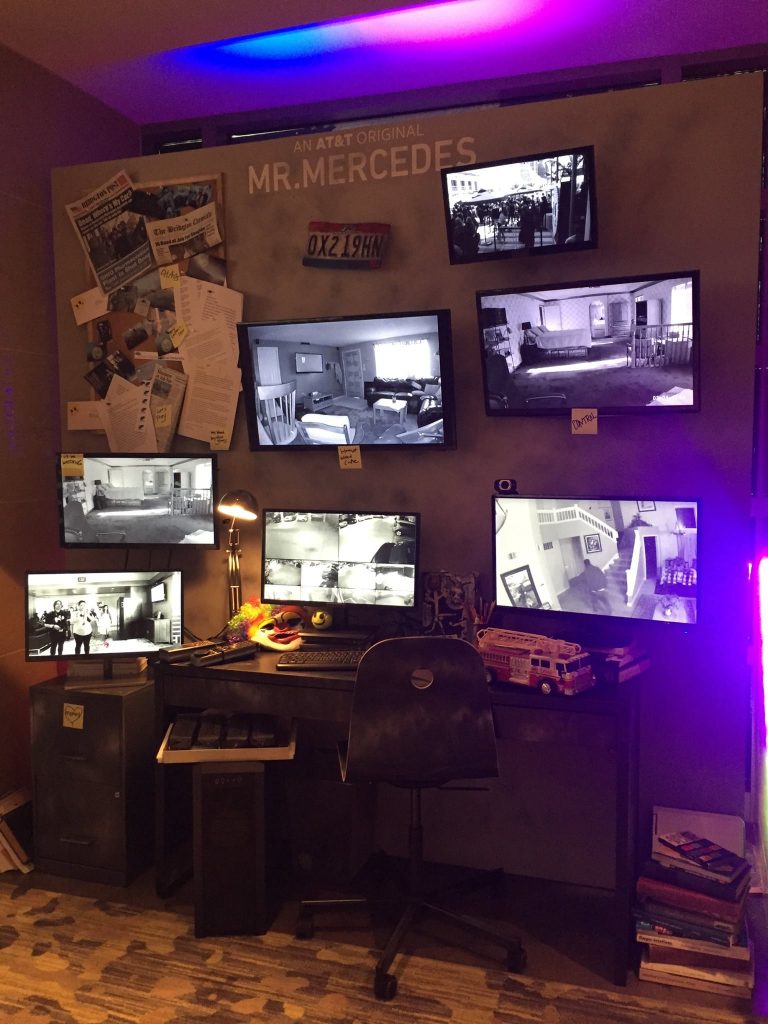 The photo op was a 3-D rendering behind the backdrop of a bright yellow smiley face that is a part of the Mr. Mercedes mythos and the prize vending machine was filled with all sorts of branded things like fidget spinners and pins. Doing the activities in the Interactive Zone would also earn you pins and there were five total to collect.
And if you somehow missed all of that, there were ice cream men and women dressed up, roaming around the Gaslamp area and outside of the Hilton Bayfront with giant yellow balloons handing out pins and ice cream vouchers, encouraging people to watch Mr. Mercedes.
Ultimately, throughout the weekend, San Diego Comic Con attendees and fans were introduced to the world of Mr. Mercedes with great experiences, fun opportunities to make memories at the event, and amazing swag that's not going into the junk drawer any time soon. It was definitely the most memorable and thorough convention-takeover in recent years that has gotten us extremely hyped for the show to premiere!