A REVIEW COPY OF DEFY THE STARS WAS PROVIDED BY THE PUBLISHER IN EXCHANGE FOR A FAIR AND HONEST REVIEW. NERDOPHILES WAS NOT COMPENSATED FOR THIS REVIEW. OUR OPINIONS ARE OURS AND OURS ALONE.

Defy the Stars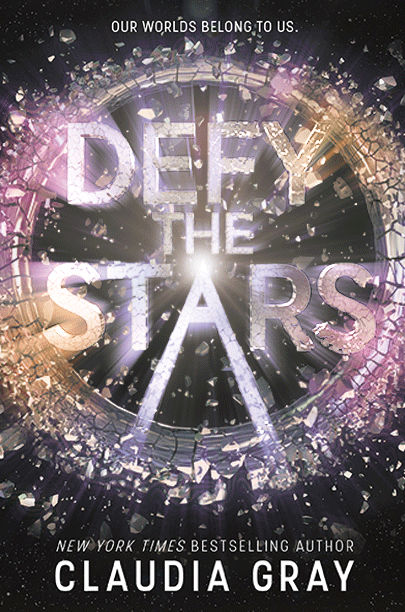 Author: Claudia Gray
Series: Defy the Stars #1
Release Date: April 4, 2017
Publisher: Little, Brown BFYR
Review Spoilers: Low
GoodReads | Amazon

Defy the Stars
has been one of our most anticipated upcoming releases for a while now. About a year and a half ago
we sat down with the author, Claudia Gray
, to talk about the book and ever since then we've been waiting anxiously for the book's release. Thankfully, the wait is finally over!
Claudia Gray has been one of my favorite young adult authors since I came across A Thousand Pieces of You, the first in her Firebird trilogy. But in the last couple of years she has also become one of my favorite Star Wars authors – and easily my favorite author working on the new Star Wars canon. Her book, Lost Stars, is one of the best Star Wars books ever written and Star Wars: Bloodline was a phenomenal read that set the stage for the events leading up The Force Awakens.
In Defy the Stars Claudia Gray gets the chance to create her own, vast science fiction universe.
She envisions a stark future where mankind is spread across the stars, fleeing their homeworld for a series of worlds ill-suited to support all of humanity. The only world that can is Genesis – and the people that went there first aren't too keen on watching their brethren destroy this new world the same way they did Earth.
Defy the Stars follows two characters as they navigate this future and the challenges it brings. Noemi is a young soldier from Genesis who is ready to sacrifice her life to destroy the gate that brings a continuous stream of Earth mechs to her world intent on slaughtering those who resist. Abel, on the other hand, is one of those mechs. Abandoned decades earlier in a skirmish between Earth and Genesis forces he's the most advanced mech ever created. In many ways, he's almost human.
Abel's budding humanity is a huge part of the story. While he's essentially 'just a machine' as far as Noemi is concerned at first, she learns that there's much more to him as they travel together. She concocts a great plan to use Abel to save her people but it would mean sacrificing him. When he's just a machine to her, that's an easy decision to make. When he's something else? It's not quite so easy.
Noemi's mission to save Genesis leads her and Abel on a journey across the galaxy to many of the other human colonized worlds. It also forces them to rely on one another and the others they meet. In doing so Noemi's plans for Abel and her assumptions about him are challenged.
While Abel has certain programs that force him to obey Noemi, he also has his own thoughts and dreams. He has his own motivations. As one of our POV characters we're intimately aware of just how human Abel might be. It's just as strange and exciting a concept for him and Claudia Gray does a phenomenal job of working through all of the emotions that come with it – especially those that grow and develop as Noemi and Abel come closer together and their relationship evolves.
As someone who has never gotten quite drawn into the romances in young adult fiction – as an adult or as a teenager years ago – I love the way Claudia Gray characterizes and develops her relationships. While they often move quickly (as is the nature of romance in most novels) they always feel somewhat unique. Defy the Stars is no different and, after reading the first book, I immediately need the next two to see where things go with Abel and Noemi.
One of the great things about Defy the Stars is how much it focuses on developing the characters in addition to Noemi's larger mission and the world building as a whole. Now, admittedly, it makes the read much longer than it might have been if she had focused a little less on one area or the other. But Claudia Gray is a fantastic author and she knows exactly how to string everything together.
Each step of Noemi and Abel's story flows easily into the next. The people we meet are just as developed as you could hope, while still leaving potential for them to reappear and grow in future books. While some of the worlds that Claudia Gray created fall into the same homogenous culture and climate clichés as many Star Trek/Star Wars planets, the cultures that she creates to go along with each are unique and engaging. You understand why the people of Stronghold are the way they are. And the sacrifices of the kids taken to Cray cuts just as deep for readers as it does those characters.
Defy the Stars is a book that tackles tough issues. The timely, difficult topics of environmentalism and the clash between technology and nature are obvious in Genesis' plight and worldview. We're asked difficult questions about just how the future potential of artificial intelligence. And yet we're still also left with a captivating story about two young people – one human and one not quite machine.
What most of you are here wondering is simple: should you read this book or not?
From the four-and-a-half star rating at the beginning of this review you can probably guess that my answer is yes. If you love young adult romances and science fiction and yearn for a unique, nuanced story then Defy the Stars is the book you've been waiting for. It's engaging, fast-paced, and intricately written. The characters are fleshed out and dynamic; the stakes throughout are incredibly high; and tough questions are asked – often with even tougher answers and revelations.
So, yes, you should read this book when it comes out on April 4th. And you should sit and wait in unending anticipation with me as we wait for the next book in the trilogy to come out sometime next year. Because once you've read this first one, I guarantee you'll be right there with me, anxiously waiting to return to Genesis and the world and characters Claudia Gray has created.