It's the season of giving and we've got Dungeons & Dragons gift ideas for everyone at the table! Check out all of our D&D gift ideas and grab something for every member of your group to show them how thankful you are for them (and their ability to keep a regular gaming schedule… or not!).
Obviously, if you want to play D&D, you're going to need some sort of reference guide for making characters, combat, and a whole host of other things. A Player's Handbook is great to leaf through for inspiration, reference materials, understanding combat, and much more. As an added bonus, it's a fantastic coffee table book to turn curious readers into new players!
Take someone's game to the next level with a fully customized miniature of their character that can be made of plastic (and painted) or a heavier material like steel or bronze. Play around with the settings yourself and gift a fully realized character or get your favorite player a gift card to customize to their heart's content!
For anyone who wants to do a super deep-dive into their character's backstory, this book from James D'amato (of the One Shot podcast network) provides readers with plenty of prompts and activities to come up with plenty of material to build upon and play with as a campaign progresses.
Think outside the box – or rather, the bars – when it comes to giving dice-themed gifts this holiday season. Rather than adding to their dice addiction, pick up a literal dice jail to lock away that critical failure until it learns to behave. Your giftee will be ready the next time someone says, "Put it that d20 in dice jail!"
For the extensive note-taker during every session – or maybe the person who should be taking notes – get them a campaign journal to keep all of their character sheets and reference materials in order. This journal from Arcane Goods includes all of that and more, including grid paper, a DM screen, page dividers, a zipper pouch, and cardholder pages. You can't go wrong with a fancy new campaign journal!
For anyone who wants to scratch the adventuring itch, but can't dedicate the time to a full session or campaign, Wizards of the Coast has you covered with this dungeon-crawl board game that can be played in about an hour with one to five people. Yes, you can even play it solo!
If you know someone who struggles to remember to ready their spells or is always flipping through their reference materials at the last minute looking for how much damage a certain spell causes, get them spellbook cards! There are a bunch of different class-specific decks to choose from and they're a gorgeous way to keep spells at the ready.
Let's be honest, the ultimate gift this holiday season is a subscription to D&D Beyond. It takes all the physical reference materials and homebrew worlds and combines them into an easy-to-access place. Paying for a subscription removes ads and allows for the storage of unlimited character sheets.
If you're a DM this is a great self-gift to celebrate the end of the year. If you're a player, get together with your fellow party members and consider giving this as a gift to your faithful Dungeon Master! Dungeon in a Box comes with everything you need to run a month's worth of D&D content for the low price of $29.50/month. It comes with adventures, maps, terrain, minis, and online access to all of the same content. It has everything you need to wow your players or to gift your DM with new ways to murder you!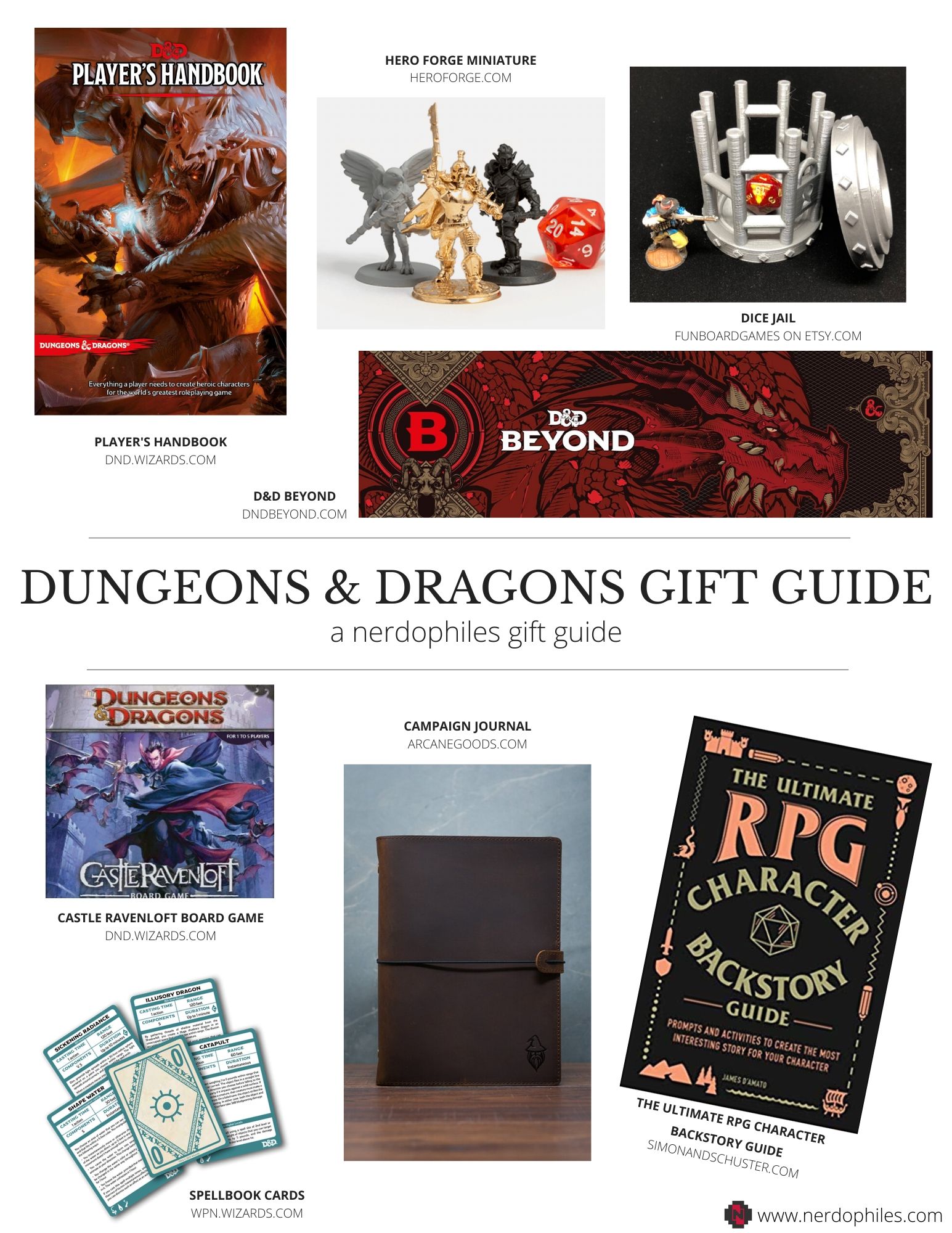 Did you get some good Dungeons & Dragons gift ideas from our guide? If you're feeling particularly crafty, you can even make dice trays for your friends! (An honorable mention goes to Cantrip Candles for setting the campaign mood.) Drop a comment and tell us what you're getting for the players at your table!
And if you're looking to gift a DM specifically, we have the gift guide for that!