This week, Sam's reading Grass Kings from BOOM! Studios, while Kylee has a bunch of Dark Horse titles on her plate: American Gods: Shadows, Briggs Land: Lone Wolves, and Harrow County. Renee rounds out the pull list this week with Ms. Marvel from Marvel comics!
Want to hear more about what we thought about these issues? Read on – and let us know what you thought in the comments below.


Sam's Reads
Grass Kings #7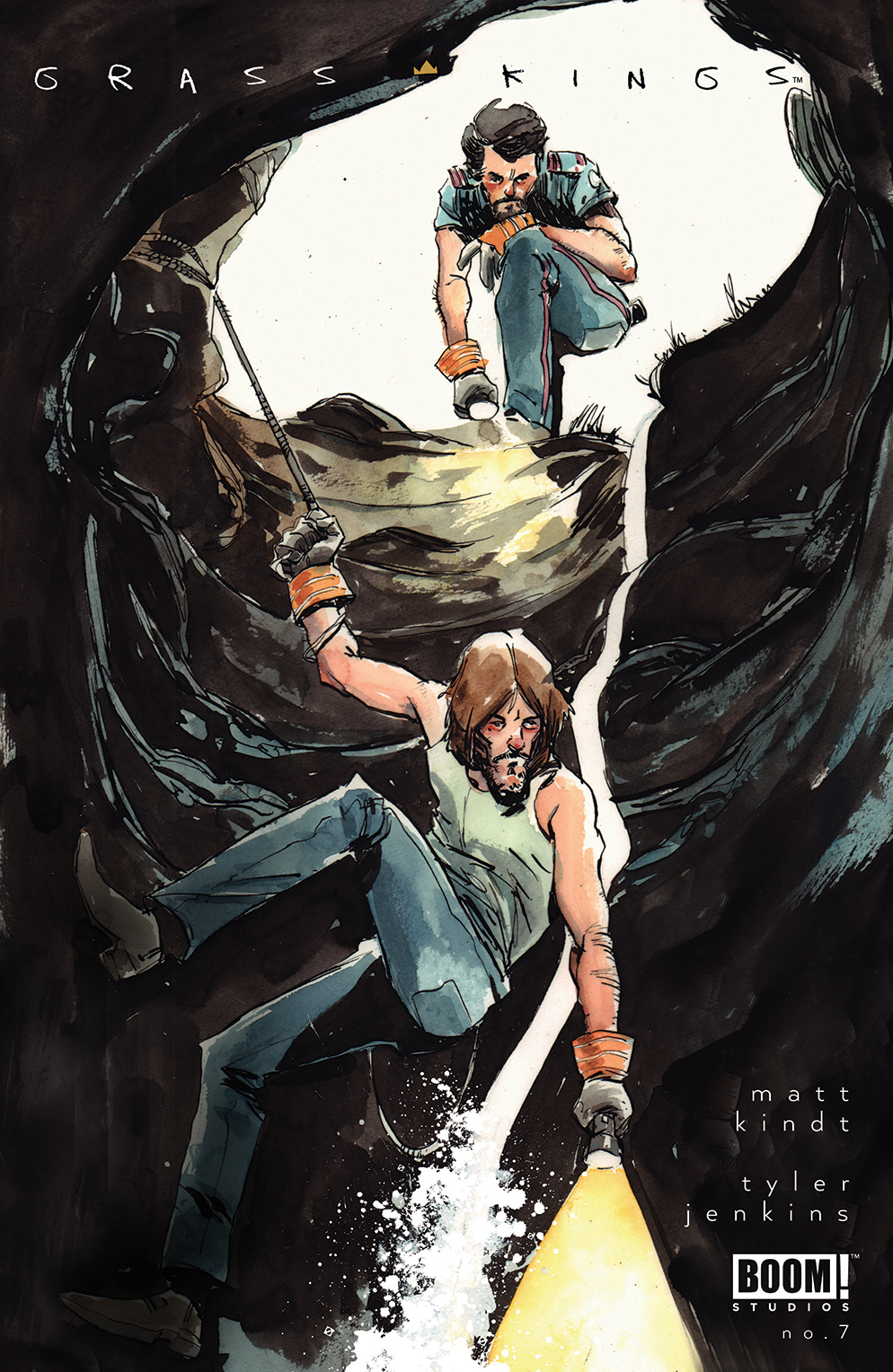 Author: Matt Kindt
Artist: Tyler Jenkins
Publisher:BOOM! Studios
Source: BOOM! Studios DRC
★★★★☆
The shift in storylines continues as Grass Kings delves further into the serial killer murder mystery story it is slowly becoming. After his little talk with Humbert earlier, Bruce approaches Robert about what he's learned about the potential killer in their midst. Together they start to look for answers, starting with a couple of the town's oldest residents. We see some new faces but the issue largely focuses on Hemingway who we have seen before.
Through Hemingway our serial killer gets a name – 'The Thin-Air Killer' – and we start to get some more background to the killer's story. It may not just be murders in the area that are connected to them but also tragedies within the Kingdom itself.
Interestingly, Bruce's backstory may have a lot more to do with the killer than expected. He's always seemed like the more level-headed of the brothers and a good part of that may have to do with the fact that he initially fled the Kingdom. We get to see some of what he did in his life on the outside, his background in law enforcement, and more. In my opinion, this is way more interesting to see than Robert's background in the first part of the series.
The murder storyline as a whole tends to be more compelling than the previous arc. I think it would have been better for the series to have had that plot unfolding concurrently with the troubles between Robert and Humbert. But I understand how it's often important for books to have clean cut arcs every four to six issues. Now that we're going full-steam ahead into this plot, though, we're learning interesting things that are hopefully setting us up for some big reveals down the line.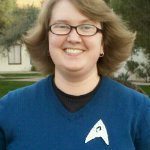 Sam Wildman is a co-founder and co-editor at Nerdophiles. Follow her on Twitter @samaside.


Kylee's Reads
American Gods #7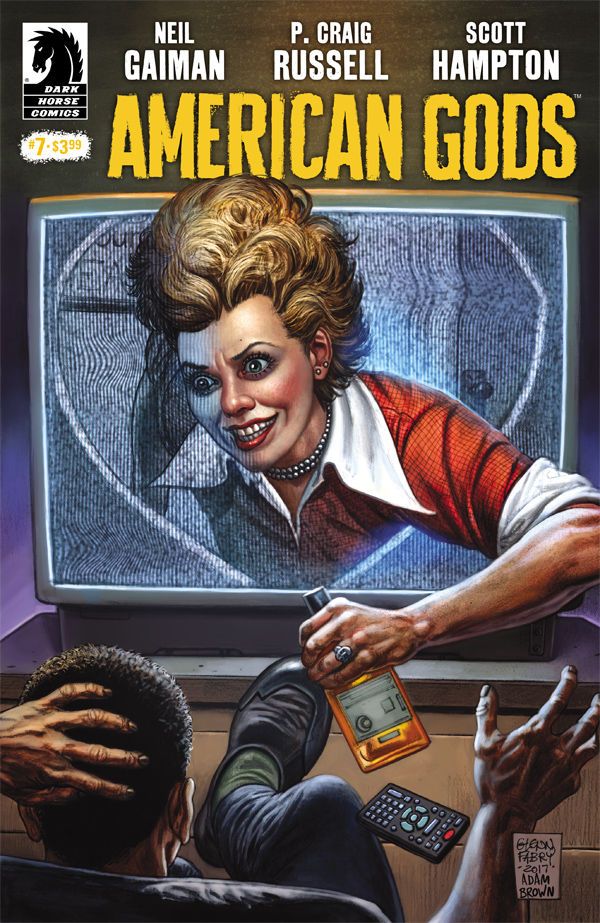 Author: P. Craig Russell, Neil Gaiman
Artist: P. Craig Russell, Scott Hampton
Publisher: Dark Horse Comics
Source: Dark Horse DRC
★★★☆☆
Honestly, I was confused about American Gods: Shadows #7 until I remembered that I quit halfway through reading the previous issue. It was just such a tiring crawl through an absurd amount of text for a comic book. I didn't even lose much of the story as far as I can tell. Now, Shadow's alone on a road trip to meet back up with Mr. Wednesday and it's all very tame, which might be why I enjoyed it.
Always having been the less ostentatious of the two, Shadow's connection to human beings really shines through in this issue. It's the calm before the storm as he buys a car, picks up a hitchhiker, and nonchalantly tunes out one of the new gods. The artwork from Hampton is less fantastical, making a turn for the moody and introspective – much like Shadow himself. It's an ominous issue that gives more insight into Shadow's mindset, while the jokes between him and Girl Sam keep the issue grounded.
This issue of American Gods: Shadows may be my favorite to date. It's amazing what new facets can be explored when time is taken to slow down. Without having to cram more words than necessary onto the pages, the source material is allowed to really breathe.
Briggs Land: Lone Wolves #4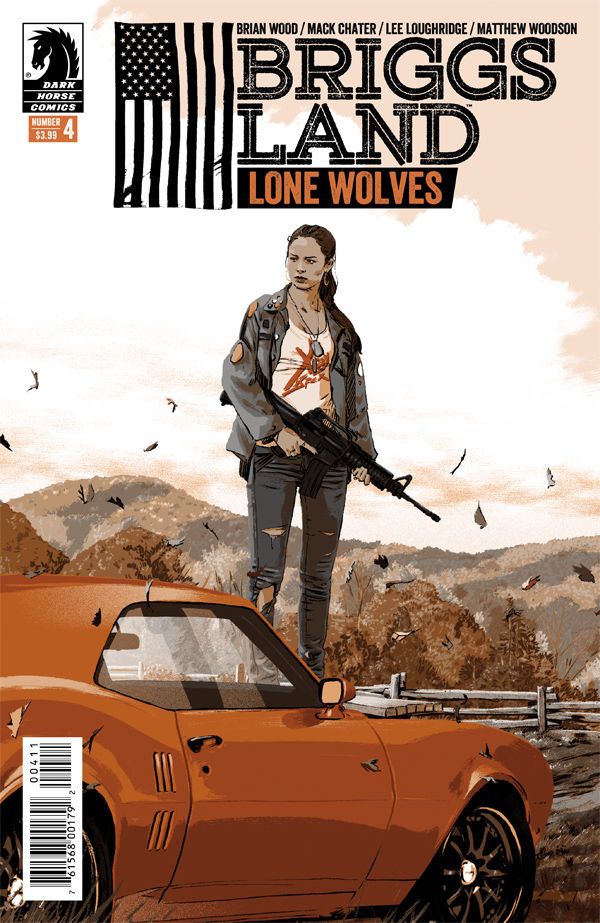 Author: Brian Wood
Artist: Vanessa R. Del Rey
Publisher: Dark Horse Comics
Source: Dark Horse DRC
★★★★☆
After handling the debacle with the outsiders, this issue of Briggs Land: Lone Wolves focuses on an outsider who willingly chose to enter Briggs Land: Abbie Briggs, Noah's wife. Stepping away from the core family and their problems, Abbie is assisting another young resident of Briggs Land with a life-changing and challenging decision.
Their actions take them outside of Briggs Land and give readers a peek behind the curtains at the start contrasts between life on the farm and the outside world. It's a straightforward story with a lot of nuanced details thanks to Brian Wood's writing. His political commentary is as biting as ever, even unapologetically dropping the 'Alt-Right' nomenclature, as Abbie grapples with her old life and the sacrifices she made in order to grow into her new one. Like everything else associated with Briggs Land, there are gray areas.
The most pleasant surprise of this issue was the art by Vanessa R. Del Rey, which gives a more pencilled, sketchy effect and worked fabulously for the setting of the outside world. It was murky and tense, leaning subtly into the fact that Abbie and her charge, Gilly, were certainly doing something the rest of the family wouldn't approve of. Abbie's conflicting emotions also came across strongly in this style and allowed for added pressure.
A quiet step back from the calculated, cunning, and morally gray Briggs family, this issue of Briggs Land: Lone Wolves explored another, equally as tricky gray area. It was an invigorating detour that really proves the creative team has a handle on what they're exploring with this series.
Harrow County #25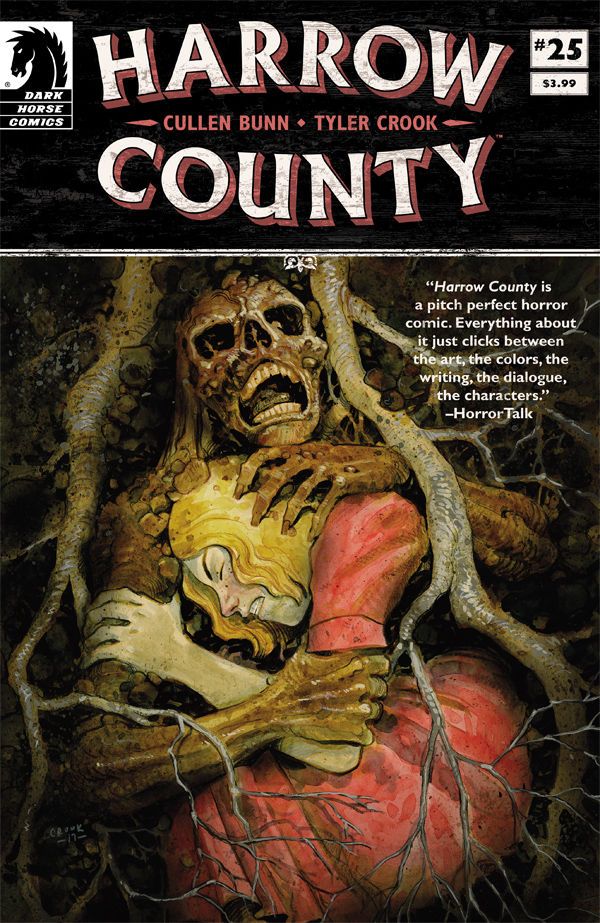 Author: Cullen Bunn
Artist: Tyler Crook
Publisher: Dark Horse Comics
Source: Dark Horse DRC
★★★★★
Without spoiling anything, just know that the creative team really knows how to pack an emotional punch and that I am very sad now.
As Emmy and Bernice prepare for another clash with Emmy's "family," they are preparing just the same – only they bring along a familiar face to skirt some of the ancient rules governing their abilities to harm one another. Malachi provides a dire warning to Emmy, who rushes off too late to stave off heartbreak. Maybe. We'll find out.
Writer Cullen Bunn manages to bring realism to the thoughts and actions of young characters with practiced ease, allowing Emmy and Bernice to really be believable. The dread they feel and the hopelessness, as well as the impending difficulties they're going to face, can be felt throughout the issue. He even manages to cut the heaviness with some comedic banter between Malachi and Bernice.
As always, Tyler Crook manages to leave me speechless while reading Harrow County. This issue is overflowing with sinister overtones and uncomfortable sequences that are gravely portrayed while keeping with the dreamy, fairy tale quality that I love from this series. There's an amazing four-panel transformation that really showcases Crook's mastery of facial expressions and you'll know it when you see it.
This issue of Harrow County seems to be a crucial turning point in the story and one that I definitely didn't see coming. How Emmy handles the aftermath and the ways in which she'll continue to be tested remain to be seen.


Kylee Sills is an associate editor at Nerdophiles. She's still sad about Harrow County and that last two page spread from Tyler Crook was emotional warfare. Follow her on Twitter @kyleewho.


Renee's Reads
Ms. Marvel #22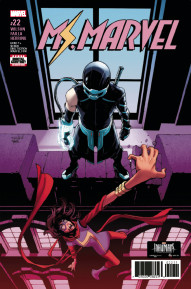 Author: G. Willow Wilson
Artist: Marco Falla
Publisher: Marvel Comics
★★★★☆
After Kamala reveals herself to Discord, she continues to struggle with the fact that her friend is now her enemy. However, Discord allows her to escape, and Kamala finds herself physically and emotionally exhausted and defeated. As she's about to give up, Lockjaw appears and transports her to her favorite diner. While she rejuvenated, her community helps rally and restores her faith in her community.
Meanwhile, law and order is restored as Kamala comes back and has her final fight with Discord and Lockdown. Mayor Parchessi arrests Discord and Lockdown after Kamala defeats them with the help of Tyesha's intervention. The issue ends with Kamala understanding that not all people are safe or who she thought they were.
The story arc "Mecca" has been one of my favorite arcs so far. Beautifully written and drawn, the arc concludes with Kamala learning that she didn't know the hearts and motives of the people around her. Though this has been considered a highly political comic book by addressing many social prejudices and injustices, Wilson has done a phenomenal job in keeping the story tasteful while driving home important universal truths.


Renee Marriott is a staff writer at Nerdophiles.