The holidays are just around the corner and there is no better time than now to celebrate all of the hard work your DM puts into herding cats and scheduling sessions. Check out all of our DM gift ideas and pick up something for that ever-patient (and completely diabolical) puppet master in your life!
And if you're looking to gift everyone around the table this holiday season, we've got the gift guide for that too!
Give the gift of privacy this season. Not only does a screen shield your DM's notes and rolls from the players, but this one from Wizards of the Coast provides a handy quick reference guide on the DM's side and gorgeous art of a fearsome foe for players on the opposite side. For beginning DMs and life-long dungeon masters, this is a great gift and resource for gaming.
Who doesn't love a good dungeon crawl? A reusable game mat makes for easy setup of all the different kinds of scenarios your DM can dream up. You'll no longer have to ask how far you can flee from the Beholder in the dark cave, you can easily see the terrifying encounter on the table before you. Along with dry erase boards, Melee Mats offers tons of different terrains to choose from if you simply want to establish the atmosphere of your campaign.
It never hurts to have too many notebooks and this one is designed specifically with your DM in mind. Give the gift of organization and maybe even inspiration this holiday season with a campaign planner so that your DM is prepared for each session. The campaign planner from The Rook and The Raven is a ring notebook designed so that your DM can move pages around to their liking depending on what they've got planned.
With elements of a campaign planner included in this workbook, DMs are able to use this resource as a quick reference guide for tools, tables, guidelines, a random generator, a naming list, and more. It includes lazy lairs to battle in and is designed to quickly plan and run sessions with some depth.
It's all about the aesthetics and giving your DM the gift of atmosphere with this compass coin that doubles as a badass paperweight when not pointing true north for a campaign. Used alongside maps, this beautifully crafted compass coin has cutouts to see whatever is underneath it and fits perfectly within a two-by-two square to keep direction.
We're big fans of Stefan Pokorny of Dwarven Forge and have gotten to play Dungeons & Dragons with their terrain set pieces before. There are sets for caves, cities, dungeons, and more alongside miniatures and sample packs that are the makings of any DM's dreams. As a bonus, plenty of the builds come either painted or unpainted for that added bit of flair.
Try looking outside of the canon of Dungeons & Dragons books for more niche offerings that lend themselves to your DM's interests for their campaign. The Baby Beastiary Handbook is something I know my personal campaign would benefit from because of how we make efforts to befriend every creature we come across.
If you truly want to splash out for your hardworking DM, take a look at Level Up Dice. Made from a multitude of different kinds of materials, there's bound to be a set that your DM would swoon over – from aluminum to wood to semi-precious stones to completely unique shapes like a unicorn horn. We've also got five other suggestions on where to pick up dice right here!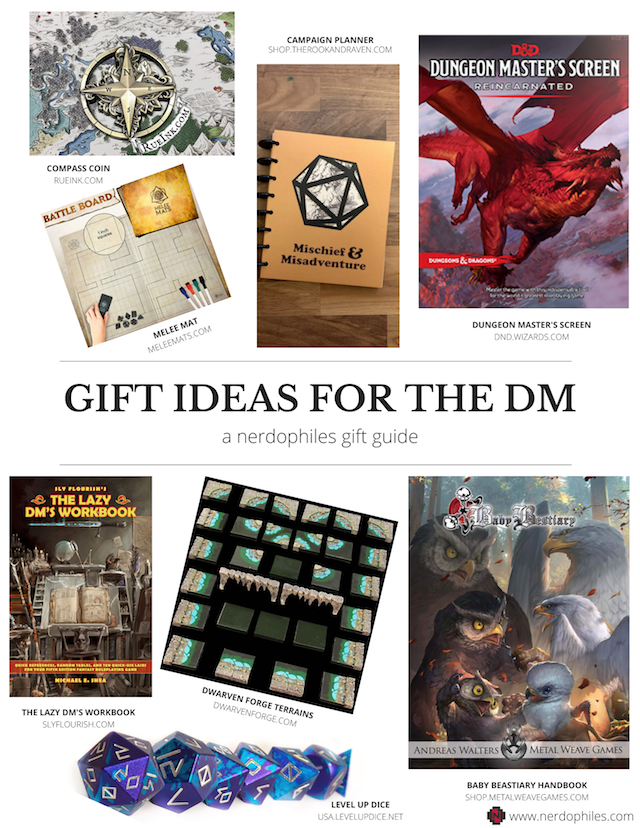 Still searching for that one-of-a-kind gift for the DM in your life? There's always Etsy! Search for "DND 5e", "dungeon master", or whatever specific item you're looking for to see some of their unique offerings. If you want to DIY your gift, we've got a tutorial for making your DM their very own dice tray right here. And dice… you can never go wrong with dice.
Hopefully, these suggestions have got you thinking about the perfect DM gift ideas for this holiday season. Leave a comment letting us know what you're getting your DM!