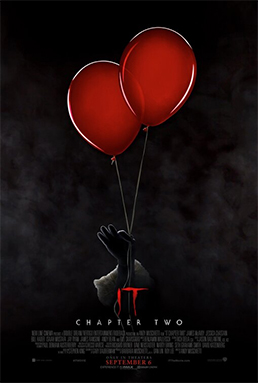 Release Date: September 6th, 2019
Cast: James McAvoy, Jessica Chastain, Bill Hader, Isaiah Mustafa, Jay Ryan, James Ransone, Andy Bean, Jaeden Martell, Sophia Lillis, Finn Wolfhard, Chosen Jacobs, Jeremy Ray Taylor, Jack Dylan Grazer, and Wyatt Oleff. Phew!
Director: Andy Muschietti
Studio: New Line Cinema
Distributor: Warner Bros. Pictures
Spoilers: Low
IMDB| Rotten Tomatoes | Wikipedia
It's happening again… 27 years since they last dealt with It, Pennywise has returned to Derry.
The sequel to the 2017 surprise hit It has released, and fans are getting the conclusion they've been clamoring for. The plot, briefly for those who haven't spent the last couple years reading the novel, watching the original Tim Curry adaptation, and picking apart the differences on the internet is this: the titular It, often in Pennywise form, feasts on the population of Derry, Maine every 27 years and in the summer of 1989 a group of outcasts and losers were able to beat him.
Now, in 2016, It has come back and it's up to the grown, 40ish-year-old losers to get together, remember what they did, and find the way to do it again.
The first thing that needs to be addressed is the wonderful casting done in updating the kids to their older counter parts. The movie relies heavily on flashback to the summer of 1989 so those actors are on screen a fair amount, pairing each of them right is crucial. And for the most part they succeed, some are spitting images, others while maybe not perfect are at least wonderful actors to have in your movie.
Bolstered by the success of the first entry, Chapter 2 also seems to have carte blanche to do as it pleases and really hit the weirder aspects of the source material. Where the first film focuses a lot on creating an unnerving sense of dread (a holdover from the Fukanaga work on it) with few creature effects, the second entry goes whole hog into them, for better or worse depending on your attitude. The CGI itself looks a little too slick, but given the story reason for the monsters to appear, perhaps it was a deliberate choice. Either way, it's a different kind of fright.
Speaking of CGI, in sections with the 1989 Losers, there seems to be a bit of weird de-aging work at play. It is immediately noticeable in its first scene but soon stops being a distraction as the film goes on, perhaps you adapt to it or the later scenes were filmed during the first film, I'm not sure.
Clocking in at nearly 3 hours is a feat in itself, but It Chapter 2 does a great job of moving at a good clip. The movie never feels like its dragging. While the CGI is spotty in places, over all it is a great sequel and conclusion to the modern adaptation of a Stephen King classic.
Now if only the Dark Tower got its due…