Title: Charlie Hernández & The League of Shadows
Series: Charlie Hernández #1
Author: Ryan Calejo
Pub. Date: October 23, 2018
Publisher: Aladdin
Formats: Hardcover, Paperback, eBook, audiobook
Pages: 330
Find it: Goodreads, Amazon, Kindle, Audible, B&N, iBooks, Kobo, TBD
Kids these days are done a great disservice in their core classes. Many will learn all about Greek and Roman mythology but few will learn about the plethora of other pantheons that exist across the world. There are a wide variety of rich, under appreciated gods, goddesses, monsters, and heroes from other cultures that deserve their chance to enthrall eager young minds. Thankfully, author Ryan Calejo found the perfect way to shine the spotlight on Hispanic mythology in Charlie Hernández & The League of Shadows.
Now, I have to admit that I have very little knowledge of any Latin American mythology beyond what showed up in textbooks. Luckily, Ryan Calejo knows that many people – especially younger readers in the target audience – may not be familiar with the figures and creatures at the center of his story. He does a fabulous job of explaining who and what Charlie encounters without making things seem too lecture-y. Charlie grew up on the stories thanks to his abuela and a lot of the time the explanations come as a part of Charlie's memories and reminders of what his abuela taught him.
The story is fast paced and quickly enthralling. It sets it's tone early on and Charlie is a wonderful, straight forward narrator. From the second chapter Charlie is set out on an epic quest to find out what happened to his missing parents. Aided by a concerning lack of adult supervision and a classmate, Violet, he's left to deal with all kinds of creatures and monsters from Hispanic mythology as well as well as super weird changes to his own body that go far beyond your usual puberty.
Young readers will be captivated by the world that Charlie uncovers and the mythological history that's laid out before them. I've seen plenty of people say that this book is perfect for the Rick Riordan fans out there and that's very true. But Charlie Hernández & The League of Shadows gives kids something more than just a rehash of already familiar dieties and stories. It gives them a whole new adventure to undertake with Charlie as well as a whole new slew of mythological tales to further discover on their own.
And now is the perfect time to get into the series because the second book, Charlie Hernández & The Castle of Bones, comes out this October!
Synopsis
Charlie Hernández has always been proud of his Latin American heritage. He loves the culture, the art, and especially the myths. Thanks to his abuela's stories, Charlie possesses an almost encyclopedic knowledge of the monsters and ghouls who have spent the last five hundred years haunting the imaginations of children all across the Iberian Peninsula, as well as Central and South America. And even though his grandmother sometimes hinted that the tales might be more than mere myth, Charlie's always been a pragmatist. Even barely out of diapers, he knew the stories were just make-believe—nothing more than intricately woven fables meant to keep little kids from misbehaving.

But when Charlie begins to experience freaky bodily manifestations—ones all too similar to those described by his grandma in his favorite legend—he is suddenly swept up in a world where the mythical beings he's spent his entire life hearing about seem to be walking straight out of the pages of Hispanic folklore and into his life. And even stranger, they seem to know more about him than he knows about himself.

Soon, Charlie finds himself in the middle of an ancient battle between La Liga, a secret society of legendary mythological beings sworn to protect the Land of the Living, and La Mano Negra (a.k.a. the Black Hand), a cabal of evil spirits determined to rule mankind. With only the help of his lifelong crush, Violet Rey, and his grandmother's stories to guide him, Charlie must navigate a world where monsters and brujas rule and things he couldn't possibly imagine go bump in the night. That is, if he has any hope of discovering what's happening to him and saving his missing parents (oh, and maybe even the world).

No pressure, muchacho.

Praise for Charlie Hernández & The League of Shadows
"This is a perfect pick for kids who love Rick Riordan's many series, particularly for those eager for mythologies beyond Greek and Roman stories." —Booklist (starred review)

"A winner for all kids, but it will be especially beloved by Latinx and Hispanic families." —Kirkus Reviews (starred review) 
Giveaway
Want to read more about Charlie Hernández's adventures yourself? Enter to win a hardback copy of Charlie Hernández & The League of Shadows! (US entries only, sorry.)
a Rafflecopter giveaway
About the Author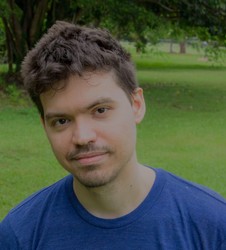 Ryan Calejo was born and raised in south Florida. He graduated from the University of Miami with a BA. He's been invited to join both the National Society of Collegiate Scholars and the Golden Key International Honour Society. He teaches swimming to elementary school students, chess to middle school students, and writing to high school students. Having been born into a family of immigrants and growing up in the so-called "Capital of Latin America," Ryan knows the importance of diversity in our communities and is passionate about writing books that children of all ethnicities can relate to. His first novel was Charlie Hernández & the League of Shadows.