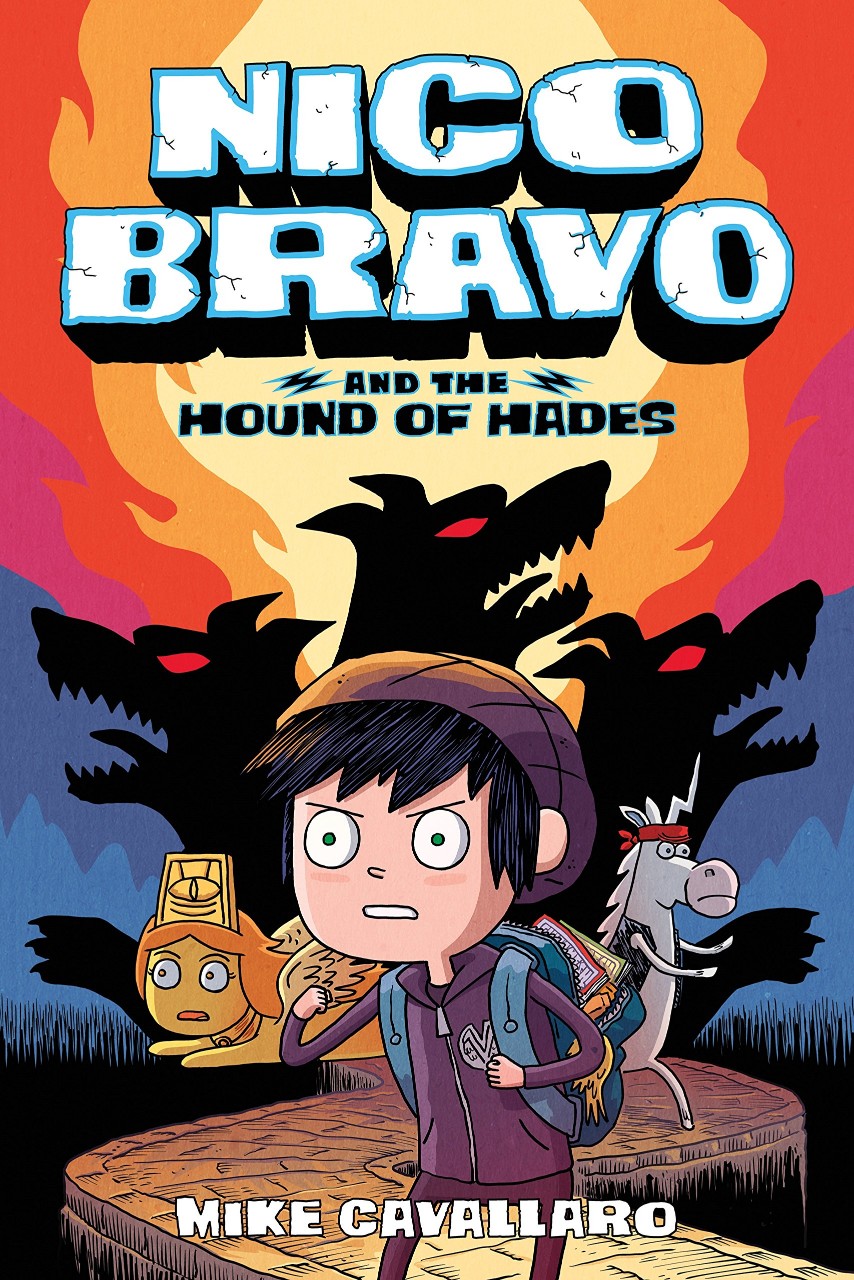 Title: Nico Bravo and the Hound of Hades
Author: Mike Cavallaro
Series: Nico Bravo #1
Release Date: April 23, 2019
Publisher: First Second
Review Spoilers: Low
GoodReads | Amazon
Mythology and humor collide in Nico Bravo and the Hound of Hades, the first in a new middle grade graphic novel series from Mike Cavallaro. Nico Bravo is the perfect series to appeal to readers who loved the Percy Jackson series, the Olympians graphic novels, or books like Captain Underpants and are looking for some weird mixture of all of them. It's an odd request, sure, but Nico Bravo manages to fit the bill.
Nico Bravo is a curious character. When we first meet our hero he's anything but the heroic type. Instead he's a shop assistant selling any number of magical, mythical wares and adventuring supplies to creatures, figures, and deities across any number of pantheons. He and his friends, a sphinx named Lulu and a war weary unicorn named Buck, are pretty happy working for their boss, the god Vulcan.
But when Eowulf, a young woman with a somewhat misguided sense of family duty, shows up Nico finds himself thrust into the action. She wants to prove herself worthy as a descendent of Beowulf by killing the most fearsome beast she can find. Unfortunately, that beast happens to be Cerberus and he has a pretty important job manning the gates of underworld and all.
While Nico tries to find a way to stop her, Lulu has to deal with the chaos back at the shop, and Buck finds himself on some weird Rick and Morty-esque journey through time and space. Nico finds the inner hero within himself and Eowulf has to come to terms with the fact that not all monsters are actually bad despite what her ancestry may have her belive.
All in all, it's a fun story that will easily keep kids entertained. Those with a halfway decent understanding of Greek and Roman mythology will love seeing familiar faces and the "Vuclan's Deck of Deities" trading cards that pop up throughout will help add a little context to the gods, heroes, and monsters that readers may not already know.
The illustrations and character designs are a little silly (wait until you see Cerberus!) but they quickly grew on me. Meanwhile the coloring is incredibly vibrant and enticing. The attention to detail and color really pulls you into the world especially the more fantastic aspects of it. Nico in his dark beanie and hoodie with his dark hair is actually an interesting contrast to the otherwise near psychedelic world.
Nico Bravo and the Hound of Hades is a great book for kids that love mythology but also have a great sense of humor. If they're looking for something more realistic this probably isn't the book for them! (Check out the Olympians series from First Second that I liked above instead.) While the book tells a complete, fulfilling story it leaves the door open to more adventures that we can only hope will hit shelves soon! Because after the adventure Mike Cavallaro takes young readers on in Hound of Hades, they'll definitely be left wanting more.