'Batman: Gotham by Gaslight' Pits the Dark Knight Against Jack the Ripper — Out Today on Blu-Ray!

Batman: Gotham by Gaslight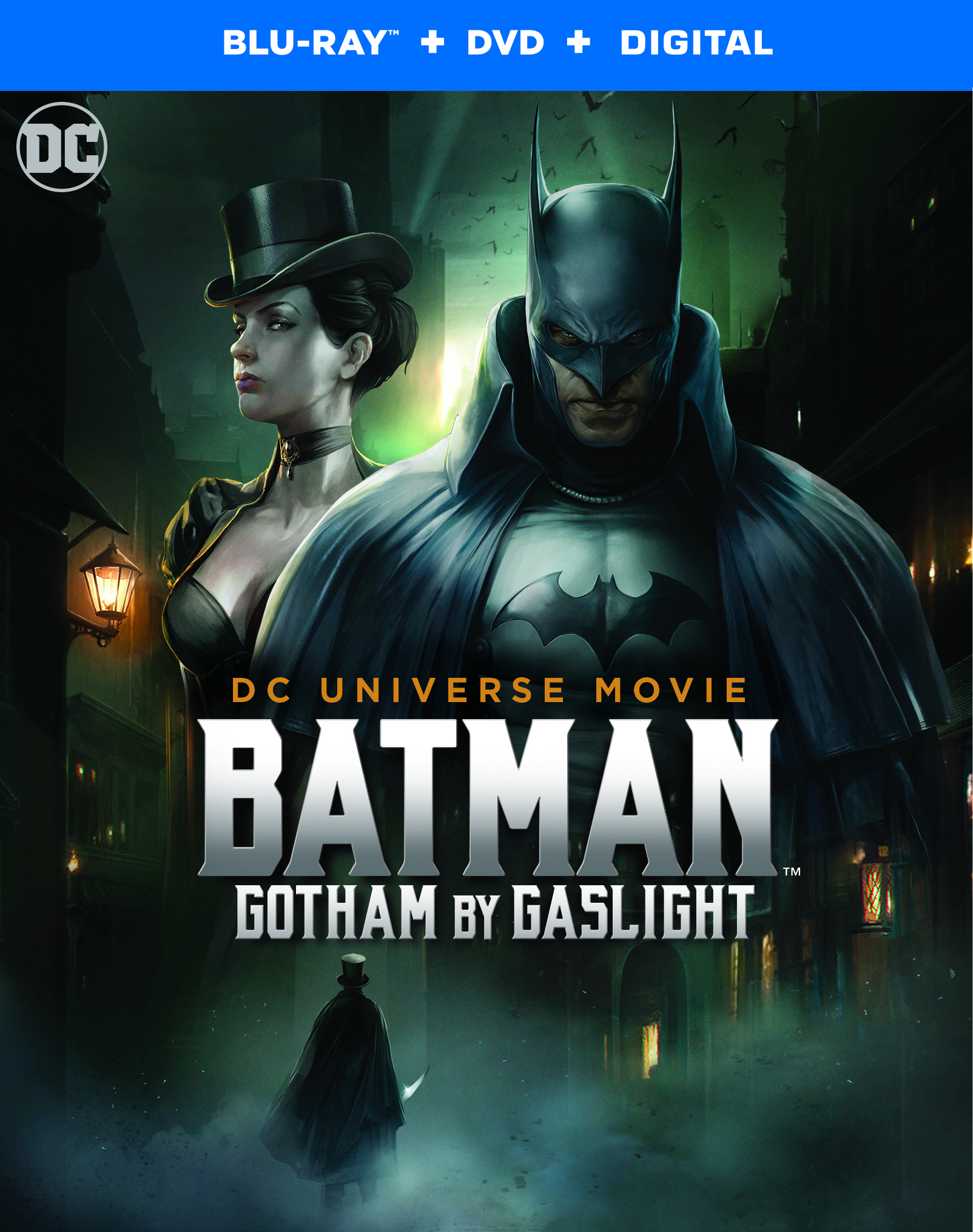 Release Date: February 6, 2018
Cast: Bruce Greenwood, Jennifer Carpenter, Anthony Head, Scott Patterson, Yuri Lowenthal, John DiMaggio
Director: Sam Liu
Studio: Warner Bros. Animation & DC Entertainment
Extra Feature Rating: ★★★☆☆
Rating: ★★★★☆
Review Spoilers: Low
Amazon | IMDB | Wikipedia | RT
The first DC Animated Universe film of the year is finally out on blu-ray! Batman: Gotham by Gaslight is a standalone film that was released in digital format late last month. But today, February 6th, it finally comes home for those who tend to prefer to have physical copies of our films. (Don't worry, though, it comes complete with not just the blu-ray but also the DVD and a digital download code.)
Based in part on the comic book one-shot of the same name, Batman: Gotham by Gaslight envisions a very different Batman than the one most people know and love. Like the comic, the film imagines what Batman would be like if he and his cast of supporting characters were living in the Victorian era. Many beloved characters from the Batman franchise appear in at times radically different versions of themselves while still managing to retain many of the characteristics that make them who they are.
If you've already read the comic, don't think that you already know all the twists and turns. There are some really great twists and an ending that's very different from the one you may have already read.
Review
Batman: Gotham by Gaslight is a great film for people who love Batman and especially those who may not be huge fans of the DC Animated Universe as a whole. It stands on its own outside the general continuity which makes it perfect if you're just looking to watch one, fun film. Whether you're a mega fan of just a casual fan you'll love picking out all the little references to the comics and the various characters who pop up.
The film asks the basic question: What would happen if Batman were pitted against Jack the Ripper in Victorian Gotham? As the film starts we're introduced to a city plagued by a nameless killer who is preying on poor women and, in particular, those in less than reputable professions. The Ripper in Gotham takes his basic cues from the real-life Ripper as does the apathy of Gotham society. At the same time, a vigilante known only as 'The Batman' has taken to the streets in an attempt to rid the city of crime. In reality, it's a Victorian Bruce Wayne looking to exact revenge on the criminal element that orphaned him as a child.
Some of the characters who already know from the basic Batman canon take on familiar roles. Alfred is by Bruce's side as always and Harvey Dent remains a close confidant and friend – as well as a county prosecutor. Except in this world his 'two-faced' nature owes more to his alcoholism than anything else. Leslie Thompkins is a nun who cares for the sick, orphaned, and down-trodden in the city while the boys Dick, Jason, and Tim are orphans living on the streets.
The most prominent characters – besides Bruce, of course – are Selina Kyle and James Gordon. Gordon is still a police commissioner who sides with the Batman as he starts to investigate the Ripper. Meanwhile Selina Kyle is a socialite and performer who has taken it upon herself to track down the Ripper and stop him since she doesn't believe the police will ever care about the women he's targeting.
Selina and Bruce working together in this manner and in this setting is truly wonderful. I love the characters and their often tumultuous relationship. For a women of this era, Selina isn't about to sit back and let others screw around with the things that matter to her. Her motivations are very similar to Bruce's and she's an incredibly capable characters – something that she proves as she faces down the Ripper on more than one occasion.
The ultimate revelation of who the Ripper is will astound and there are more than a few red herrings throughout. (Seriously, if you don't see Hugo Strange for the first time and think "Oh, yeah, it's totally him!" then you're way more skeptical than me.)
Batman: Gotham by Gaslight is a great new take on the classic Batman formula. You'll get to have an all new, very different adventure with some familiar characters and experience one heck of a story. It's almost like Batman meets From Hell which, if you ask me, is a pretty bad ass way to describe a movie. You should definitely check it out — and then check out the original Elsewhere comic as well.
Special Features
One of the reasons I've been looking forward to the home release of Batman: Gotham by Gaslight was the potential for bonus features. While there were very few of them included I will say that the first of them, Caped Fear: The First Elseworld was awesome.
Caped Fear: The First Elseworld is an almost twenty minute featurette about the making of not just the Batman: Gotham by Gaslight film but the original comic. It's incredible to hear form the folks that pitched and created that original story how it influenced the comic book stories of the time. There's a significant amount of discussion about the comic and how it came together – from the inspirations for original idea to wooing artist Mike Mignola and more. There's also a lot of discussion about how they changed things and elaborated on plot points for the film. It's definitely worth a watch!
As far as the rest of the special features go you can probably take them of leave them. There's an audio commentary that super fans will probably enjoy. But there's not much other content available. There are a couple of 'sneak peeks' for other DC animated films that have already been released as well as a trailer for the upcoming Suicide Squad: Hell to Pay film.
There are also two 'classic' Batman animated series episodes. One is from Batman: The Brave and The Bold and the other is from Batman: The Animated Series. Both focus on vaguely 'Victorian' themes (if the post-Civil War era Wild West counts). The Batman: The Brave and the Bold episode is actually the exact same one that shows up on the Justice League Dark blu-ray release so that's a little disappointing. And, as nice as it is to see Jonah Hex in The Animated Series, it doesn't really go along with Batman: Gotham by Gaslight in my opinion.
Luckily, the Caped Fear featurette is so great that you don't really need any other special features (though one with the voice actors might have been nice).


Batman: Gotham by Gaslight is a great film that offers a unique look at Batman outside of his usual plot and setting. The different takes on the various iconic characters are great and the twist at the end will undoubtedly shock even those who read the original comics. It's definitely worth checking out!
Batman: Gotham by Gaslight is available today in a blu-ray combo pack as well as on digital!