Avengers: Endgame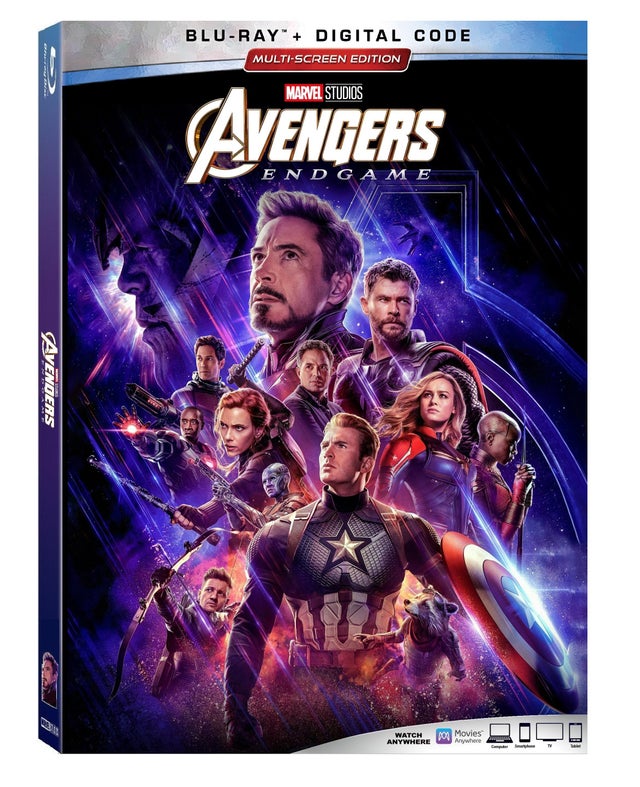 Release Date: August 13, 2019
Cast: Robert Downey, Jr.; Chris Evans, Chris Hemsworth, Paul Rudd, Mark Ruffalo, Scarlett Johansson, Jeremy Renner, Karen Gillan, Don Cheadle, Bradley Cooper, Josh Brolin, and so many more
Studio: Marvel Studios
Extra Feature Rating:  ★★★★★
Rating: ★★★★★
Review Spoilers: Moderate
Amazon | IMDB | Wikipedia | Rotten Tomatoes
Watching Avengers: Endgame was like experiencing the end of an era. I had the same feeling walking out of the theatre that I did when I read the last Harry Potter book. It was like a huge part of my life had finally come to an end. I still remember the first time I watched Iron Man in theatres while still in college and at the time I couldn't imagine the massive cinematic universe that would spin-off after it. Now it's hard to imagine a world without Marvel and it's characters gracing the big screen.
Endgame did what many other 'finales' often fail to do: it wrapped up an expansive, monumental series in a satisfactory way that revisited the whole franchise without coming off as overly gratuitous. And it did so after acknowledging in Infinity War that it's heroes could lose. They lost everything and after suffering – it turns out for years – they still have hope and they still have what it takes to make things right.
Over the years I've wondered what it would be like to see the heroes from the various MCU flagship titles come together. Infinity War showed us what that might look like at the beginning but Endgame shows us what it looks like when everything has fallen apart and the survivors are left to pick up the pieces. The character and team dynamics that arise out of necessity and desperation and enthralling. The changing motivations of our beloved, surviving Avengers proves to be at times realistic, heartwarming, and also tragic.
I never expected what Endgame would give me and that's part of what makes it such a good movie. It gave us everything we could have hoped for and everything we never knew we wanted. And it also set us up for decades more of Marvel films, handing off the universe and the safety of the universe to a new generation of characters.
I can get into the ins and outs of what makes Endgame great but that conversation has been happening all over since the very first screening ended. Cody did a great spoiler-free review back in April.
The long and short of it is that Endgame is the fitting ending we needed to this first saga in the Marvel Cinematic Universe.
Special Features
The blu-ray release of Endgame has a pretty spectacular compilation of bonus features. While I was surprised that there wasn't more of an emphasis on the making-of this film as far as the technical aspects went, I'm also totally okay with that. This is a movie about characters at the end of a ten year journey and the special features reflect that. It's also the grand finale for the folks who put their blood, sweat, and tears into the MCU over the past decade.
The special features fittingly focus a lot on them.
The short featurette, The Russo Brothers: Journey to Endgame, explores how Anthony and Joe Russo (more often than not called 'The Russo Brothers') came to head Marvel's magnum opus. For the most part it's largely just folks who have worked on the MCU films over the years talking about the Russo Brothers' vision and what it's been like working with them. It's interesting — but also short!
Remembering Stan Lee is a heart-wrenching featurette and it is perhaps one of the greatest bonus features on the blu-ray release. I don't know if it was created before he passed away or not but it's essentially a discussion with Stan Lee about his time doing cameos in the MCU. You see him on set with the Avengers, you see his various appearances, and you see him just loving his moment living in this world that he helped create. Just try not to tear up at some point while watching!
Setting the Tone: Casting Robert Downey, Jr. seems like an odd bonus feature and, in fact, almost sounds like the title of one you'd have found on the original Iron man DVD release. But in reality, this featurette makes a really great point. Iron Man – and consequently Robert Downey, Jr. as Tony Stark – set the bar for the MCU moving forward in every way: storytelling, casting, and the adaptations of the characters all together.
Captain America also became a tentpole figure in the growing MCU. As A Man Out of Time: Creating Captain America ultimately shows, his own story is at the heart of the over-arcing Avengers narrative. His character changes over the years and films — and the Russo Brothers were there with him, sowing the seeds of what would become Endgame from the very beginning. Of course, this featurette doesn't just focus on his journey but everything from his first adaptation onward as well as Chris Evans's initial casting. There's also another Steve Rogers-centric featurette (Steve and Peggy: One Last Dance) on this release that focuses on Steve and Peggy Carter's relationship which gets unexpectedly revisited in Endgame.
Rounding out the special features focusing on the characters whose stories come to an end with Endgame, Black Widow: Whatever It Takes focuses on Scarlett Johanssons's Natasha Romanoff. This particular featurette is a serious character study on Natasha throughout the years. I'd have to go back and look at the other blu-ray releases but I wonder if she's had this kind of in depth look previously. Even if she has, I'm glad that they took this opportunity to remember her character's journey throughout the MCU. Especially towards the end Natasha became the heart of the Avengers, the one who kept them together because this is her family.
An issue with the MCU that Marvel began seriously addressing in the latter half of this first sequence of films was the need for more strong, powerful, female superheroes. The Women of the MCU focuses on the women who have increasingly been given the chance to save the world and save the universe. In particular, this featurette focuses on the iconic moment in Endgame where all the female heroes on the battlefield come together to face off against Thanos. It's an incredible moment that deserves special recognition!
A lot has been said about Thor's personal journey between Infinity War and Endgame but Marvel's official take comes in the shape of the Bro Thor featurette. It's short but gives a bit of background to the 'making-of' so to speak of this new take on Thor's otherwise well-known character.
In addition to these featurettes there are a handful of other special features. There's a version of the film with an introduction by the Russos as well as an audio commentary featuring the Russo Brothers and others. The audio commentary is very much worth listening to especially considering this is the end of an era for Marvel. The deleted scenes – especially the first one which is absolutely heartbreaking – are worth a watch and you can't go wrong with a gag reel when you've got a cast like this.
Final Thoughts
Avengers: Endgame is an epic ending to a story that's roots are still visible in Marvel's first film, Iron Man. It is a journey we could have only imagined once that now holds an undeniably monumental place in pop culture history. Having gone on this journey with the characters, actors, and filmmakers from day one as a fan I feel like I've almost been a part of all of this.
It's impossible to just say "I recommend this movie" because I don't just recommend this movie. I recommend the whole experience. I recommend every one of the movies. I recommend it all. If you've been on this journey as a fan over the last ten years then you'll get this release. You'll rewatch the movie a couple times and then start marathoning your way through the other ten years of films, too.
And I recommend that as well.
Binge the whole ten years again. Share it with your kids. Bring Endgame home so you can once again experience it all from start to finish — and then start speculating on what the next saga in the Marvel Cinematic Universe will have waiting for us.
Avengers: Endgame is out today on blu-ray combo pack and can also be picked up digitally. Enjoy – and grab some tissues!