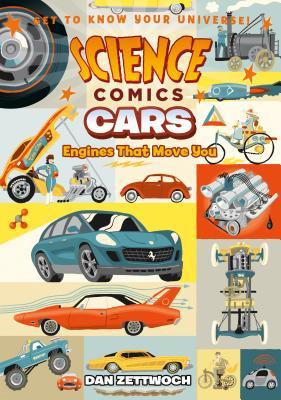 Title: Cars
Series: Science Comics
Author: Dan Zettwoch
Release Date: May 28, 2019
Publisher: First Second Books
Review Spoilers: N/A
GoodReads | Amazon
I generally know next to nothing about cars. One of the nice things about the Science Comics series, however, is that whether or not you know anything about a topic beforehand you'll come away from the books with at least a working knowledge of whatever they are about. That's how I feel about cars now. I still don't really know much about them but I know a lot more than I did after reading Dan Zettwoch's Science Comics: Cars.
The point I'm making is that Science Comics: Cars is perfect not just for kids who already love or know a lot about cars but also kids who know very little about them (and may not know that they want to yet either). Colorful and at times comical, Dan Zettwoch reels readers in with a fantastically illustrated guide to the history, development, and basic inner workings of automobiles.
Now, as a hardcore history fan, I love how much Cars focuses on the history leading up to the invention of the automobile. Young readers get a crash course in the history of movement touching base with everything from war chariots to steam-powered engines. You wouldn't necessarily think about horse-powered wagons and the like as a precursor to cars but without the invention of the wheel and every other advancement that came after we'd never thought about motorizing anything!
From there, Zettwoch shows how various technological advancements came together to create the cars we know now. He covers everything from the technical side of car design to the the more creative, artistic side of things. Honestly, I was increasingly impressed with each page at how well he depicted various desgins – including some pretty crazy ones (like a swan car that shoots out steam!?). There are whole spreads full of various types of cars – some every day designs and some out of this world (literally in some cases).
If there's something your young reader wants to know about cars they're bound to find it out in Science Comics: Cars. It's a really fun read and it pairs well with Maker Comics: Fix A Car. If you want to make a kid's day, pick him or her up both books – or better yet pair them with a model or Hot Wheels gift set for a birthday or holiday gift. However you get this book into a kid's hands, they are bound to enjoy it!