J.K. Rowling's Wizarding World
Movie Magic Vol. 1:
Extraordinary People
and Fascinating Places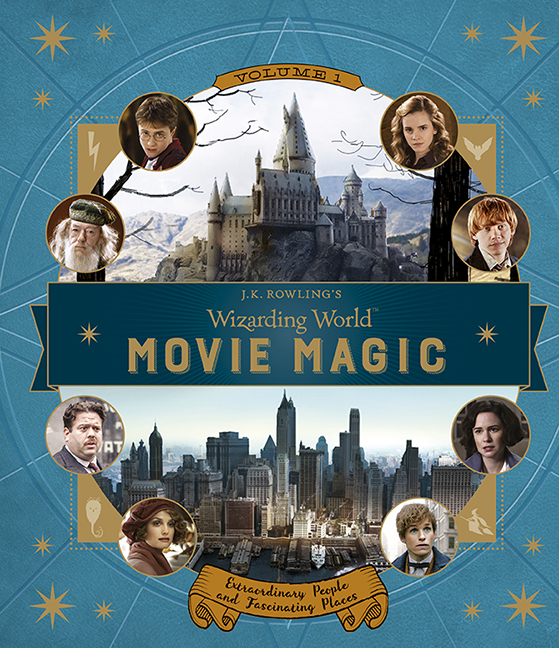 Author: Jody Revenson
Release Date: October 18, 2016
Publisher: Candlewick Press
Genre(s): Behind-the-Scenes, Film, Non-Fiction
Review Spoilers: N/A
GoodReads | Amazon

It's the holiday season and another
Harry Potter
film is upon us!
Fantastic Beasts and Where to Find
Them
just released in theaters. Needless to say, you'll be seeing a lot of
Harry Potter
merchandise released this holiday season.
We've seen everything from Funko Pop! figures to Hot Topic's high-end brand of Fantastic Beasts-inspired apparel. We're also seeing some new books including Candlewick Press's J.K. Rowling's Wizarding World Movie Magic series which just released its' first volume last month.
The Movie Magic series is a brand new, behind-the-scenes book series that is perfect for younger Harry Potter fans that might just be getting interested in the series. The first volume, Extraordinary People and Fascinating Places focuses on some of the most important characters and locations throughout the series. The first section of the book is dedicated to the new Fantastic Beasts film while the second section tries to cover the entirety of the original film series.
The book has a very kid-friendly look and feel. It's not a strictly informational tome but instead is fun and quirky. It's largely designed to look something like a scrapbook with bits and pieces of information being provided on each page in a variety of ways. Pictures are often made to look like actual photographs. Some of the written sections are printed on backgrounds designed to look like old paper and scrolls. Other pictures and pieces of information are presented on bright backgrounds – sometimes with colorful borders.
The real fun, though, comes from the almost pop-up nature of the book.
Throughout the book you'll find all kinds of things that pull-out, expand, move, and can be removed from the book. There are dials and pull out magazine covers. There are stickers that you can take out and use as well as fictional, in-world posters and things that can be folded-out into fuller images. The book even has two Death Eater masks tucked into the back cover that can be turned into masks you can wear.
The information in the book is admittedly presented a little haphazardly. It's not entirely an encyclopedia of characters as it appears at first glance because there is also some behind-the-scenes information regarding the actual filmmaking process.
Similarly, it's not an atlas in anyway. The locations and characters aren't entirely separated. On one page you'll have Hermione Grange and the next you'll have Kings Cross Station. Still, it provides enough information that readers will find interesting that this can be easily forgiven. It does make me wonder what the subsequent volumes are going to cover.
Now, I don't think I would really recommend this book for older Harry Potter fans. As I've said before, it's very well designed with kids in mind and while it's a very fun read there's not a whole lot of new information that older fans wouldn't have read for themselves over the past decade or so in any number of other behind-the-scenes books. But it's a good book for newer, younger fans. And the Fantastic Beasts section adds some new information that you won't find in any previously released behind-the-scenes offerings.
Over all, if you have a young Harry Potter fan in your life who might enjoy this book then it's definitely worth a look! As a general gift for Harry Potter fans, though, you may want to look elsewhere.

A REVIEW COPY OF J.K. Rowling's Wizarding World Movie Magic Vol. 1: Extraordinary People and Fascinating PlacesWAS PROVIDED BY THE PUBLISHER IN EXCHANGE FOR A FAIR AND HONEST REVIEW. NERDOPHILES WAS IN NO WAY COMPENSATED FOR THIS REVIEW. OUR OPINIONS ARE OURS AND OURS ALONE.