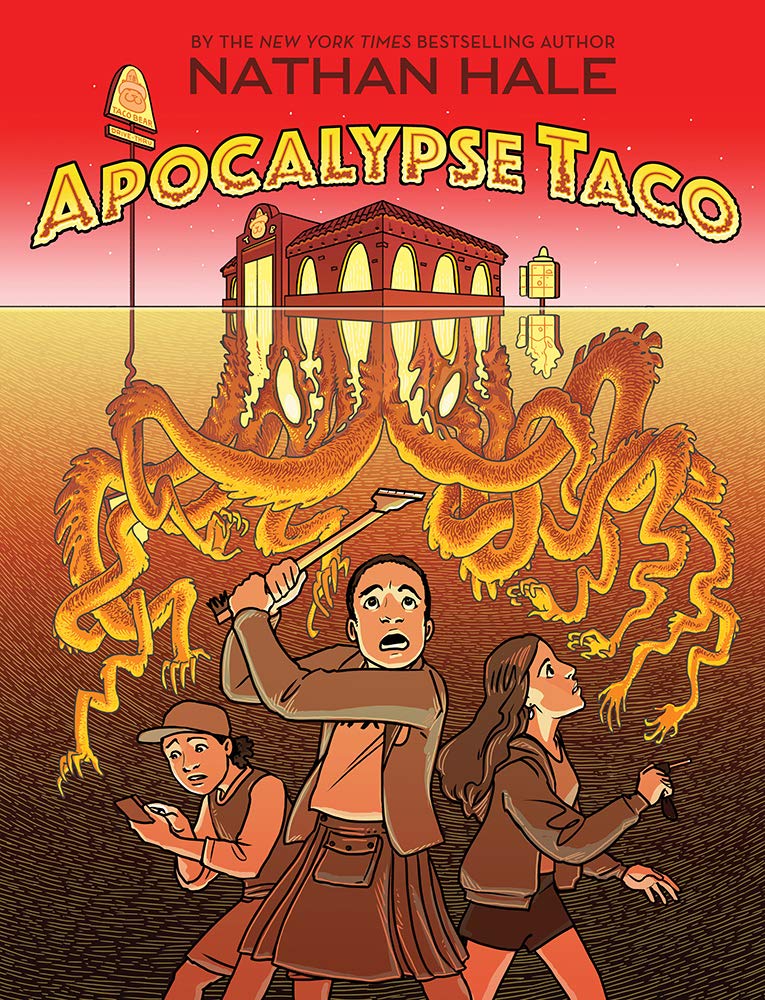 Title: Apocalypse Taco
Author: Nathan Hale
Release Date: March 26, 2019
Publisher: Amulet
Review Spoilers: Low
GoodReads | Amazon

Apocalypse Taco is one of the weirdest books I've read in a long time. I've struggled with how to write this review because sometimes books are just so bizarre that you've got to just experience them for yourself. That's how I feel about Apocalypse Taco. It's a crazy story that at times has you laughing at the absurdity and then other times cringing to understand the Cronenberg-esque anatomy of the goopy creatures featured throughout.
Seriously, it's a weird book.
It's a wild ride from start to finish and while I'm pretty liberal on what I'd say is appropriate for young readers I'm not sure what to think of this one. I enjoyed Nathan Hale's previous non-Hazardous Tales graphic novel, One Trick Pony, which was solidly in the upper middle grade to young adult age range. That book featured a lot of crazy, intricate, and terrifying monsters, too – though they were technological in nature and not goopy melty possibly human mush. This one hits a similar demographic though it may be too wild for some middle schoolers.
Apocalypse Taco starts out pretty innocently with twins Axl and Ivan going on a late night food run for their mom's high school stage crew with high schooler Sid. They make it to the Taco Bear (a restaurant akin to Taco Bell or Taco Villa) where they quickly realize the world has basically gone nuts. People – and things – are morphing into weird goo-like versions of their original forms.
After teaming up with a young grad student who knows way more than you'd think she would about what's going on, they have to some how survive and solve the mysteries of this very gross apocalypse. Their journey takes them to some seriously weird places and introduces them to some really weird people – including a person who ends up made entirely of human teeth?
Yeah, human teeth.
The designs of this strange, sometimes gross, and always insane world are weirdly awesome. They're incredibly intricate and include any number of arms and hands in places there should never be arms and hands. That's a talent all of it's own. And can we acknowledge how great the title of this book is? Apocalypse Taco. C'mon. How can you not appreciate that?
A the end of the day the easiest way to describe this book: weird.
But that's not necessarily a bad thing. Apocalypse Taco is a truly creepy book that leans heavily in the direction of being appropriate for the older half of the 'young reader' demographic. I like to imagine the artsy teens and young horror aficionados out there who will get their hands on this one and think, "Oh, hell yeah!" because we need to inspire the next generation of horror fans and comics artists.
Apocalypse Taco has great crossover appeal for both adult readers and young readers – at least those who can appreciate a trippy surreal trip into the world of grotesque body horror. If you're not turned off by the bizarre, this is definitely a can't miss read for certain types of comic book and/or horror fans!