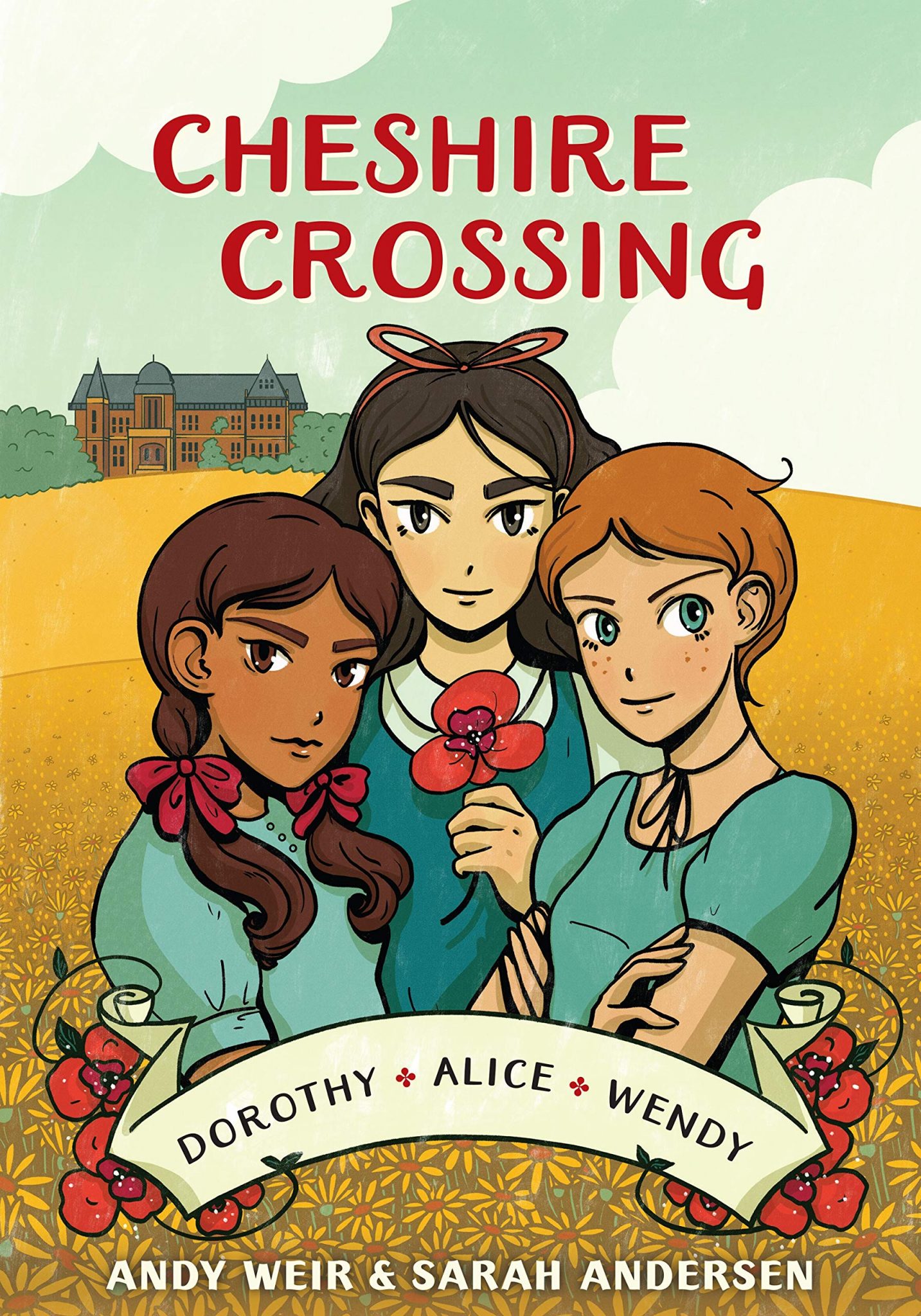 Title: Cheshire Crossing
Author: Andy Weir
Artist: Sarah Anderson
Release Date: May 28, 2019
Publisher: Ten Speed Press
Review Spoilers: Low
GoodReads | Amazon
If you've ever wondered what happened to the heroines of your favorite portal fantasies after they returned home then you're in luck – Andy Weir of The Martian fame did, too. Cheshire Crossing brings together Alice from Alice in Wonderland, Wendy from Peter Pan, and Dorothy from The Wizard of Oz to explore what might kind of adventures might come from putting a set of independent young women with magical, universe-hopping abilities under one roof.
The end result, of course, is essentially chaos.
Cheshire Crossing is not just the title of the book but also the facility that brings these three young women together. Deemed insane by doctors after their well-meaning families tried to get them help upon returning from their respective fantastic worlds, the girls are finally brought together years later by someone who actually believes them. After all, the man who reaches out to help employs an actual witch.
The plan is to teach Alice, Wendy, and Dorothy how to harness their powers. But the restless, wily, and understandably untrusting girls instead embark on their own adventures. Unfortunately, they inadvertently make things worse by causing problems in every magical world they encounter and introducing their most dastardly villains to one another. Gathering allies as they go, the girls seek to restore harmony to Wonderland, Neverland, and Oz before their villains become too powerful.
I won't spoil the journey or the ending but I will say that Cheshire Crossing is one crazy read. Andy Weir does a great job of imagining how these famous, well-loved worlds and the heroines, as well, may have changed years after the initial adventures had been completed. He's certainly not the first to do so but with Cheshire Crossing he's put them in the middle of a modern story with plenty of humor and cursing and sarcastic, young women.
Andy Weir originally wrote the story as a webcomic years ago (and even illustrated it himself) but it's given new life with the help of illustrator Sarah Anderson. She puts her own, unique spin on favorite characters and worlds, bringing them to life in a whole new way with a whole new story to be told. The character designs are fun and inviting and these new takes on Alice, Wendy, and Dorothy feel like they fit the iconic characters well. Wendy, in particular, looks like a young woman who knows who she is and has embraced the skills her crazy adventures have given her.
Cheshire Crossing is definitely not the right book for just anyone. If you've looking for a reverent revisiting of these iconic characters and worlds you really want to alter your expectations. But if you're looking for a fun, unique journey across worlds that's full of swashbuckling pirates, unexpected romance, bad ass young women, and similar themes then you'll absolutely enjoy it.
I'm hoping that since it ends on a bit of a cliffhanger (don't worry, though, the main story has a very satisfying conclusion) that Andy Weir may revisit the world of Cheshire Crossing. If not, it's a fun standalone that readers who love strong women and graphic novels will love!