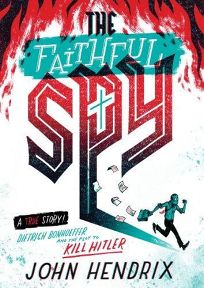 Title: The Faithful Spy
Author: John Hendrix
Release Date: September 18, 2018
Publisher: Amulet Books
Review Spoilers: High
GoodReads | Amazon
As we approach the Easter season I'm sure there are a lot of parents and grandparents out there trying to balance 'the reason for the season' with Easter basket surprises their (especially older kids) will actually like. The Faithful Spy by John Hendrix is my perhaps unorthodox suggestion.
The Faithful Spy is a fully illustrated biography of Dietrich Bonhoeffer, a German clergyman who participated in an ill-fated plot to assassinate Hitler. The book is a sort of hybrid graphic novel. Parts of the story are told in the usual panel format while others feature illustrations accompanying pages of text that tell the story. Every page is bright and color featuring the red and neon blue that would make you flash back to old school 3D glasses. It's a truly incredible format and I couldn't pull myself away from it.
It is, however, a hard book to review. How do you review the life of someone like Dietrich Bonhoeffer? All you can really do is look at the way John Hendrix brought him to life in this book and he did so – in my opinion – perfectly for the audience he's trying to reach.
Whether you're religious or not there's a very strong lesson to be learned from Dietrich Bonhoeffer's life. He made difficult choices in a very difficult time to do what he thought was right. While so many in the church supported Hitler and his Nazi regime, individuals like Dietrich found themselves ostracized and watched simply for questioning Hitler's clearly devious methods and motives.
Dietrich watched his country falling apart around him and yet he stayed and tried to save his country from itself. He and his friend decided to take a stand and fight back. And he ultimately died for it. Dietrich took a stand against overwhelming oppression towards others despite the dangers and consequences. It's an almost timely message. His faith in God and his faith-based convictions are what drove him and history would show that he made the right decision.
John Hendrix tells Dietrich's story so well it can resonate with readers of all ages. Non-fiction graphic novels and biographies are one of my favorite genres right now which is probably odd for someone who has always struggled to read non-fiction prose generally. But I love the way that graphics and text can be used to tell a story and John Hendrix's format here really spoke to me. The non-traditional use of pages of text blended with illustrations and comic book panels was unexpectedly appealing. The style, coloring, and hand-written font worked perfectly. It never failed to keep me fully engaged.
Whether you're religious or not, Dietrich Bonhoeffer's story is a timely one that may speak to any number of readers. But for those who are religious or spiritual it's potentially an even more moving story. That's why I've timed our review with the Easter holiday. If you're looking for a book to add to someone's Easter basket what's a better present for young adults (and reluctant readers) than one about a brave man's unwavering faith and his attempt to assassinate Hitler? It checks a lot of gift giving boxes!