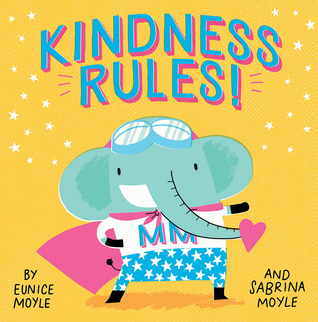 Title: Kindness Rules!
Creators: Eunice and Sabrina Moyle of Hello!Lucky
Release Date: April 9, 2019
Publisher: Abrams Appleseed
GoodReads | Amazon
The creators behind Kindness Rules! had me hooked as soon as I saw their brightly colored elephant superhero protagonist. I'm predictable. Honestly, show me anything in a cape and costume and you've got me. The elephant was simply the icing on the cake as a die-hard Alabama fan. (Roll Tide, y'all.)
While you shouldn't judge a book by it's cover necessarily, Kindness Rules! tells you everything you need to know from that first look. It's an incredibly colorful and vibrant story featuring an elephant named MAGIC MANNERS who goes around teaching other animals about kindness and, of course, manners.
Magic's brief journey through the book covers everything from first introductions to respecting another's personal space. Each little mini-lesson is accompanied by an assortment of animals commenting on various things, adding in helpful phrases, and praising Magic's use of manners.
Though Kindness Rules! is a picture book the amount of characters, dialogue, and action on each page may make it suited for older readers. At the very least it's better to read with kiddos who can follow along with the word bubbles or who won't get frustrated by having them pointed out. My preschooler enjoyed the story and loved the different voices you get to use for each animal. But it could have easily been a full-sized, hardback picture book!
Kindness Rules! is my first look at Eunice and Sabrina Moyle's work but seeing as how they have a potty training book featuring other anthropomorphic animals in capes and costumes I'm going to have to branch out. The character designs were freakin' adorable and while lots of kids' books are colorful this one goes all out. There's so much neon that you can't help but love it. And the illustrations are just clever. At the end, when reminding everyone of the golden rule, Magic has a bow tied around his trunk to help him remember!
If you're looking for a book to help get some lessons across about manners, Kindness Rules is a great one to check out! Plus it has the added benefit of checking the superhero box which we kids are loving these days. You can't go wrong with an elephant superhero in a cape with 'respectables' spectacles!