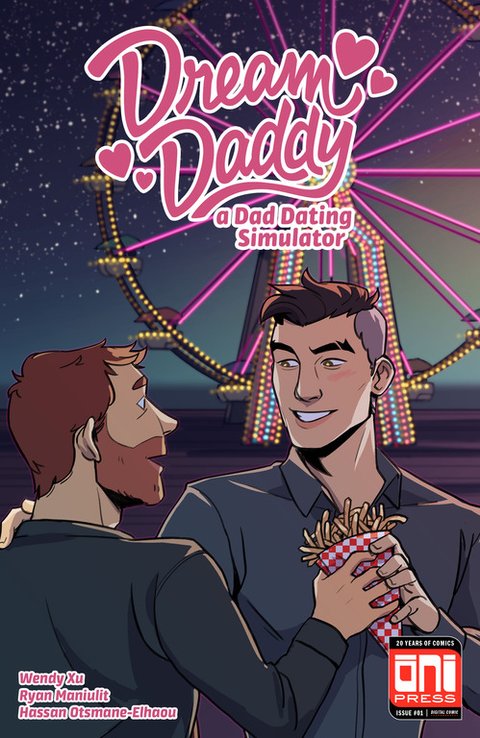 Authors: Wendy Xu
Artist/Colorist: Ryan Maniulit
Letterer: Hassan Otsmane-Elhaou
Release Date: August 29, 2018
Genre(s): Is "Adorable" a genre??
Review Spoilers: Mild, bro

Have a thing for hot single dads? Have a thing for hot single dads that have a thing for hot single dads? Then Dream Daddy comics are the perfect dose of dreamy and adorable, just what one might need after a long day of swiping through Tinder.
The first issue of Dream Daddy, "Much Abird About Nothing," follows two long-time friends as they prepare for and attend their "awkward old people convention" (aka, college reunion). The two leads, Craig and "bro," (seriously, pretty sure we never see his name and Craig uses "bro" more than anyone ever??) share a random adventure, getting advanced copies of books, eating bad food, chasing seagulls. The comic simply flows along, a nice, chill adventure between two bros.
Or maybe we should call them "bros with benefits"?
For such a short comic, the story fits in a lot of emotion and nostalgia. What it's like to grow up, grow old, change. But through it all, sometimes the unexpected person from our past is the perfect person for our future.
Honestly, this comic is the perfect dose of cute. And even if you haven't played the game, you could easily find the characters and story a delight. If you do play the game, it simply fleshes out the world of Maple Bay and the hot dads that live there.
The remaining four issues (both digital and print) will be available later this year on platforms including the Oni Press online shop, Steam, and iTunes/iBooks.
Dad Tip #25: Drink lots of water.