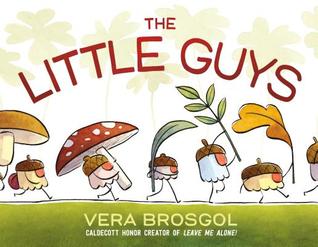 Title: The Little Guys
Author: Vera Brosgol
Release Date: April 2, 2019
Publisher: Roaring Brook Press
Review Spoilers: High
GoodReads | Amazon
Ususally when you sit down to read a children's book you have a general idea of where the story is going to go. Not so with Vera Brosgol's newest book, The Little Guys. I almost hate to do a review because discovering the craziness of the story slowly on our own was probably the best part about reading this book. (Seriously, there were some moments where even my four year old was like, "WTF?")
The story is set in a serene, plentiful forest and follows some tiny little acorn people appropriately called 'The Little Guys.' You would assume that the Little Guys would have a hard time making a place for themselves in such a big world competing for resources with much larger animals. But as they remind the reader, they may be little but there are a lot of them.
You'd expect the book to perhaps be about overcoming obstacles by working together and that's absolutely how the book starts out portraying itself. But it quickly warps into what seems to be a timely-if-unexpected commentary on mob mentality. At the very least it tackles ideas of entitlement and mistreating others as The Little Guys work together not only to survive but to also overwhelm and even steal food from all the other forest creatures.
They seem to realize that together they are powerful but they don't understand that they still need to live peacefully with their neighbors. I mean, they seriously beat up a bear for like no reason! And that was just the last in a string of pages that had my four year old asking "Why are they doing that?" with increasing degrees of worry.
The Little Guys offers a lot of opportunities for conversation and discussion with kiddos which is always great. You can decide just how far to analyze the story and stick to the simple idea of being kind to others to the possible harms of a large group looking out solely for themselves. The cute, fantastic woodland scenes will keep them interested even if they miss some of the larger conversation points. And the Little Guys themselves are just adorable. (Or a little scary if you ask some of my friends.)
I loved The Little Guys and a big part of it was that first read through and seeing my kiddo's reactions. It's a fantastic looking book (Vera Brosgol is an incredibly talented artist) and we loved all of the expressions on the poor animals' faces. I see this being a fun book to share with all the kiddos I care for and I can see them having very different reactions. It's a fun book and definitely worth a read but maybe read it beforehand so you know how you want to frame your discussions afterward.