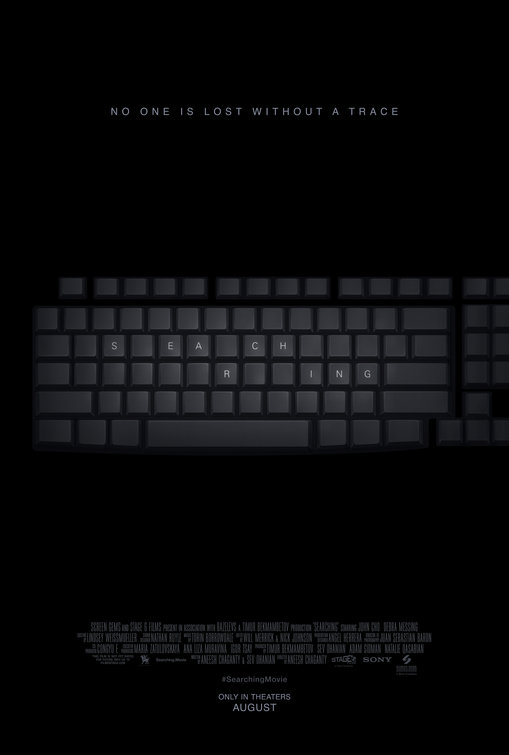 Release Date: August 31st, 2018
Cast: John Cho, Debra Messing, Michelle La, Sara Sohn
Director: Aneesh Chaganty
Studio: Bazelevs Company, Stage 6 Films
Distributor: Screen Gems
Spoilers: None
IMDB | Rotten Tomatoes | Wikipedia
Searching is the hypermodern tale of a missing daughter and the tools a father to find her. But first, he needs to learn who his daughter is….
After going missing, Cho has to dig through her laptop, her social media, and her entire online presence. Working together with a police detective played by Debra Messing he begins to put together the puzzle of who his daughter is, and where she may be.
John Cho does a helluva job here, and as his face is the majority of the flick that is a blessing. He plays the role of middle-aged friendly dad well, who is a bit out of touch when it comes to his daughter but is trying his best.
Watching him come to grips with who is daughter is, finding out who her friends are, where she spends her time, all of it plays well because Cho is so believable and sympathetic. The opening does such a great job of endearing the audience not just to Cho, but the entire family at the heart of the mystery.
The mystery itself unravels well, with enough clues and red herrings to keep the twists coming, impactful, and at times shocking. Like any good mystery, the clues are there for attentive viewers to attempt to piece it together, though the final act lays them out fast and furious.
I gotta admit, this movie takes a format that is indisputably trash and finds a few ways to make it shine. The director, Aneesh Chaganty, in his first feature clearly wanted to do something different, something with a gimmick, and had ideas that would really put that gimmick to use. The entire movie is told through point of view computer screens.
Unlike the Unfriendeds and movies of their ilk, its not just an entire computer screen, the camera moves to focus on various points of interest, it races between tabs and windows to create an energy. However, there comes a certain point where the movie has to leave the confines of the desk and when it does so the gimmick falls apart, but by that point you've bought in and it is forgivable.
Also, props to the Pokemon Deep Cut references. Uxie and Kecleon (a nice clue) mentioned in a movie?! What a time to be alive!
Searching is in theaters now, and well worth a watch!