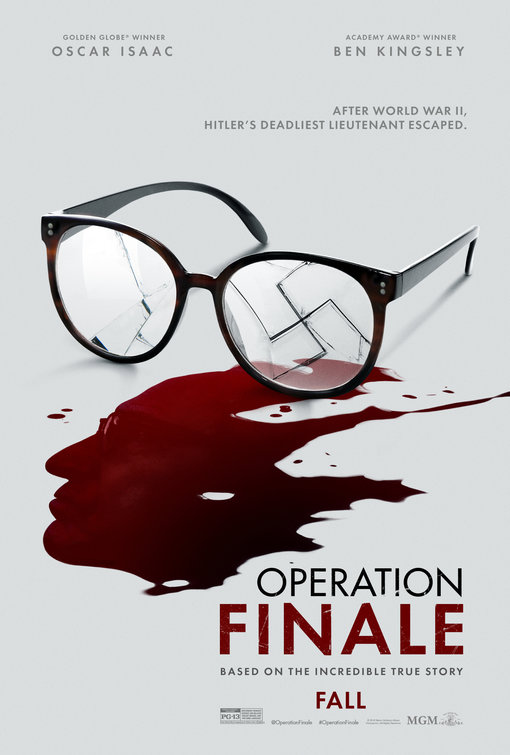 Release Date: August 29th, 2018
Cast: Oscar Isaac, Ben Kingsley, Lior Raz, Mélanie Laurent, Nick Kroll, and Joe Alwyn
Director: Chris Weitz
Studio: Automatik Entertainment
Distributor: Metro-Goldwyn-Mayer
IMDB | Rotten Tomatoes | Wikipedia
Spoilers: Low
In 1960, Israeli secret agents located the architect of the Holocaust, Adolph Eichmann living and hiding in Argentina. Operation Finale details their mission, from planning to execution to trial. Starring Oscar Isaac as spy Peter Malkin and Kingsley as Eichmann, the movie has a stellar cast, with Chris Weitz it is helmed by a competent and experienced director. Despite all this, it never really becomes greater than the sum of its parts.
The movie itself is slow, interesting, but seemed almost aimless. It felt like each act opened up with renewed vigor but puttered out before it got up to speed. The planning of the mission was abrupt, the capture quickly done, and then the following holding of Eichmann just kind of happened.
While watching the movie you constantly wait for the 'meat' of it so to speak. As I said, it is all decent, but it never really gets the chance to shine. You begin to think 'Oh, here is where it gets going' only for the movie to never get there. Where tension should be building, that our heroes might get caught or experience setbacks or betrayals, it just never feels like the noose is tightening. Things just happen.
If there is a central piece of this movie it is the interactions between Isaac and Kingsley. After the successful kidnapping, the two men come face to face and they begin an interesting relationship, trying to learn more about each other.
While Eichmann offers philosophical discussion about his deeds and who should really be blamed for the Holocaust, Malkin appeals to his humanity to try and get the next stage of the extraction done. This section gestures toward a good character study of these two men, and what we get was good, but there certainly could be more.
The real diamond of the flick is Alexandre Desplat's music. From the opening credit sequence to the end, his score is reminiscent of 60's era spy shows and movies. You immediately get the sense you are in a real caper even if the movie doesn't quite deliver that.
The movie isn't bad by any means, what's there is enjoyable, I could just go for a whole lot more. The characters, the spycraft, the music, the tension. Give me more! Amp it up!
Operation Finale is in theaters now.