A REVIEW COPY OF J.K. ROWLING'S WIZARDING WOLRD: A POP-UP GALLERY OF CURIOSITIES WAS PROVIDED BY THE PUBLISHER IN EXCHANGE FOR A FAIR AND HONEST REVIEW. NERDOPHILES WAS NOT COMPENSATED FOR THIS REVIEW. OUR OPINIONS ARE OURS AND OURS ALONE.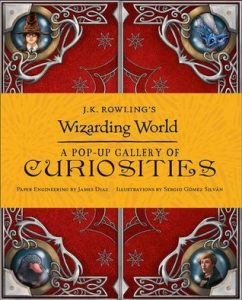 Paper Engineer: James Diaz
Illustrator: Sergio Gómez Silván
Publisher: Candlewick Press
Publication Date: November 1, 2016
Genre: pop-up book
Amazon | Goodreads | Barnes & Noble

This pop up book is incredible – or dare I say –
magical!
Everything from the packaging to the illustrations is a whimsical experience.
Packaged in a Gryffindor-red hardback, the book opens straight down the middle like a set of ornate double doors held together by a magnet.
The hardback shell looks like a spell book, and features four illustrations, two each from the Harry Potter universe and two others from Fantastic Beasts & Where to Find Them tied together with metallic silver swirl embellishments.
Inside, there are five pages of paper pop-ups with accompanying text describing where the scene was found in the movie and how the movie magic was made.
Though most pages don't have any user interaction (e.g. pull tabs or movement wheels), the designs are multi-dimensionally layered and visually impressive. They are intricate works of art worthy of display.
The text sections at the bottom of each illustration describing how each magical element was translated to the screen were particularly interesting for adults (lots of paint and CGI!), and the illustrations and movie quotes will thrill children.
My only criticisms of this book are that there aren't more pop-up pages to enjoy, and that its glue has the tendency to fall apart easily, causing the pages to tear away from the hardback. Also, some pop ups came unstuck from their slats or elements became stuck to one another, requiring some manual repair work.
Other than that, this pop-up book would make a great gift for young and old wizards alike. It is nothing short of magical!