This week, Sam enjoyed The Backstagers from BOOM! Box, while Kylee read the topical Briggs Land and female-centric Spell on Wheels, both from Dark Horse Comics. Kylee also read the first issue of Hook Jaw from Titan Comics this week.
Want to hear more about what we thought about these issues? Read on – and let us know what you thought in the comments below.


Sam's Reads
Backstagers #5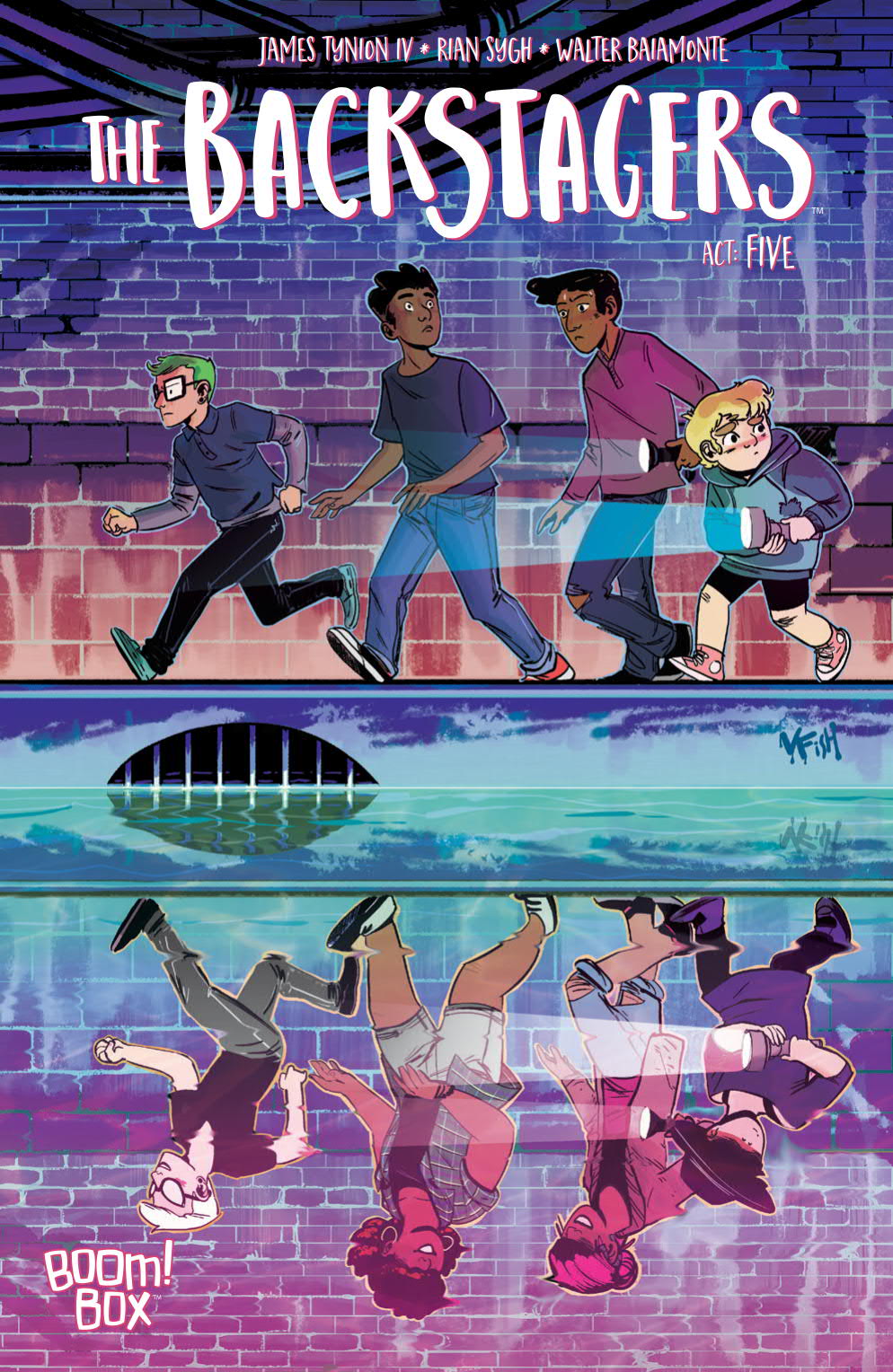 Author: James Tynion IV
Artist: Rian Sygh
Publisher: BOOM! Box
Source: BOOM! Studios DRC
?????
With the production of Les Teribles now completed, the Backstagers are taking some time off to just relax. Rather, they were going to until the creepy, mysterious backstage started beckoning to them. It doesn't take long before they lose their way and find themselves in a costume room that doesn't look familiar to any of them. They end up meeting up with some girls from the backstage crew at their school. After a brief squabble they both realize they aren't where they think they are. In fact, they're maybe in London?
Who knows.
Well, Sasha's creepy friend "Polaroid" knows and he shows up to creep everyone out at the end of the issue leaving us wondering what's up next for the Backstagers and their new, female counterparts.
I had been wondering what was going to come next for this series and I like the direction that it's taking. Ever since we were introduced to the backstage world there have been a lot of questions begging to be answered. It looks like we might actually have a little bit of the mystery solved. Either that or "Polaroid" is going to consume all of their souls for all eternity. The jury is still out.
I like that the book is embracing the darker, scarier aspect of the backstage right now. And I'm very interested in seeing who this entity is and how it's related to the kids who went missing a few decades back. With three more issues to go, there's still a lot of promise in this series. I can't wait to see what comes next.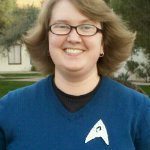 Sam Wildman is a co-founder and co-editor at Nerdophiles. She's really disappointed that we didn't get to se the kids playing Total Conquest but supposes paranormal creepiness trumps board games. Follow her on twitter @samaside.


Kylee's Reads
Hook Jaw #1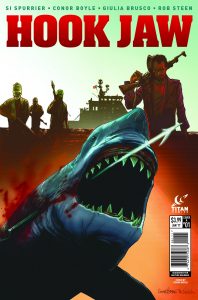 Author: Si Spurrier
Artist: Conor Boyle
Publisher: Titan Comics
Source: Titan DRC
?????
Without first knowing the history of Hook Jaw, I went into this comic with the zealot of a Jaws fangirl and I wasn't… wholly disappointed. The intention was there, but it is very much a 'diamond-in-the-rough' type of comic for me, one that I'll have to give a few issues to find its footing with tone and characters.
Introduced with haunting, single-minded thoughts is the idea of Hook Jaw (again, much like Jaws), before moving onto the group of marine biologists studying sharks. When they run into trouble on the open seas, pirates and the U. S. Navy alike board their vessel and cause problems before there is another resurgence of Hook Jaw.
Ultimately, the tone bounced a little too frenetically between camp and horror, snark and seriousness, to land successfully for me. The quick-witted, censored, dialogue felt over-the-top and forced at times, with grand caricatures being sketched by Simon Spurrier about pirates and the U. S. Navy both.
This first issue was a slow-burn of introduction to the eponymous character, though it's unclear how many of the other characters will anchor the series issue to issue, given how shark attacks normally turn out. Conor Boyle's art works best with the moody, dangerous vibe of Hook Jaw in full page spreads where the danger is looming under the depths. There is the promise of something amazing here and I'm ready for issue #2 to improve upon the first.
Briggs Land #5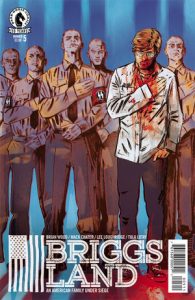 Author: Brian Wood
Artist: Mack Chater
Publisher: Dark Horse Comics
Source: Dark Horse DRC
?????
Briggs Land continues to be a tough, realistic read that everyone should be talking about (I personally think about the interview I did with Brian Wood a lot). This issue rather creatively resolves the Hillsons problem, while introducing another possible complication. After Caleb failed to get Bud to sell willingly, Grace forces him to call in outside help. Hospitalized from his beat down at the end of last issue, it's almost hard to remember that Bud's been laundering money with the Briggs' for years; he's definitely not innocent in all of this.
The Aryan Brotherhood steps in to deliver some particularly cruel and creative threats to Bud, who finally does cave after a threat he can't ignore. But by bringing them around, it has piqued their interest in the little hardware store Caleb couldn't procure on his own. Only time will tell if we see any of these new characters again.
This issue was very dialogue-light, allowing for the horrors against Bud to play out in silence for readers while juxtaposing that with Grace, who has ventured into the woods on a peaceful hunting trip alone. The lack of text, along with the muted colors of the book as a whole, allow for the reader to really feel the impact of actions in this issue and it's powerful. Brian Woods, Mack Chater, and Lee Roughridge have put together a timely series that delves into morally gray areas, forcing readers to come to their own conclusions.
Spell on Wheels #3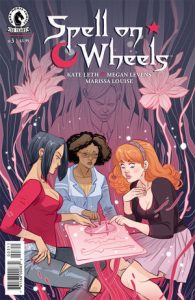 Author: Kate Leth
Artist: Megan Levens
Publisher: Dark Horse Comics
Source: Dark Horse DRC
?????
This series is set up very much like a case-of-the-week series, as the group recovered from retrieving their last artifact and immediately went about picking up a planchette and some books from, who they assume is, a bored housewife.
My one gripe with the issue may have been how harshly suburbia and housewives were judged as the girls drove into the neighborhood – "WASP-y" is such a tired insult. But it does speak to Kate Leth's writing abilities, portraying very realistic feelings and delving deeper into all of the women in the issue once that initial assumption is proven false.
Megan Levens does another wonderful job portraying the diversity of women young and old and I really appreciate the series as a whole for how these characters aren't strictly defined by cliches. This issue deftly handles homosexuality and religion, as well as grief and loss, in a way that is greatly empowering. It also allows for Jolene and Andy to take more prominent roles with Claire playing supporting character this issue.
As amazing as this issue was, stopping in one place for a few artifacts when who knows how many have been sold on the Goblin Market (or to where), again felt like a stalling point. It wasn't until the end of the issue that ended on a cliffhanger that it really felt like the girls were getting back to task and may be forced to change their plans of collection. With only two issues left, I'm hoping Spell on Wheels magically becomes an ongoing series.


Kylee Sills is an associate editor at Nerdophiles. Honestly, suburbia gets a bad rap – give me calm, quiet neighborhoods any day. Follow her on Twitter @kyleewho.