Delos Incorporated has opened their most infamous attraction, Westworld, to the attendees of New York Comic Con, but you can only live a life without limits if you manage to get a spot in this coveted and limited fan experience. As we did with the Game of Thrones: Winter is Here experience, we are here to evaluate whether Westworld: The Experience is worth your time and give you a look at what to expect.
So, after the fans inundated the Hilton Bayfront Hotel to sign up for this experience at San Diego Comic-Con, there's been a change for NYCC fans trying to jump into Dr. Ford's world of hosts. You might know this already, but for those who want a chance to attend the experience, you must find one of the appointment desks that will pop up each morning near Javits at a different location. Follow @WestworldHBO at Facebook and Twitter for updates and will begin appointments at 9:00am until all the slots are filled, this is a limited time event, only lasting through the weekend.
Now let's get onto the breakdown of this experience.
Ultra Immersion
Where I said the Game of Thrones experience was more suited to groups, Westworld: The Experience can easily be experienced alone. The actors who portray the Delos employees and hosts are all excellent at adding to the immersive experience that you'll get. Walking into the antechamber, you'll be greeted by hosts who will check you in as you walk into a room full of props made to feel like you're getting ready to enter Westworld.
From there you can experience a personalized one-on-one session that will "delve into guests' psyches, unlocking their true selves and resulting in an exclusive Westworld takeaway." Spoiler alert, it's a badass cowboy hat. After that you're taken to Westworld and find yourself at the Mariposa Saloon. There you are plied with three delicious cocktails crafted by world-famous mixologist Paul McGee while you converse with the ladies and listen to some music from the player piano. Various elements from the experience might be considered cheesy or over-the-top but it is crafted to an expert degree. The actors are always engaging, the drinks are delicious, and the experience as a whole is exciting for a fan to experience.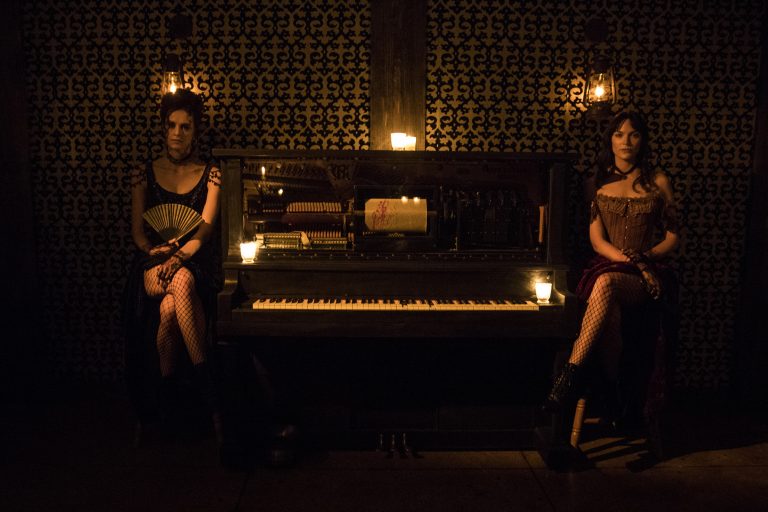 Exclusive Footage
I will say that the exclusive footage you get to see while at the experience doesn't add too much to the experience as a whole. The audio in the room can sometimes be drowned out, and unless you're really good at picking out Easter Eggs and clues it's more a placeholder for the next step of the experience.
A Quick Trip
While it's unrealistic given the logistics that it took simply to just sign people up for the experience, I wish this was a longer experience. Walking through parts of Delos Incorporated and getting a personality test that reveals I'm a black hat — doesn't bode well for me — and getting a drink with the girls at the Mariposa is just the tip of the iceberg. I want to go back! While they certainly make it easy for you to enjoy the experience, the well crafted and flawless design of Westworld: The Experience makes it an unforgettable one. We can't wait for the next one!
For those who can't make the experience, we managed to get some footage from within, showing the entrance, the personality test, and some shots within the Mariposa Saloon. The experience is only for New York Comic Con attendees with badges and age 21+. If you're curious about the cocktails, we've got the recipes below if folks at home want to have a taste of Westworld.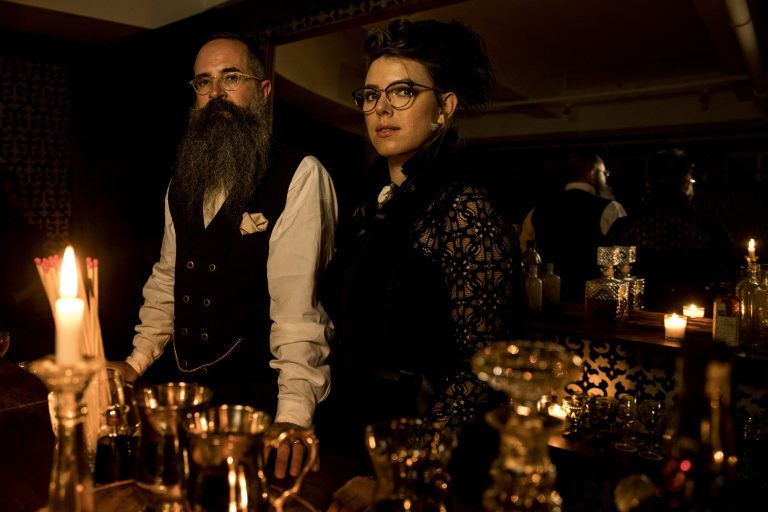 COCKTAIL RECIPES:
Sherry Punch
1 oz. Manzanilla Sherry
1 oz. Amontillado Sherry
½ oz. lemon juice
1 oz. Mallorca tea syrup
¼ oz. pineapple vinegar
2 oz. water
Blue Blazer
2 oz. Westward Single Malt Whiskey
Barspoon of Demerara sugar
2 dashes Angostura Bitters
1 dash Abbot's Bitters
Milk Punch
1 oz. cognac
1 oz. overproof rum
1 oz. cold brew coffee
¾ oz. spiced Demerara sugar
½ oz. heavy whipping cream
If you're at New York Comic-Con this week, don't miss out on this chance to experience Westworld: The Experience, especially since the hosts seem to be kind of …. glitchy these days.
Our hosts are here for you.
A new sign-up location will be revealed tomorrow morning for #WestworldNYCC.
Hint at 7AM. Location at 8AM. pic.twitter.com/lEvFV4k9nA

— Westworld (@WestworldHBO) October 6, 2017