New York Comic Con will be upon us in less than a month. The panel list is already up and there are still limited Thursday tickets available if you've decided to make a last minute purchase.
Along with a change in ticket sales this year, NYCC has introduced a new lottery system for some of the activities inside of the convention. If you're interested in exclusive toys, cast autographs, and Main Stage panels then you want to take a chance to snag an entry into the events during the convention from the comfort of your own home.
What is the NYCC Pre-Show Lottery?
In days of old (read: last year) there were a lot of autographs on the schedule that were not available for purchase before the show. That meant con-goers wanting to get something personalized had to show up extremely early the day of the autographs, get into a line, and hope they make it past the cut-off point.
The same held true for the Main Stage panels which required lining up early to receive a wristband, allowing individuals to return before the panel was set to start.
This year, NYCC has decided to divide and conquer. Instead of solely relying on attendees to show up at the crack of dawn, they are offering the option to get spots long before stepping foot in the Javits Center.
For the Main Stage panels, 50% of the seats will be awarded to individuals entering the pre-show lottery. From what we can tell, all autographs (except the ones you can purchase ahead of time HERE) and most participating booth exclusives (think Funko) will only be available through the pre-show lottery.
NYCC officials did say that some exhibitors have opted to have a virtual standby line, which will require attendees to go to the booth, tap their badge, and then wait to receive a text message in the event there is excess availability.
What do I need to do to qualify?
Other than have a badge, attendees wanting to participate in the pre-show lottery must activate their badge because that is where the "tickets" will be stored.
Long gone are the days of wrist bands or actual paper tickets! If you have not yet received your badge you can still enter the lottery now, but in order to redeem your tickets at the show you will need to activate the badge before trying to get into panels, autographs, or in line for exclusives.
All attendees entering the pre-show lottery have to be Fan Verified. There are no ifs, ands, or buts about it.
How does it work?
Ah yes, now comes the slightly tricky part. Remember, the pre-show lottery is for (1) a seat in a panel taking place on the Main Stage, (2) a ticket to a limited autographing session with the casts from some of your favorite movies and TV shows, and (3) a chance to purchase exhibitor exclusives from Funko, Fisher Price, and more. As far as we know anything else you can think of will occur on site.
The lottery will open on Thursday, September 14th at 2:00PM/ET and will remain open until Monday, September 25th at 5:00PM/ET.
Starting September 14th you can visit THIS PAGE to enter the lottery.
You will enter your fan verified e-mail and the events will be separated into two categories, Group One and Group Two. It is unclear at this time which events will fall into each category.
You can then select events under each group until you have hit the maximum. For group one events, fans can enter to win two for each day of the convention and for group two events fans can enter up to four each day. You can also reserve tickets for your Fan Verified friends.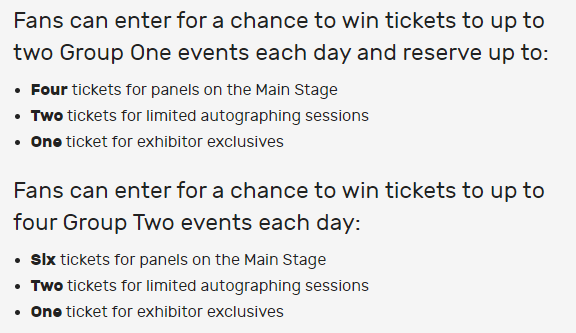 After you have selected your group size for all of your selections you will submit your entry into the lottery and then…you wait!
When will I know if I've won?
All winners will be notified by Friday, September 28th at 5:00PM/ET. You will be e-mailed a unique link that will give you all the information you need to confirm your participation and make sure your friends get their tickets loaded onto their badges.
IMPORTANT NOTE: You MUST confirm your participation in each event within 48hrs after receiving your e-mail. If you don't you could lose your tickets.
What happens at the con?
If you are a winner, congrats! You have overcome one of the last obstacles standing between you and NYCC. All of your event tickets will be loaded onto your badge and all you have to do is tap it when you arrive at each event.
For all limited signings and exhibitor exclusives you will want to arrive no more than 15 minutes before the start time. For the Main Stage panels you will need to arrive 35 minutes prior to the panel start time in order to get in. Miss these times and you forfeit your entry into your hard won events.
In Summary…
If you want to get autographs, be guaranteed entry to Main Stage panels, or nab some exhibitor exclusives then you will need to enter the NYCC Pre-Show Lottery. It starts this Thursday, September 14th and will remain open until Monday, September 25th.
You can enter to win a certain number of tickets each day but there is a limit, so choose wisely. It looks like the best chance to get in will be to team up with friends who can enter to reserve tickets on your behalf. This should significantly raise your chances of getting into the events you don't want to miss.
We will be sure to keep you posted if anything changes. Keep an eye on the blog for more NYCC updates as we approach the convention weekend!
For a visual walk-through on how to enter the Pre-Show Lotteries, check out our guide right HERE. Make sure you tab through all of the days that you have badges for!