It's time! The New York Comic Con ticket sale is happening this Saturday, May 13 at 11:00 AM ET! Since ReedPOP made the choice to sell tickets only online as of a few years ago, this your last chance to purchase tickets for NYCC 2017. Along with online-only sales, ReedPOP also did away with 3-day and 4-day combined tickets this year, meaning everyone must buy single-day tickets for every day they would like to attend.
Who CANNOT Participate?
If you have not created your Fan Verification account, unfortunately it is too late to participate in the 2017 ticket sale. Last year, ReedPOP re-opened Fan Verification accounts after the initial sale, but don't count on that happening again this year. Not only should more people be aware of the fact that you need a Fan Verification account to purchase a ticket, but you also must assign it at the time of purchase this year – meaning whoever you're buying for needs to already have a Fan Verification account themselves.
If you purchased 16 total tickets during the presale, you cannot participate in the 2017 ticket sale. This wasn't initially something that was made clear until we asked NYCC themselves to confirm during the presale. If you've already bought the max from your account, you're not eligible to buy any more in the sale on Saturday.
The #NYCC ticket sale is happening this Saturday, May 13th! Reminder if you bought 16 TOTAL tickets in the pre-sale, you cannot participate! pic.twitter.com/D94wI0TRRd

— NERDOPHILES (@nerdophiles) May 11, 2017
I CAN Participate! Now What?
NYCC has confirmed that it is first come, first served for whoever clicks or refreshes on the link first at 11:00 AM ET. Granted, everyone is still piled into a Waiting Room after clicking on the link, which can last anywhere from one to two hours (or longer) before it clears or tickets sell out.
DO NOT share your unique on-sale link with anyone else! Unique links for the sale were sent out to everyone who had a Fan Verified account completed by the May 3 deadline for 2017. This means, your friends must also be Fan Verified to participate or have tickets bought for them. Looking for your unique link? NYCC has provided directions to find your on-sale link if you did not receive an email or cannot find it.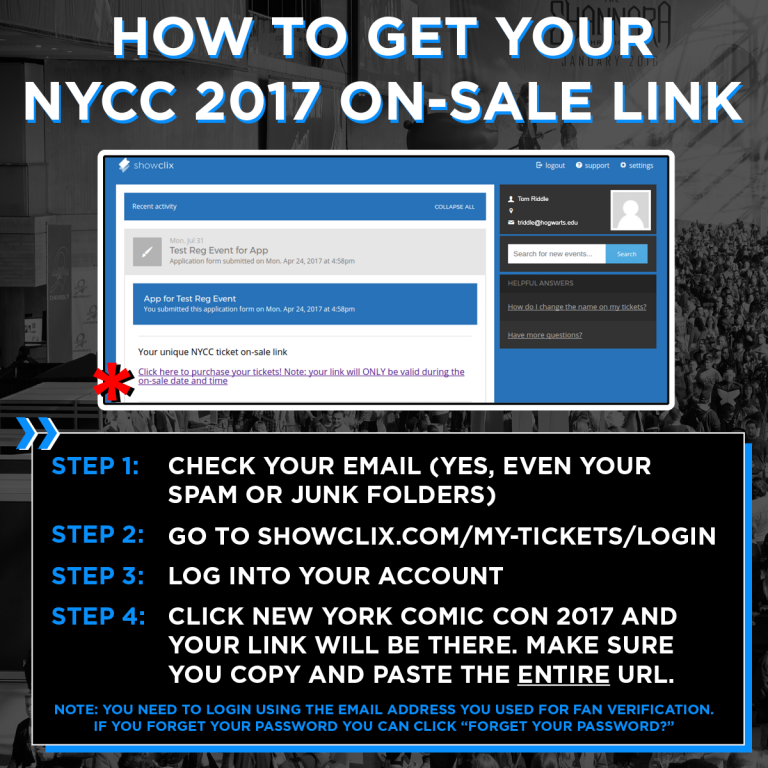 It's important that you stay in contact with your eligible friends during the sale because if you try to buy a ticket for someone who has already gotten their tickets, you'll get an error that forces you to cancel your entire order. You won't have to go back to the end of the queue, but you'll have to restart with an empty cart, which could potentially lose you the tickets that you had claimed previously.
Make sure to familiarize yourself with the NYCC Assigning Tickets process if you are trying to buy for other people on Saturday. You can check out the guide provided by ReedPOP here to make sure that you understand how to assign tickets to others.
From the NYCC Assigning Tickets Walkthrough:
THIS IS IMPORTANT: If you need to remove the ticket from your cart you need to cancel your entire order. This means that the tickets you reserved for yourself will also be cancelled. You will then be brought back to the main page (not the virtual queue but the page where you choose your tickets) to select your tickets again. There is a chance that during this time the tickets you had reserved for yourself could now be sold out. DON'T LET THIS HAPPEN TO YOU.
You'll need the email your eligible friends used for their Fan Verification account to assign tickets to them and remember that you can buy up to 4 tickets per type, for a total of 16 combined between the presale and the sale on Saturday. There are no more 3- and 4-day combined badges, meaning every day will have to be bought separately. If you bought the total of 16 tickets during presale, you are not eligible to purchase anymore.
Remember to have money set aside for Saturday. The elimination of 3-day and 4-day combined badges means that each day will have to be bought separately for a total of $195 for 4 days. Multiply that by you and three friends and it is a hefty sum of $780 for four 4-days of NYCC. As always, make sure that you are only buying for people you know and trust (and who are Fan Verified… and who haven't already bought tickets for themselves).
Be sure to check your mailing address attached to your Fan Verification account. ReedPOP will mail all tickets bought before August 18, 2017 sometime in September of 2017, however your address must be correct as of July 17 to ensure tickets are delivered to the correct place. International Orders will have the option to have tickets mailed or picked up onsite.
Other Resources
For your last minute questions, hit up NYCC on Twitter and peruse their tweets. If you didn't click on the link earlier, familiarize yourself with the process of assigning tickets to others. Good luck to all and remember, breathe, just breathe, and visualize those beautiful NYCC general sale tickets.


Still have questions? Check out NYCC's FAQs or hit us up on Twitter for help!