In case you missed it, New York Comic Con is changing around how they do tickets for entry into Mainstage panels, autograph sessions, and vendor exclusive lines. This year they have introduced the pre-show lottery, which you can read more about HERE. It is open until Monday, September 25 so be sure to check out what's available and get your name in the hat.
Below, we'll walk you through the process.
Step 1: Visit THIS PAGE to start the process.
You will be given a landing page welcoming you to the NYCC pre-show lottery and asking for your Fan Verified e-mail. To be safe, make sure your Fan Verified e-mail is the same one you used to activate your passes.
If you're not using a regular attendee badge, you might have different e-mails floating around. A rep from ReedPOP told us to make sure the official e-mail granting another type of badge was Fan Verified and to enter using that e-mail.
If you are using an e-mail that you don't believe has been Fan Verified, or you're still wanting to get your hands on Thursday passes, check out the application HERE.
Step 2: Make your selections.
You will want to select events only for days that you have passes. If you're caught trying to get access to events for days that you don't have passes, even if it is to help your friends, there may be consequences. Go through each day and select up to two Group 1 events and four Group 2 events.
Remember, the free autograph sessions set up by NYCC are being allocated through this process. Access is being solely given out through this pre-show lottery for autographs, but you might get on-ground chances for Main Stage panels and exhibitor exclusives through standby lines.
Selections you make will be highlighted in green. DO NOT HIT SUBMIT UNTIL YOU HAVE MADE ALL YOUR SELECTIONS. Some early entrants did not realize there are tabs for every day of NYCC and that you submit choices for every day that you have a badge at once. Be sure to tab through your choices if you have a badge for more than one day.
The next page will give you a chance to go back if you make a mistake but it is easier to double check and make sure you've selected events for each day you're attending first.
If you went through the entire process and hit "submit" without choosing events for all four days you can e-mail ReedPOP with your fan verified e-mail and they will do their best to assist.

If you think you didn't submit properly, please email Inquiry@NYComicCon.com – please include your name & fan verified email. Thanks!

— New York Comic Con (@NY_Comic_Con) September 16, 2017
Step 3: Select how many tickets you're requesting.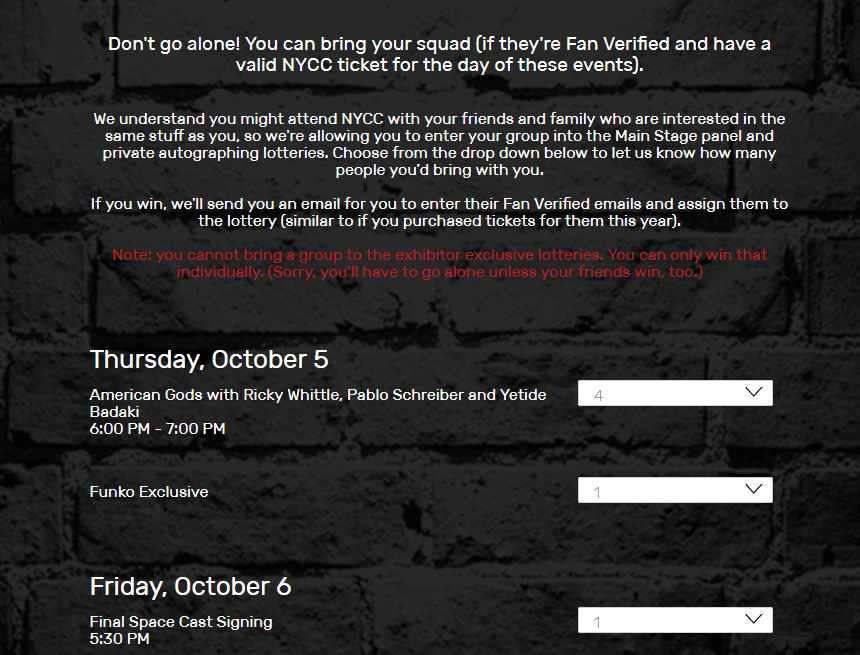 Similar to the general ticketing process, NYCC is letting individuals request multiple tickets for each event that can later be assigned to friends. Please note that if you win tickets, you'll have 48 hours to confirm that you are attending and get all of them assigned to your friend's Fan Verified e-mails. Friends must also have a badge for the day of the event.
Exhibitor events do not allow requests for multiple tickets but for Main Stage panels you can request up to four and for the signings, it looks like you can request up to 2 tickets each.
Step 4: Hit Submit.
Once you are sure you have claimed entries for all of the events you want to attend, you can finally hit the nice red Submit button. This is also your chance to go back and make any final edits if you have decided you wanted to try for any of the other panels, autographs, or exclusive opportunities.
Once you hit submit you will not be allowed to edit your entry so please, take your time. This is too big of a deal to rush it because it could result in missing out on some cool NYCC experiences.
Everyone's entries, regardless if they were submitted on September 14th or September 25th will carry the same weight. This is not the madness of the SDCC hotel lottery so take a breath, chill, plan it out with your friends and go from there. There's no rush as long as you submit your entries before they close.
Step 5: Sit back, relax, and wait.
Good things come to those who wait, so hopefully you will be getting some good news soon. No one will know what they've gotten into until September 29th.
Remember, if you receive a winning e-mail you need to act fast and claim your reward within 48 hours or else your chance to get into these events will disappear. If you're interested in learning more about the specific process Funko has employed this year, check out our post about it HERE.
Good luck and may the odds be ever in your favor!
---
How did entering the lottery go for you? Did you get caught up in the rush and forget to submit for more than one day? Sound off in the comments with what you think about this new process.