Supergirl: The Complete
Second Season [Blu-Ray]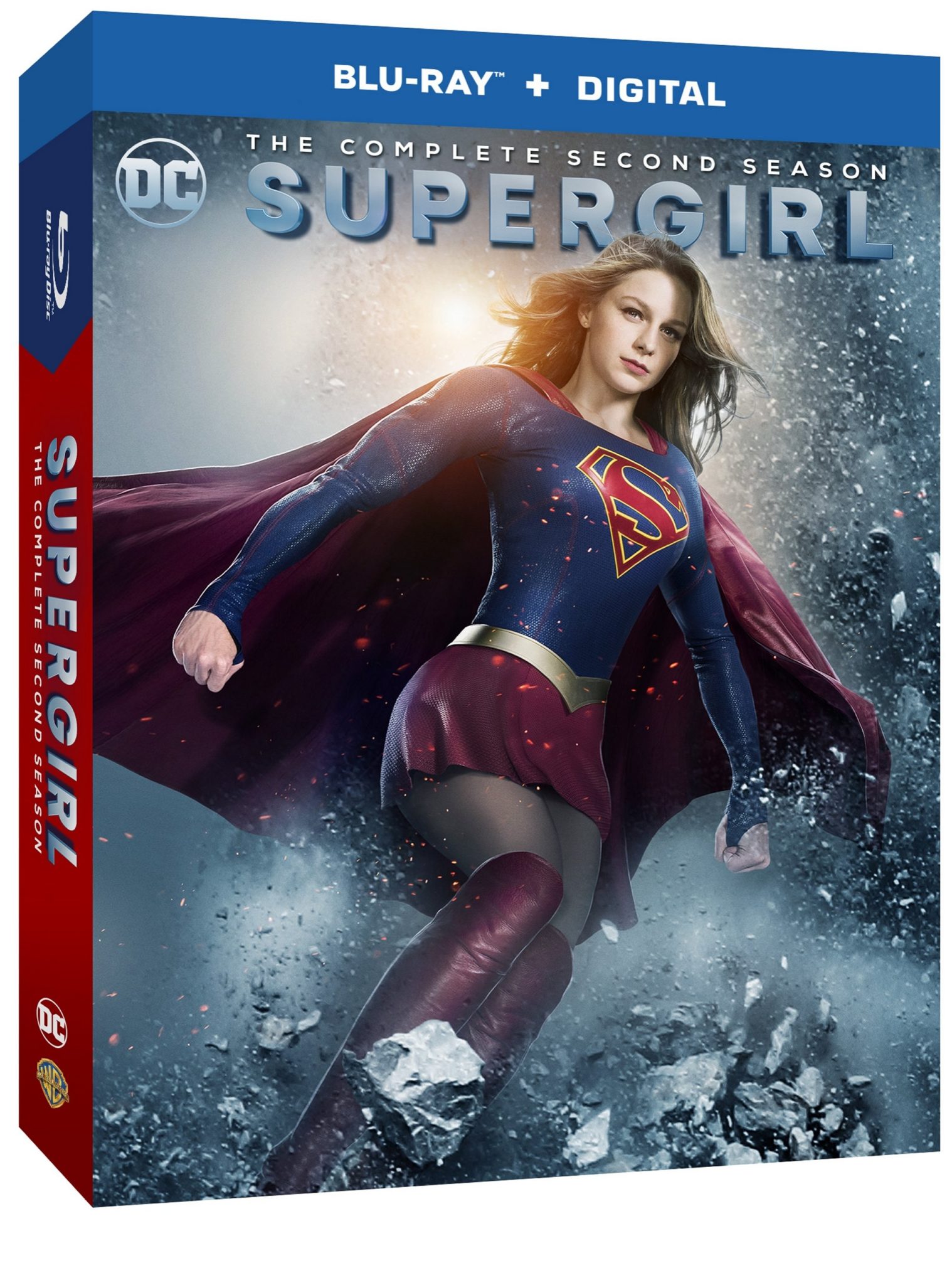 Release Date: August 22, 2017
Cast: Melissa Benoist, Chyler Leigh, David Harewood, Mehcad Brooks, Jeremy Jordan, Chris Wood, Floriana Lima, Katie McGrath
Network: The CW
Genre(s): Sci-Fi, Comic Book, Superheroes
Extra Feature Rating: ★★★½☆
Rating: ★★★½☆
Review Spoilers: Moderate
Amazon | IMDB | Wikipedia | RT
When the first season of Supergirl premiered over on CBS it felt a little out of place. The majority of it's DCTV contemporaries (with the notable exception of Gotham) were broadcasting on The CW where they enjoyed not just the same audiences and buzz but the opportunity for crossovers and all kinds of other fun. When CBS effectively cancelled Supergirl, The CW swooped in to make things right and brought the show home for good.
Once on The CW, Supergirl got something a second chance. And by most accounts it thrived. The show fit right into the CW's DCTV lineup and Kara's on-going friendship with Barry Allen of The Flash helped integrate the show into the same world as the rest of the characters. Well, at least to a certain degree.
Unfortunately, the move meant that there were some shakeups. Calista Flockhart – who played the badass, non-powered Cat Grant – stepped down from the series. But in her absence we saw other characters step up in an attempt to fill the gap. We saw characters like James Olsen taking on new responsibilities not just at work but in his personal life. Kara's best friend Winn from CatCo followed her to the DEO and became a much larger part of her secret life (while exploring some of his own extracurriculars). And we met new favorites like Mon-El and Maggie who brought a little bit of romance into the lives of Kara and her sister, Alex, among their many other contributions to the series.
Basically, where there were a lot of changes, but for the most part they were for the better and this season of Supergirl was incredibly enjoyable. Now, it's not necessarily as good as the first season was but we won't hold that against this one. You don't have to take our word for it, though. Supergirl: The Complete Second Season comes out on blu-ray, DVD, and digital HD today. If you want to know more about it before committing to purchasing the season, though, you can check out our full season below – and our special features review, too!
Season Review
As I said earlier, despite some major changes the second season of Supergirl was still really great. Much like The Flash and Legends of Tomorrow this is one of those DCTV shows that really does well to have a much lighter tone. While the problem of aliens and the unique plot lines that go along with sort of set the stage for Kara and the team's week-to-week conflicts, it's almost a lot about character relationships.
Unfortunately, with Cat Grant gone one of the show's most important relationships falls out of the limelight. This was the biggest lost when it came to Supergirl switching from CBS to The CW. Calista Flockhart was forced to drop out of the series when production moved from one city to another – though she thankfully managed a few guest appearances! Still, her interactions Kara were always so great and there will never be as fierce and strong a female character on television as Cat Grant. Even though Kara still worked at CatCo, Cat's absensce was very obvious.
Still, with Cat gone several other characters were able to move their own stories in different directions.
James Olsen ended up replacing her and had to learn to be not just a journalist but a leader. And Kara went from helpful assistant to street-level reporter herself. Her relationship with her uncompromising and gruff supervisor, Snapper, forced Kara to evolve and learn. And as she learned how to be a journalist she – and the viewers – were occasionally taught valuable lessons about perseverance and even journalistic integrity.
Interpersonal relationships were really one of the most important focuses of this season and you can see that in the various storylines spread throughout. We see different groups of character interacting with one another with some of the partnerships less expected than others. For example, James Olsen – with the help of Winn – fulfills his own heroic aspirations this season in a pretty spectacular way. It also opens up some really interesting discussions about vigilantism especially as his character arc and methods contrasted with the image of Supergirl.
But the major focus sometimes seemed to be on romantic relationships. Practically everyone at some point found themselves coupled up this season. But – at least to me – they didn't seem forced. In fact, the best thing about this show was how real these relationships felt at times and the unique conflicts that often popped up. After all, when you're dealing with aliens you're going to have some very different relationship issues and dynamics.
The major relationships this season were between J'onn and M'gann; Kara and newcomer, Daxamite refugee Mon-El; and Alex and Maggie, a police detective who becomes an important ally to the DEO – but who at times also asks some pretty important questions about the role Supergirl plays in law enforcement. I don't want to spoil too much because I think you're going to want to see these relationships grow and be challenged for yourself.
But I will say two things.
First, I absolutely love Alex and Maggie and I think their relationship is amazing. Alex goes through some really personal and emotional character development this season as she begins to embrace her sexuality. And I think her self discovery, her budding relationship with Maggie, and the challenges they both face this season are some of my favorite parts of the show.
Second, I really like Mon-El. From what I gather he's a bit of a divisive character in the fandom. And I agree that a bit too much of Kara's story and characterization starts to rely on Mon-El. At the same time, though, I like him a lot. I think he was a great foil to Kara at times and his personality and morals were an interesting contrast to Kara's sense of responsibility and duty. So at the risk of making some fans angry – I'm definitely #TeamMonEl.
So, what else happens this season of note?
Well, we finally get introduced to Superman! I know that they were trying to make the show primarily about Kara in the first season but I always hated how faceless and absent Clark was. This season, though, we meet the man himself (played by Tyler Hoechlin). And while he doesn't show up often he definitely adds a lot to the show. I've always thought that even though this is Kara's story the Supergirl writers definitely do a good job of using him sparingly but effectively.
We also see Kara interacting with her DCTV contemporaries from The Flash, Arrow, and Legends of Tomorrow. I'm not going to lie to you guys, I wasn't a huge fan of the three-part, four-series crossover. And I don't think Supergirl was given nearly enough of an opportunity to shine. But that's what happens when you exist in an alternate timeline to the rest of your friends.
Also, you shouldn't expect to actually see any of this because none of the crossover is actually included in this season. There are literally three other episodes technically from this season that you won't get to see unless you check out the other DCTV shows. Yeah, it's kinda lame. That said, there was also a great musical crossover between Supergirl and The Flash featuring Darren Criss that you absolutely have to check out and that is on this release.
There are some really awesome storylines this season and if you enjoyed the first one then you'll enjoy this one, too. Just be prepared for some seriously emotional final episodes. Practically every episode on the final disc tugs the heartstrings!
Special Features
If you're wondering about how the special features on this release stack up you're in luck. I went through and watched every single one of them. And for the most part I was really impressed. The absence of any deleted scenes or gag reels was a bit disappointing but otherwise the featurettes that were included were really great and definitely worth watching.
Supergirl: Alien Fight Night
All right, so, spoiler alert: there is an episode this season that revolves around an underground alien fight club. Alien refugees are manipulated into fighting one another for the entertainment of a new, human villain called Roulette's patrons. This is a really cool featurette that runs about ten minutes long and focuses on on the creation of the episode which is entitled 'Survivors.'
Supergirl: Aliens Among Us
Probably the coolest featurette in this release, 'Aliens Among Us' is a nearly twenty minute discussion of the various aliens on the show. The showrunners talk not just about how they came up with different aliens and locations but about some of the unique experiences of these aliens and how those experience shape the stories being told. They also acknowledge how the plight of aliens in this series often reflects the plight of human refugees in the real world. And some of the anti-alien arguments from Cadmus and others could just as easily be applied to humans in similar situations. It's a really great featurette that shows just how the people behind the series can use aliens to tell some pretty uniquely emotional stories among other things.
A Conversation with Andrew Kreisberg and Kevin Smith
Kevin Smith has been making the rounds and stepping into the director's chair for an episode here and there of the various DCTV shows. So far he's directed an episode of The Flash and now Supergirl! In this featurette viewers sit down with Kevin Smith and Andrew Kreisberg to as they talk about the experience. In a similar vein, there's also an audio commentary available for 'Supergirl Lives!' – the episode Smith directed this season.
Rounding out the special features are the Supergirl panel from San Diego Comic-Con 2016 as well as a 'Supergirl: Did You Know?' Facts for Fans series of very short videos revealing some behind-the-scenes facts about the show. As always, I recommend watching the panel first if you can since the panel was filmed before the season aired. And you should definitely check out the 'Facts for Fans' videos. Unfortunately, though, you can't watch all of them at once and have to individually select each of the effectively half-minute videos (which is a little annoying).
While there are some obviously absent special features (the aforementioned gag reel and deleted scenes to name a couple) this is an overall solid set of special features. I love when the DCTV releases go to this much effort to give us some cool featurettes so if you enjoy them, too, you definitely won't be disappointed.
Final Thoughts
If you're a fan of Supergirl and like having your own, physical copies of your favorite shows then you should definitely pick up a copy of Supergirl: The Complete Second Season. Unfortunately, if you want to see any of this year's major DCTV crossover you'll need to pick up the other three series' home releases, too. But if you're here for Kara don't worry you – you'll love the episodes and stories that are included in this season. And no matter what anyone else says, I think Kara in love is super cute.
You can pick up Supergirl: The Complete Second Season on blu-ray, DVD, and digital HD today – August 22nd!