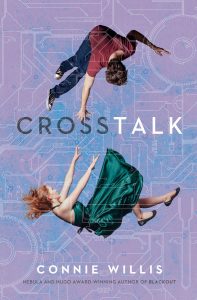 Author: Connie Wills
Release Date: October 4, 2016
Publisher: Del Rey
Genre(s): Science Fiction, Romance
Review Spoilers:  Low
GoodReads | Amazon 

At times,
Crosstalk
is downright exhausting – when we meet Briddey, she's frantically trying to keep the events of last night's date a secret as she bends over backwards to avoid gossiping coworkers. Seriously, she checks the parking lot, takes a different route to her office, fakes some phone calls and some meetings, and even just flat out sprints to her office. At the same time, she's juggling avoiding her overbearing family's texts, calls, and unannounced office visits. The connection overload of one day in the life of Briddey sets the tone for the rest of the novel.
And what exactly is she avoiding telling her coworkers and family for as long as possible? Her boyfriend of six weeks, Trent, a coworker at the company they both work for (what do they do? ehh…), asked her to get an EED, which is meant to enhance their emotional connection through minor cosmetic brain surgery. He wants her to feel his devotion when he eventually proposes and she's excited at the prospect, despite everyone in her life thinking it's a bad idea.
Spoiler: it's kind of a bad idea and doesn't turn out how Briddey was expecting.
What follows is a nonstop exploration of connection in the modern world, with a somewhat distracting amount of pop culture references. What threw me was the already-dated reference to Brangelina, on top of a few Kim Kardashian name drops, as well as multiple other topical pop culture drops. I'm not sure they'll read as fresh five years from now, but for the time being they give off the feeling of being able to laugh at the inside joke you're privy to.
As an introvert myself, I also wanted to simultaneous smack Briddey and cringe at her antics as she resolutely dug herself deeper and deeper into the hole throughout the novel. The breakneck speed with which she'd get herself into a crisis, panic, and find another lie to get her out of it contributed to the exhaustion I felt while reading the book.
Despite all of that, I really enjoyed Crosstalk and finished the book at the same speed with which Briddy lived her romantic comedy maniacally wacky life. For fans of rom-com and sci-fi, this book is a wonderful blend of both and speaks to the generation of twenty somethings who live in this world of constant connection through technology and to those who may find themselves in the all-too-believable crosstalking future of relationships and technology.
From The Publisher
In the not-too-distant future, a simple outpatient procedure to increase empathy between romantic partners has become all the rage. And Briddey Flannigan is delighted when her boyfriend, Trent, suggests undergoing the operation prior to a marriage proposal—to enjoy better emotional connection and a perfect relationship with complete communication and understanding. But things don't quite work out as planned, and Briddey finds herself connected to someone else entirely—in a way far beyond what she signed up for.
It is almost more than she can handle—especially when the stress of managing her all-too-eager-to-communicate-at-all-times family is already burdening her brain. But that's only the beginning. As things go from bad to worse, she begins to see the dark side of too much information, and to realize that love—and communication—are far more complicated than she ever imagined.
About The Author
Connie Willis is a member of the Science Fiction Hall of Fame and a Grand Master of the Science Fiction and Fantasy Writers of America. She has won more Hugo and Nebula awards for both her short fiction and novels than any other author in the genre; Blackout and All Clear—a novel in two parts—and Doomsday Book won both. Her other works include Passage, Lincoln's Dreams, Bellwether, Impossible Things, Remake, Uncharted Territory, To Say Nothing of the Dog, Fire Watch, and Miracle and Other Christmas Stories. Connie Willis lives in Colorado with her family, where she deals with the delights (and the more maddening aspects) of our modern oh-so-connected world on a daily basis.

A REVIEW COPY OF CROSSTALK WAS PROVIDED BY THE PUBLISHER IN EXCHANGE FOR A FAIR AND HONEST REVIEW. NERDOPHILES WAS IN NO WAY COMPENSATED FOR THIS REVIEW. OUR OPINIONS ARE OURS AND OURS ALONE.