Guardians of the Galaxy
Vol. 2 [Blu-Ray]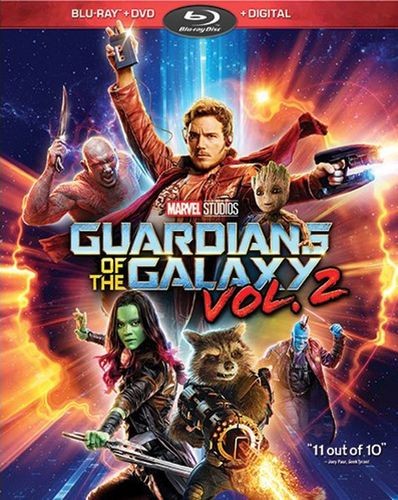 Release Date: August 22, 2017
Cast: Chris Pratt, Zoe Saldana, Dave Bautista, Vin Diesel, Bradley Cooper, Pom Klementieff, Kurt Russell, Michael Rooker, Karen Gillan
Director: James Gunn
Studio: Marvel Studios
Distributor: Walt Disney Motion Picture Studios
Extra Feature Rating: ★★★★☆
Rating: ★★★★☆
Review Spoilers: Mild
Amazon | IMDB | Wikipedia | Rotten Tomatoes
Guardians of the Galaxy was the unexpected hit of the Marvel Cinematic Universe's second phase. As much faith as I tried to put in Marvel's choices even I had a hard time believing your everyday audience was going to go see a movie about a talking raccoon and a sentient tree that could only say 'Groot.' But boy was I wrong. Guardians of the Galaxy was an amazing film that revitalized the MCU in a way it desperately needed.
The second film, aptly called Guardians of the Galaxy Vol. 2, built off the quirkiness of the original while delving deeper into one of the franchise's mysteries – Peter Quill's absentee alien father. But while that may have been a big part of the story, the relationships between the Guardians and other characters we met in the last film also took center stage.
If you didn't get a chance to check out Guardians of the Galaxy Vol. 2 in theaters you can check out Cody's very minimally spoiler-y film review. But if you have seen it (or don't mind spoilers), I have a few things to say about the film myself.
First off, the cast is amazing.
I'm not just talking about the returning cast but all the new characters as well. I wasn't sure how I felt about the prospect of Pom Klementieff's Mantis joining the team – especially since it's a weird adaptation of the character. However, I really ended up loving her and Mantis' relationship with Drax shows a lot of promise, as the character accompanies the team into future films. I'm looking forward to her return!
I also loved Kurt Russell. Now, this may be an odd thing to say considering it's a huge part of the film, but I'm really not a huge fan of the whole Ego subplot. I love how Peter's relationship with Ego helps him understand his relationship with his true surrogate father, Yondu. And I really enjoy Peter's interactions with Ego – as well as the inevitably world-shattering revelations that come with them.
But as a whole, it's the rest of the story that's so compelling.
Seeing Yondu's backstory expanded to a degree as he interacts with Sylvester Stallone's character and the other Ravagers is great. And the whole Ravager storyline that plays out parallel to Peter and the others' time on Ego's planet has some really intense, great moments.
A lot of this goes back to the amazing cast and their undeniable chemistry. It's a pretty large cast – and when you throw in Yondu, Craglin, Ego, Mantis, and Nebula – it gets even bigger. But the relationships and issues that pop up in Guardians of the Galaxy Vol. 2 are so compelling because of how this cast works together.
Basically, I love this movie. I love this cast. And I love these characters. This is a four-star movie (possibly even a four-and-a-half star movie as Cody rated it) and that's even despite the fact that I wasn't a huge fan of the whole Ego plotline which is a huge part of the film. It's just that good. I really can't recommend it enough and anyone who loved Guardians of the Galaxy needs to watch it immediately.
Special Features
If you pick up the blu-ray release of Guardians of the Galaxy Vol. 2 you won't be disappointed by the special features. Disney and Marvel do a really great job with their home releases. While the back of the blu-ray release lists only a handful of special features, don't be fooled. They are great and they are all worth watching. Sometimes less is more – and this is hardly 'less' in the first place.
Some of the most exciting bonus features are the gag reel and the deleted scenes. The gag reel is nearly four minutes of hilarity and if you're looking for a good laugh just watch Sylvester Stallone struggle to say 'Ravager.' Additionally, there are four deleted scenes. Well, two are 'deleted scenes' and two are 'extended scenes.' Either way, they're definitely worth checking out.
And if that's not enough, just watch the "Guardians Inferno" music video.
Yeah, maybe including it in this review is cheating. But the "Guardians Inferno" Music Video is included on the disc and it's great. It's basically this super weird 80s style video featuring various members of the cast out of costume and without making up. Plus David Hasselhoff and STAN LEE make cameos!
The real meat of the special features can be found in 'BONUS ROUND: The Making of Guardians of the Galaxy Vol. 2,' however.
BONUS ROUND: The Making of Guardians of the Galaxy Vol. 2 is a four-part behind-the-scenes featurette focused on various aspects of the making of this film.
They include:
In the Director's Chair with James Gunn
Reunion Tour: The Music of Guardians of the Galaxy Vol. 2
Living Planets and Talking Trees: The Visual Effects of Vol. 2
Showtime: The Cast of Vol. 2
Altogether, it's about forty minutes of awesomeness. My favorite was probably 'Reunion Tour,' which focused on the film's soundtrack. Music plays a huge part in these films and so you have to imagine a lot of care goes into picking the songs that are featured. This particular featurette goes through and explains why almost every single song was chosen and what it means in relation to the scene(s) in which it appears. It's pretty great. And the others are, too! You can watch all four together in one sitting or split them up and watch them individually.
Lastly, there's also an audio commentary with director James Gunn. So if you're a big fan of directors' commentaries you're in luck!
Final Thoughts
At this point in the review, I usually tell you why you should check this film out and why you should consider picking up a copy of your very own. But this is a Marvel film. This is Guardians of the Galaxy Vol. 2. I think that fact alone pretty much speaks for itself. If you're not a fan of the Marvel Cinematic Universe I would still say check out Guardians of the Galaxy Vol. 2 (after watching the first film, of course). These films are so much fun and crazy, you can watch them without any regard to what may be happening in Iron Man, Thor, Captain America, and other films.
If you can appreciate an awesome 80s themed soundtrack and a crazy sci-fi adventure with a quirky ensemble cast then these are the movies for you. Besides, there's an adorable talking tree! You can't go wrong.
Guardians of the Galaxy Vol. 2 comes out today, August 22. You can pick it up on blu-ray combo pack, DVD, Digital HD and – if you've made the big upgrade – a 4K blu-ray combo pack as well. Which how bright and colorful this film is, I have to imagine it's pretty awesome in 4K. Just saying.
Regardless of how you watch, check it out!