A cute little dog named Nickels teaches young readers an important lesson about telling the trth in Leah Cupps's NINJA NICKELS AND THE PROBLEM WITH PICKLES. When Nickels gets a little too excited playing ninja after his family goes to bed he accidentally knocks over a jar of pickles. Nickels loves pickles but not being in trouble. And for a moment it looks like he's going to let his boy, Lincoln, take the fall when his mom catches him investigating the mess.
Fortunately, Nickels is a kinder dog than some and helps young readers understand that it's not kind to let your friends take the fall for something you did. Honesty and friendship take a forefront in NINJA NICKELS AND THE PROBLEM WITH PICKES. Check out our post to learn more and enter a giveaway hosted by Rockstar Book Tours!
About The Book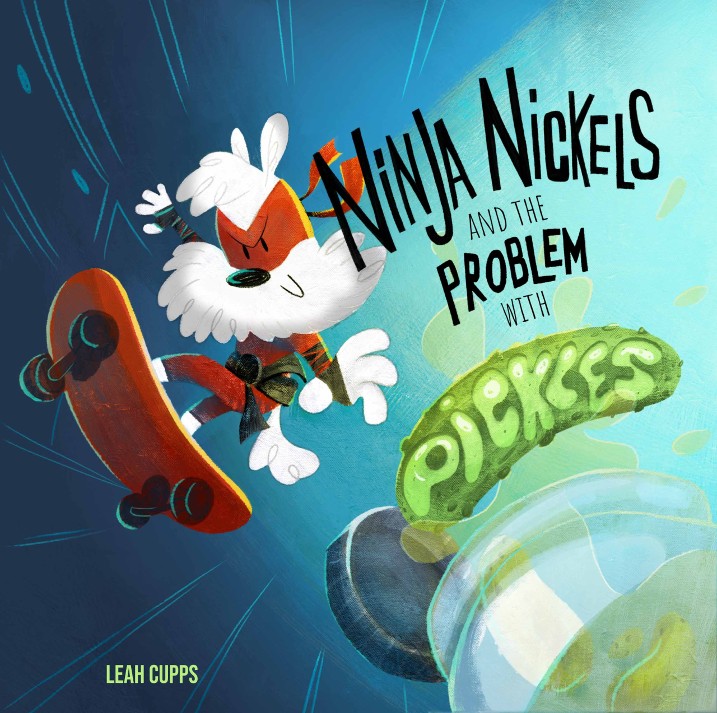 Title: NINJA NICKELS AND THE PROBLEM WITH PICKLES
Author: Leah Cupps
Pub. Date: June 22, 2022
Publisher: Vision Forty Press
Formats: Hardcover, Paperback, eBook
Pages: 28
Find it: Goodreads, Amazon, Kindle, B&N
Read for FREE with a Kindle Unlimited Membership!
Will Ninja Nickles tell Mom the truth and admit that he's the one who dropped the pickles?
Or will he stay and hide while Lincoln is scolded for the pickle pantry mess? Read along with Ninja Nickles and his story of the midnight pickles to find out!
In this delightful rhyming story, Ninja Nickles teaches children that there is a time for fun and games and a time for personal responsibility. In Ninja Nickles and the Problem with Pickles, Leah Cupps tells a story about friendship, loyalty, and doing the right thing that will have children laughing and learning along with their new friend, Nickles the dog!
Make reading and bedtime a treasured family experience with Ninja Nickels! Also available in paperback!
Ninja Nickels Book Series:
Book 1: Ninja Nickels and the Problem with Pickles
Book 2: Ninja Nickels and the Trouble with Tickles (Coming Soon)
About Leah Cupps
Leah Cupps is an entrepreneur and author. She writes Middle Grade Mystery Adventure Books as well as Thriller, Mystery, Suspense for Adults.
Leah's novels are fast-paced mysteries that will keep you up at night as you can't wait to see what happens in the next chapter.
Leah lives in Indiana with her husband, three young children and three dogs. When she isn't losing sleep writing her next novel or scaling her next business, she enjoys reading, golfing working out and spending time with her family.
Sign up for Leah's VIP email list, and you'll automatically be notified as soon as her next book is released:
www.harleyjamesadventures.com
Website | Facebook | Instagram | Goodreads | Amazon | BookBub
Giveaway
1 winner will receive a finished copy of NINJA NICKELS AND THE PROBLEM WITH PICKLES, US Only.
Tour Schedule
Week One:
Week Two: