Lucifer: The Complete Second Season (DVD)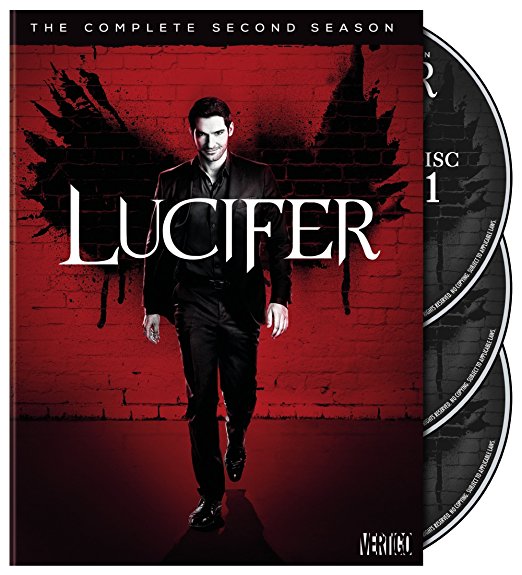 Release Date: August 22nd, 2017
Cast: Tom Ellis, Lauren German, Kevin Alejandro, DB Woodside, Lesley-Ann Brandt
Producers: Jerry Bruckheimer, Jonathan Littman, Joe Henderson, Len Wiseman, Ildy Modrovic
Studio: Warner Bros. Home Entertainment
Network: FOX
Distributor: Warner Home Video
Extra Feature Rating: ★★★★★
Rating: ★★★★☆
Review Spoilers: Low
Amazon | IMDB | Wikipedia | Rotten Tomatoes
The devil quit being the ruler of Hell and decided to make the trip to Los Angeles to reinvent himself, as you do. After years of devious escapades he found himself in the middle of a murder investigation. The lead detective, Chloe Decker, was the first person he'd met on earth able to resist his devilish charms and after a bit of poking and prodding he managed to wiggle into a civilian consultant position.
With the drama of heaven and hell happening just under her nose, Chloe works with Lucifer to solve cases and finds his ability to persuade both vexing and useful. When they work together the criminals of Los Angeles don't stand a chance in hell.
Season one's big reveal told audiences that Lucifer's mysterious mother escaped from hell and the second season begins with the fallout. Lucifer, paranoid and looking for his mother around every corner, struggles through cases with Chloe until his mother appears smack dab in the middle of one. From there it is mischief and mayhem all season long as Lucifer, Amenadiel, and his mother try to figure out how to get back to heaven.
Of course, nothing is as it seems.
I hopped on the Lucifer train well into the second season, binge watching the first as quickly as I could to catch up when I was sick in bed for nearly a week. I fell in love with it and have continued to be impressed with its clever writing, charming characters, and the comedic relief it brings every week. If you don't believe me, you can check out our episode breakdowns of over half the season in this post here, and search through tags to find our weekly episode recaps.
Special Features
For a Lucifer fan like me, I wished the second season dvd set packed a little more of a punch when it came to special features. However, from what I remember of network box sets this one is pretty on par with the norm.
Every disc offers access to deleted scenes for the episodes on it. These are scenes that were cut from the final airing but would probably be added back in if there was time, or in a director's cut of some sort. They provide a little extra context and tiny moments of extra storytelling which gives us all a little bit more to chew on while we wait for the third season.
Gag Reel. Honestly, I buy DVD box sets for the gag reel. Sometimes a network or show will release them on Youtube or social media, but oftentimes getting our hands on the DVD is the only way to see it. The Lucifer gag reel is definitely worth it, which is not a surprise given the inherent humor of the show and the natural chemistry the cast has. They're a bunch of goofballs and watching them stumble through scenes is as fun as watching the show.
Reinventing Lucifer: In the City of Angels. This featurette provided some interesting context for Lucifer fans who are curious about why the producers stuck with Los Angeles. The show concept is pulled from a Neil Gaiman version of Lucifer in his graphic novel series The Sandman who quit hell and moved to Los Angeles to start a piano bar and live life on his own terms.
It would have been easy enough to switch locations for the series since it already deviates and builds on the Lucifer character, but not necessarily the stories from the continuing graphic novels written by Mike Carey. Producers and cast all give their perspective on Los Angeles, which as television creators they are all too familiar with on a personal level, as well as why their characters ended up in Los Angeles.
There's a key focus on how Lucifer is a show about people finding themselves and what better place to do it than in the City of Angels, where anyone can be who they want to be and leave their past behind?
San Diego Comic Con 2016 Panel. I always appreciate it when panels from major conventions are included in the box set. Even if someone was able to see it live, it is great to relive it with a professional version as opposed to fan versions that make their way around the internet. It is always worth watching the panels because there might not be spoilers, but the actors tend to give some great insight into the dynamics we see on screen and can offer audiences a slightly different perspective on their characters or the story lines.
Final Thoughts
I loved Lucifer: The Complete Second Season. The whole second season was a great follow-up to the first and hit home to FOX that it has struck gold with this cast and team of writers. It is witty, charming, fun, and heartfelt.
For a network show it does a wonderful job of blending the weekly procedural story with a season long story that plays right into the next one. Plus, the season finale is going to throw everyone for a loop and have them on edge, waiting for season three to pick up in the fall.
Above all else, Lucifer is a show that I can watch and relax with. It maintains a good balance between the natural and supernatural, plays with interesting relational dynamics, and is funny as heck.
In a single season two episode I can go from grinding my teeth to laughing within the span of a couple scenes and none of it feels unnatural or hokey. If you haven't given it a shot I can only recommend the series with my highest regard.
FOX's Lucifer will return this fall on Monday, October 2nd at 8pm. You can catch up with the series on Hulu or, if you're a cable subscriber, through FOX Now.