Warcraft (2016)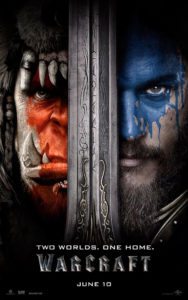 Release Date: June 10, 2016
Cast: Travis Fimmel, Paula Patton, Ben Foster, Dominic Cooper, Toby Kebbell, Ben Schnetzer, Robert Kazinsky, Daniel Wu
Director: Duncan Jones
Studio: Legendary Pictures, Blizzard Enertainment, Atlas Entertainment
Distributor: Universal Pictures
Genre(s): Fantasy
Rating: ★★★★☆
Review Spoilers: Medium
Based on Warcraft by Blizzard Entertainment
IMDB | Rotten Tomatoes | Wikipedia
Of course critics are ripping apart Warcraft; the majority of them compare this film to Lord of the Rings and Game of Thrones. It's laughable to me that these high-brow critics couldn't be bothered to delve deeper into the source material to understand the series and yet are so ready to judge a film simply based on creative material that bears no resemblance other than being within the same genre. It reeks of a closed-minded viewer. Two intellectual properties does not a genre make.
Perhaps this can be attributed to the fact that most critics assume fantasy is a fringe genre, one that isn't to be taken seriously. Studios like Marvel have made an impact for the comic book genre, but critics who have lived through Lord of the Rings seem unable to expand their horizons to give this film an opportunity outside of unrelated yet aesthetically similar projects.
Many of the negative reviews describe the film as clunky, unoriginal, and boring. I'm sure it is if you go in armed with only a cursory knowledge of the fantasy genre through the shallow lens of popular culture. I'm not saying that if you don't know anything about the Warcraft games you'll be bored, you won't. But when you go into any movie already set on what you'll think about it, of course you're going to judge the film based on those beliefs. Critics are harshly criticizing this film in the same way that some people scorn independent dramas and foreign films for stereotypically being too dense and pretentious, they do so without giving it a chance and writing it off before the film begins because of the preconceived notions.
And all this is to say that I thoroughly enjoyed this film, and I abhor the unfair beating its gotten from critics. It was beautiful and fantastical, it brought back memories of playing World of Warcraft and shows a deep appreciation for the source material that only a fan of the series could properly portray. As a fan of fantasy in general, as someone who enjoys the complex world that fantasy video games often portray but rarely are praised for by traditional media, this film gets a foot in the door for future films. What makes this such a success for me is the feeling that I get after watching it; it's not a film that makes me embarrassed for loving it, it gets me excited and hopeful for more to come.
Warcraft never dials back in its execution. This film is the definition of going all-in. The first half is packed with dense world building — some of it is done well, some of it is more of an info dump. This was inevitable in a film that tries hard to not only appease long-time fans, but also to draw in a new horde of fans and viewers. Large amounts of exposition is needed if you want to achieve some sort of feasible plot.
The story documents the beginning of how the orcs found their way to Azeroth and the conflict that inspires an entire universe of lore and creation. Throwing caution to the wind and leaping into the lore is something that pays off for Duncan Jones. Instead of holding back, he dives deep into the world of Azeroth. This is crucial in order to understand and sympathize with the struggle between the Alliance and the Horde, especially with the orcs, which casual viewers might immediately view as the enemy because of their physical appearance.
One of the strongest aspects of Warcraft is its attention to detail with the visual aesthetic. Visually, this is a masterpiece. The motion capture and the CGI graphics are stunning and serve to elevate the story to a more fantastical level. The actors who portray the orcs are able to show a full spectrum of emotions and their action scenes exude ferocity and strength without looking artificial. Indeed, some of the strongest aspects of the film lie with the orc characters and the horde's story.
Much of the exposition deals with the Horde coming from their dying world through a portal conjured by Daniel Wu's Gul'dan, a warlock orc who wields fel magic (dark magic that feeds on life). Gul'dan is immediately a malicious character, exchanging lives in order to orchestrate dark magic. Although his actions save the Horde, his intentions are far more selfish as the fel poisons his mind. The film not only shows the conflict between the Horde and the Alliance, but also the larger struggle between the balance of dark and light.
Toby Kebbell's Durotan serves as the lead protagonist for the Horde. He is a noble character, and while he is a fearsome warrior he also possesses a level-head in the midst of chaos. Kebbell's performance strikes true through all of the motion capture and Durotan serves as both a relatable character and also one that inspires his people as an eventual mythical hero.
On the flip side, while Travis Fimmel does an admirable job as Anduin Lothar, a knight champion of Azeroth and the Alliance protagonist, many of the Alliance/human characters lack the same development that the orcs possess. Fimmel's Lothar has been compared to J.R.R. Tolkien's Aragorn — god only knows why, being a male warrior protagonist in a fantasy film does not immediately make you Aragorn — but he bears little to no resemblance. While he is a strong warrior, capable and relied on by his kingdom, he struggles to come to terms after the loss of his son. He is light-hearted, and even humorous, at some moments.
Ben Foster's Medivh and Ben Schnetzer's Khadgar both have a middling performance, with high points and low ones in equal measure. While Foster's Medivh sometimes looks too youthful, he accomplishes the job of keeping the audience guessing about his loyalties and where they lie. Similarly, Schnetzer's Khadgar seems to have the potential for greatness, but sometimes defaults to bumbling. Regardless, both magic casters add to the strength of the story, just perhaps not their own characters. Dominic Cooper's performance as King Llane never quite lands as solidly as his other performances in different projects. Lothar steals much of the spotlight while he is left with the paperwork and the burden of leading.
Although Warcraft bears an uneven casting between male and female characters, Paula Patton's Garona, Ruth Negga's Queen Taria, and Anna Galvin's Draka all show a surprising amount of strength and dimension. Patton's Garona straddles the boundary between the Horde and the Alliance, this offers her a position as the outsider to both sides. Negga's brief appearance as the Queen of Stormwind is a steadier performance than Cooper's, she seems a surer leader and has the potential for a lager part in the future. Galvin's Draka wins the most cutthroat mom award in the movie, going into battle while in labor and fighting to the death for her son in a Moses-like origin for Thrall.
Warcraft is chock full of tropes that we are all too familiar with, themes of light and dark, betrayal and loyalty, father and child. While for some this can seem tedious and stereotypical, in the complexity of the Warcraft universe, there needs to be something that an audience can hold onto. Amidst the fel magic and the orcs and the Alliance and the flying eagles, there needs to be something that is acts as a lodestone. Much of the origins of the mythos of the universe plays on these tropes — view them as myths and legends. We are seeing a story that has already been written, told, and retold, this is the genesis story.
As packed with information as the first half of the movie is, the full piece never falters in pace. It doesn't go from 0 to 100, it starts at 100 and stays there. For those who go into this uninterested, this can seem clunky, noisy, and tiring. The editing cuts the story in a way that jumps back and forth, from the Horde to Durotan to Medivh to Stormwind. It may prevent a casual viewer from fully immersing into the story, since it never lingers in one place long enough. It's only when the different factions start to braid together that the story becomes more coherent.
Along with some of the unsteady performances in this film, the screenplay has some weak points where the dialogue can feel awkward. The two hour run time is not nearly enough time to explain the intricacies of two vastly different worlds and an even larger number of different cultures and clan cultures. With the info dump also comes lengthy dialogue and some hand-holding from the characters to move the plot forward. Again, this is an inevitability. They need to lay the groundwork in order to build on it.
Plot-wise, the film seems to lean towards the Horde, with many of the most "human" characters being orc. Durotan's sacrifice and Draka's sacrifice are two of the more emotionally saturated scenes, same with Garona's last scene with the King. While many might view orcs as warmongers and only capable of violence, Warcraft exposes the honorable and admirable side to an often misunderstood race.
The ending leaves a couple things up in the air, hinting at a potential sequel for a hopeful franchise. With so much groundwork laid out by this film, there is certainly a lot more story for the viewers to consume should future films be created. Should creators look closely at audience reviews and less at critical reviews, we will hopefully be in for more of the story.
Final Thoughts: A visual stunner that only benefits from a 3D IMAX viewing, Warcraft has been misinterpreted by traditional media critis. It will impress those who love the fantasy genre and those who enjoy the Warcraft games with its no-holds-barred format of storytelling. It is a immensely fun to watch if you suspend your disbelief at the door and open yourself up to a completely new mythos and adventure.