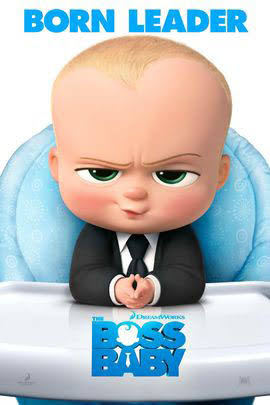 Release Date: March 31st, 2017
Cast: Alec Baldwin, Miles Bakshi, Steve Buscemi, Kimmy Kimmel, Lisa Kudrow, Tobey Maguire
Director: Tom McGrath
Studio: Dreamworks Animation
Distributor: 20th Century Fox
Genre: Animated Comedy

Review Spoilers
: Low
IMDB | Rotten Tomatoes | Wikipedia
Dreamworks' newest production has arrived, a loose adaption of the 2010 picture book of the same name, The Boss Baby is the story of a boy and his dope life, living crazy imaginary adventures with his loving parents. This all comes crashing down when the newest arrival shows up, his baby brother.
Going into this movie, I had low hopes. The trailers didn't exactly inspire confidence, and the casting of Alec Baldwin as the Boss Baby is both entirely perfect but feels uninspired. I'm happy to report that I was wrong.
The world presented to us by The Boss Baby is as such, babies come from a weird factory in the sky and if, while they're going through quality assurance tests, they are discovered to be un-tickle-able they are sorted into that most soulless of life's positions: management. And just so, the humor of Boss Baby is revealed to be for folks of all ages.
Plenty of jokes will have the kids rolling (there are a number of solid fart funnies) and a fair share will have adults or older kids laughing too.
As the movie continues we're treated to the maladjustment of the boy Tim, voiced by Miles Bakshi as a youth and the adult Tim narrates with Tobey Maguire's voice, to his new position as older brother. Boss Baby was sent with a purpose and the two children compete to further their goals, Tim means to expose his baby brother's talking and business meetings while Boss Baby has been sent to this family for a reason.
The movie has charm I didn't expect, aside from the layers of relationship between Tim and Boss Baby, much of this movies action take places in imaginary spaces. That is to say, when the boys are chasing each other or sneaking around the house, the perspective (always from Tim's point-of-view) changes into fun retro animated sequences.
The movie itself seems to be set somewhere around the '60s and features lots of Googie architecture, while those imaginary battles make for a much more interesting looking movie. We're treated to space stations, pirate ships (flying and not), spy missions that turn spooky, jungle gorilla fights, and more. It really was the most charming aspect of this movie I had no expectation for.
The Boss Baby is a pleasant surprise, taking what appears to be a weird as hell concept and making it work well. There are a few other movies out there for the demo (LEGO Batman), but if your family has already seen them and are craving another outing, Boss Baby will certainly suffice.