Zombies are awesome. Ever since The Walking Dead hit the scene it's like everyone has gone zombie crazy. There are now tons of people out there who are wholeheartedly embracing zombies and basically everything related to them. We've living smack dab in the middle of a zombie renaissance.
And that's a good thing!
Even our usually less-than-nerdy friends would be more than happy to get something zombie-related for Christmas this year. For those of us who jump at the chance to share the nerdier side of things at Christmas, this is great. I mean,  who couldn't use a little bit more undead action in their lives?
No matter who you're buying gifts for this holiday this holiday season there are plenty of zombie-related options. From casual The Walking Dead fans to hardcore board game aficionados to even the littlest kiddos, we've done our best to highlight some awesome gift picks.


Great Zombie Gifts for Everyone
Not everyone who loves The Walking Dead is ready to go full nerd. That's understandable. The Walking Dead is pretty mainstream and there are fans of the series across basically every demographic imaginable. The gifts we've listed here are targeted more towards the casual, The Walking Dead sort of zombie fans on your lists. They're fairly low key, fun gifts that anyone can enjoy.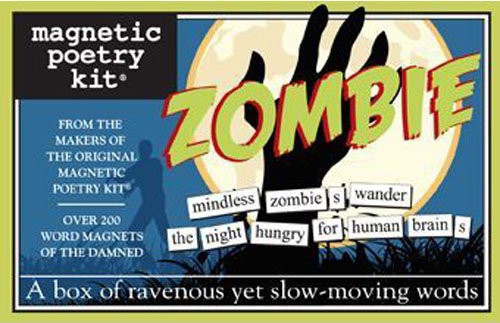 One of my personal favorite recommendations is Zombie Magnetic Poetry. I love Magnetic Poetry. It's a lot of fun and it's not hard for people to enjoy. It's not necessarily a nerd-only sort of gift. Anyone can enjoy magnetic poetry. You can couple the zombie expansion pack with the original kit and give your friends a gift that will give them hours upon hours of unending fun that their friends and guests will love, too.
An excellent option for gift giving is to expand your friends' appreciation of zombie pop culture by introducing them to some new outlets. Everyone has seen The Walking Dead but not everyone has seen Syfy's hilarious series, Z Nation. Z Nation: Season One on DVD would be a great option.
Or, you could try giving your friends The Walking Dead Compendium Vol. 1 so they can catch up on the original comic series. My absolute favorite zombie-related gift to give, though, is Max Brook's World War Z. It's one of my top five books of all time and everything zombie fiction should be. And, of course, there is always Pride and Prejudice and Zombies for the more romantically inclined.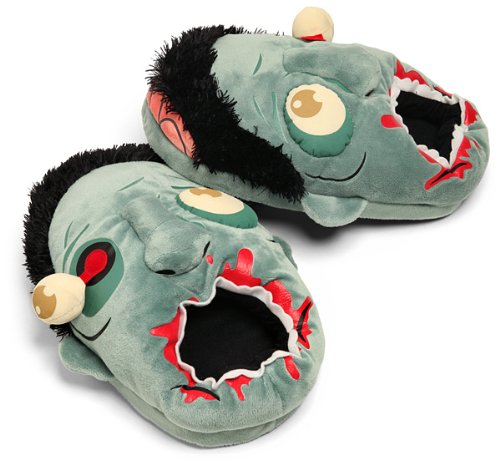 Or you could just treat them to some epic zombie slippers from ThinkGeek.com. Seriously, though. These look awesome and they are probably super comfortable. And who doesn't want to stick their feet into gaping, bloody zombie mouths?!
Bring the Undead Home
Have you ever looked around your zombie loving loved one's home and thought, "Man, they could really use a little touch of the undead to spruce up the place?" I'm sure we all have. Luckily there is a plethora of zombie-themed household goods available to gift during the holiday season. These are the perfect sort of gifts for zombie fans who aren't afraid to show their zombie pride openly and on display for everyone to see.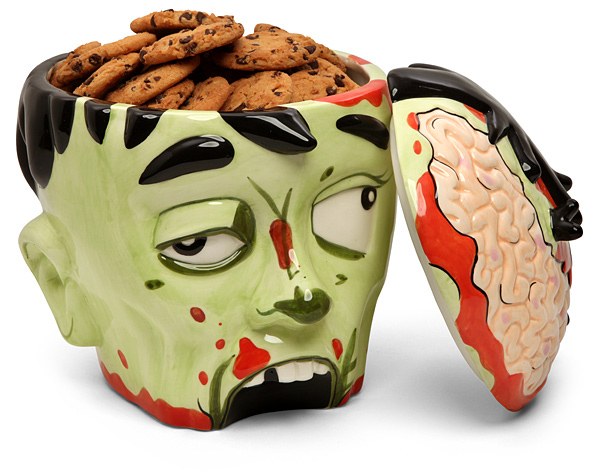 For example, think how cool it would be to see a zombie cookie jar sitting on their kitchen counter. Or imagine your friends starting their day off right eating cereal from a zombie bowl and drinking coffee from a ceramic zombie head coffee mug.
Many of these gifts have the added benefit of not just being fun but practical as well. They serve a purpose while also giving their homes a nerdy flare.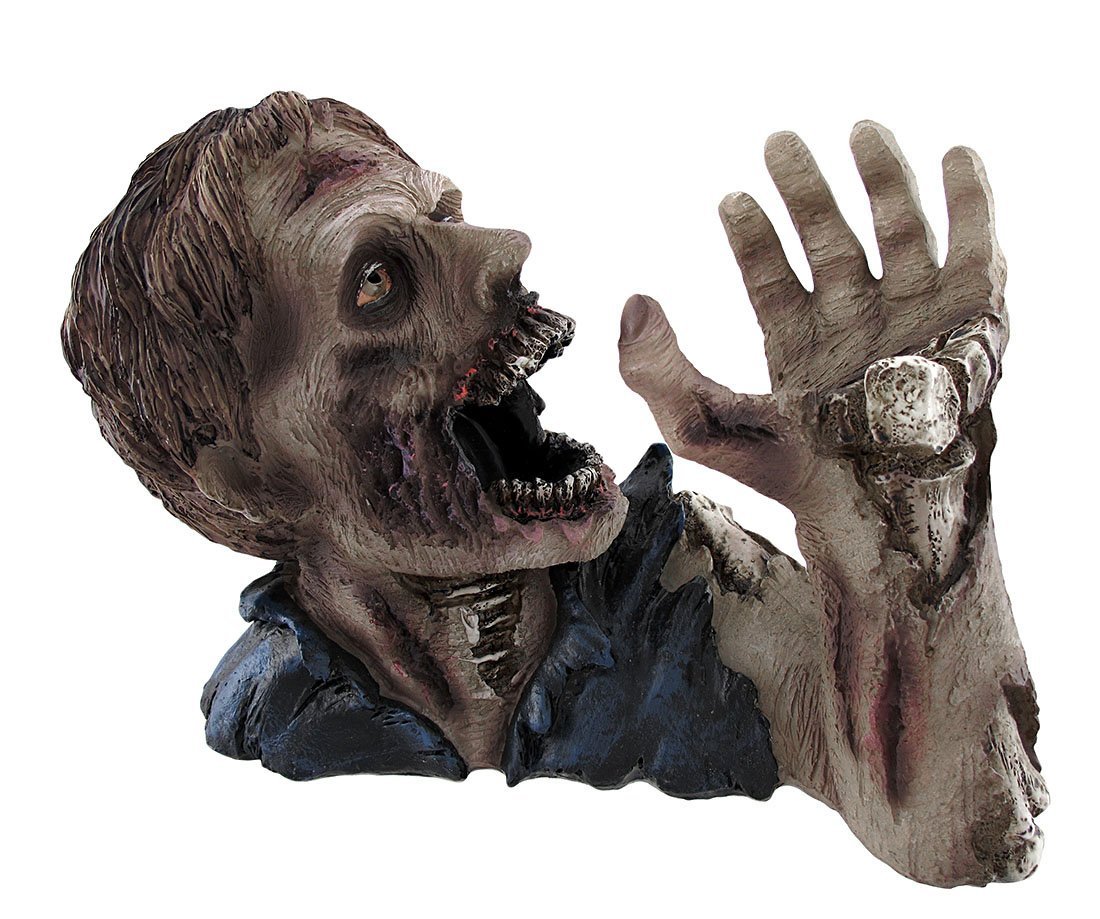 You can get your friends zombie salt and pepper shakers or a zombie wax warmer to help them keep their home smelling nice. Got a wine aficionado with a penchant for zombies on your Christmas list? There are several different wine bottle holders you could consider. Maybe you want to help them spruce up their yard? Zombie garden gnomes are a great idea. Or maybe you want to do give them a gift that's a bit more subtle but screams bathroom-scene-from-Dawn-of-The-Dead. Check out this awesome bloody bathmat and shower curtain.
No matter what you choose, your zombie loving friends will most likely love it. (Especially those twenty-something year olds on your lists who are moving into their first apartments and still have no idea how to properly adult.)
Game Night — and Zombies!
Have friends who love board games and zombies? Never fear, we've got tons of options for you. The zombie hype from the past few years has provided us with a number of awesome board games – from newer zombie-themed games to zombified versions of classics we already know and love. These are a great option for gifts because if you buy your friends one of these games you can follow up with with an epic, undead game night later! And, not to sound too sentimental, but it shows you want to spend more time with them – and game night is the perfect excuse.
So what are your options?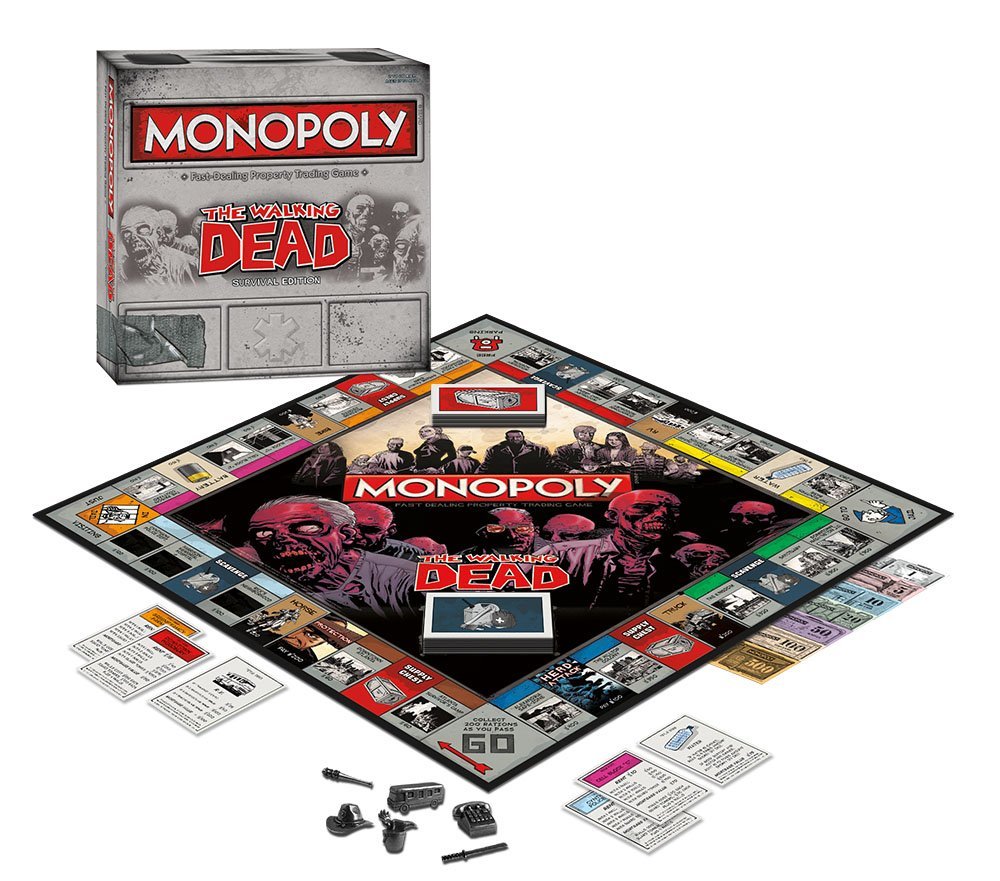 There are a number of The Walking Dead themed board games out there that would fit the bill nicely. My sister got me the 'survival edition' Monopoly last year and it's really fun. You fortify your properties and try to survive while gathering supplies. Similarly, Risk has seen a Walking Dead remake that adds some really unique twists to the already challenging strategy game. Even Yahtzee has gone zombie with one of the coolest cup designs ever. Looking for something branded but also family friendly? Try Plants vs. Zombies Risk instead!
If your gamer friends are more experienced, they may not be interested in just re-imagined classics. Luckily there are some pretty great original zombie-themed games out there as well.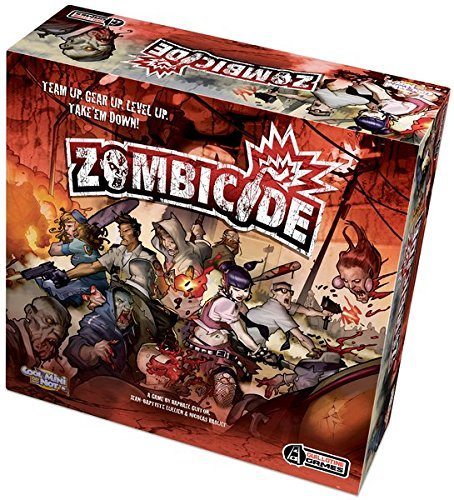 Dead of Winter is a cooperative board game focused on survivors after the zombie apocalypse with various objectives that need to be achieved during gameplay. Meanwhile Zombicide sets you off on a cooperative zombie massacre. Another great options is Zombies, which is on it's third edition currently and has a number of expansion packs to help keep the game interesting. (They also make great follow up gifts for subsequent birthdays and holidays.) Or, if you want some fun – and generally easier to play – games try the awesome zombie versions of indie staples Fluxx and Munchkin! You can't go wrong with either.
All of these are multi-player games so the best part is by buying them for your friends you're kind of buying them for yourself, too!
Prepare Your Friends for the Impending Apocalypse
One of the best gifts you can give your friends is the gift of survival. For friends who can appreciate the humor in preparedness, these gifts should be an absolute hit. From books to actual survival kits there are lots of different routes you could take with survival themed gifts.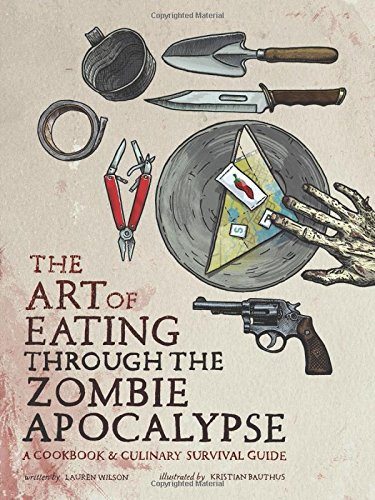 For books, you could always start with the modern zombie classic Zombie Survival Guide by Max Brooks. Released back in 2003, this book preceded the current zombie hype by several years and has been a staple in zombie pop culture ever since. But most people who love zombies probably already have it. So here are some alternative suggestions: The Art of Eating through the Zombie Apocalypse by Lauren Wilson, So Now You're A Zombie by John Austin, and Everything You Ever Wanted to Know About Zombies by Matt Mogk.
Want to get serious about survival?
You could pick nonfiction survival books like The SAS Survival Handbook by John "Lofty" Wiseman or Bushcraft 101: A Field Guide to the Art of Wilderness Survival by Dave Canterbury. Or you could get your friends an actual survival kit.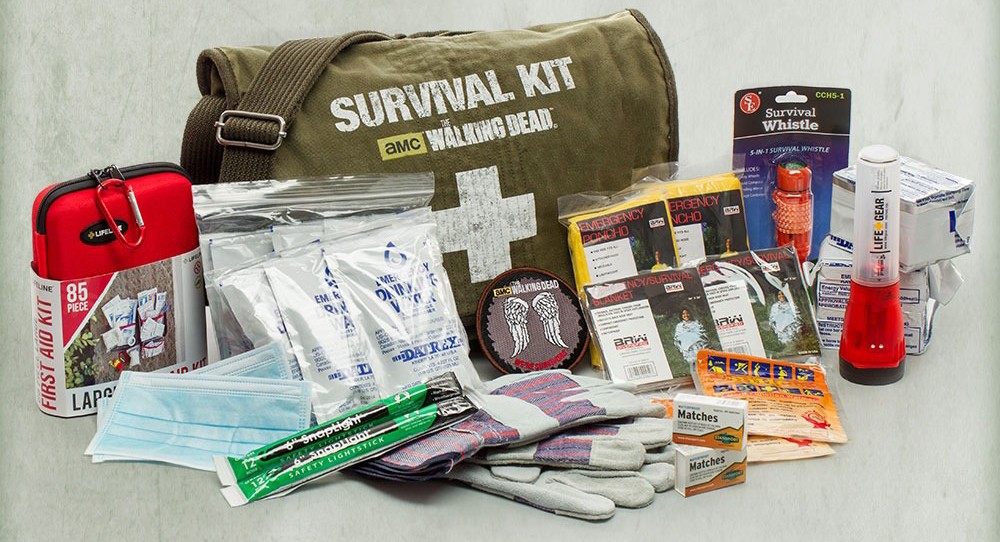 Probably the coolest thing you could get any zombie or The Walking Dead fan would be the First My Family Official AMC's The Walking Dead survival kits. These kits are the real deal. We reviewed one of the larger kits last year and were very impressed with it. Not only are they zombie themed, but they will be useful in any sort of real life emergency situation.
Not sure you care enough about your friends' survival enough to spend that much money on them? Give them at least a little bit of a chance for survival in the zombie apocalypse with a smaller survival kit from First My Family or a Survival Kit in A Can. Or you can hit up Pinterest to come up with ideas for making your very own survival kit to gift this holiday season.
Prepping The Next Generation
But what about kids?
Kids love zombies, too. A lot of zombie items on this list, though, might be a bit too graphic for younger fans. Not to worry. Because zombies are such huge money makers these days and because they are so popular even with the youngsters there are still some great zombie-themed options that are also kid friendly.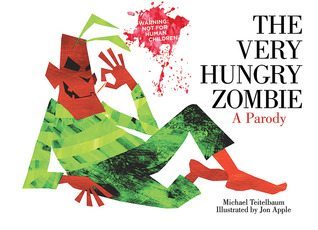 Books like The Very Hungry Zombie by Michael Teitelbaum, Zombie in Love by Scott Campbell, and Zombelina by Kristyn Crow are great for younger children. Well. Great is subjective and parents should probably read through them first. Just in case. Meanwhile older children would enjoy The Zombie Chasers series by John Kloepfer, the My Big Fat Zombie Goldfish series by Mo O'Hara, and the Dead City trilogy by James Ponti. Having read all three, they're definitely great middle grade books.
As for toys, there are tons of great options when it comes to Plants vs. Zombies. You can get this adorable plushie or these super cute action figures. If you're looking for something more generic, there are these army men-style 'Big Bucket of Zombie' toys that are a bit pricey but look cool. And, of course, there is always the Nerf Zombie line of dart shooting projectiles.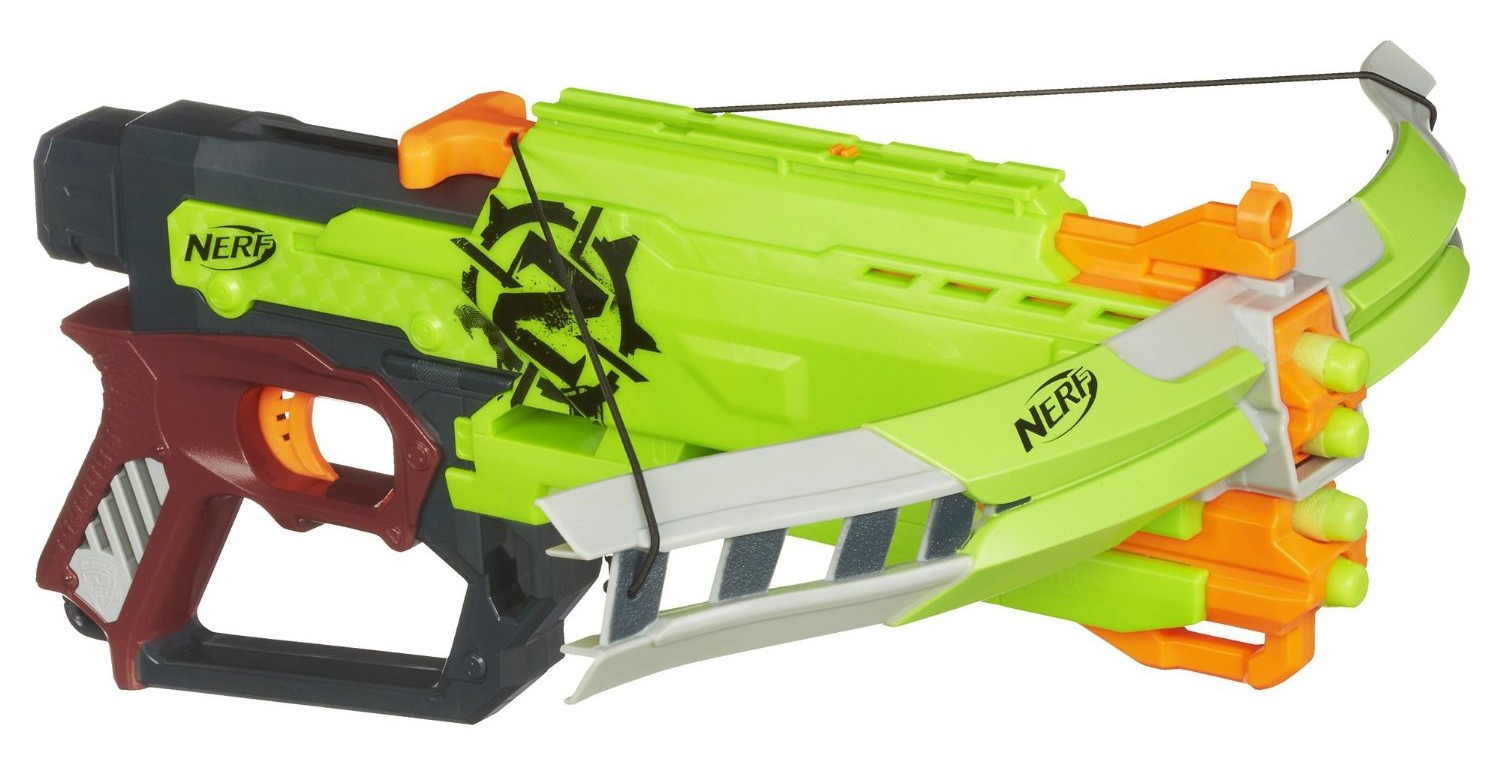 Some other cool options include a Little Ass Kicker onesie for the little ass kickers in your lives. Maybe make sure that if you're gifting these to a friend, though, they don't mind plastering profanity across their infant. There's also these adorable zombie fridge magnets from ThinkGeek that I want for my own apartment. And if you want to get a little education with your gift you can pick up a zombie Chia pet – either the restless arm, gruesome dragging Drew, or lifeless Lisa!