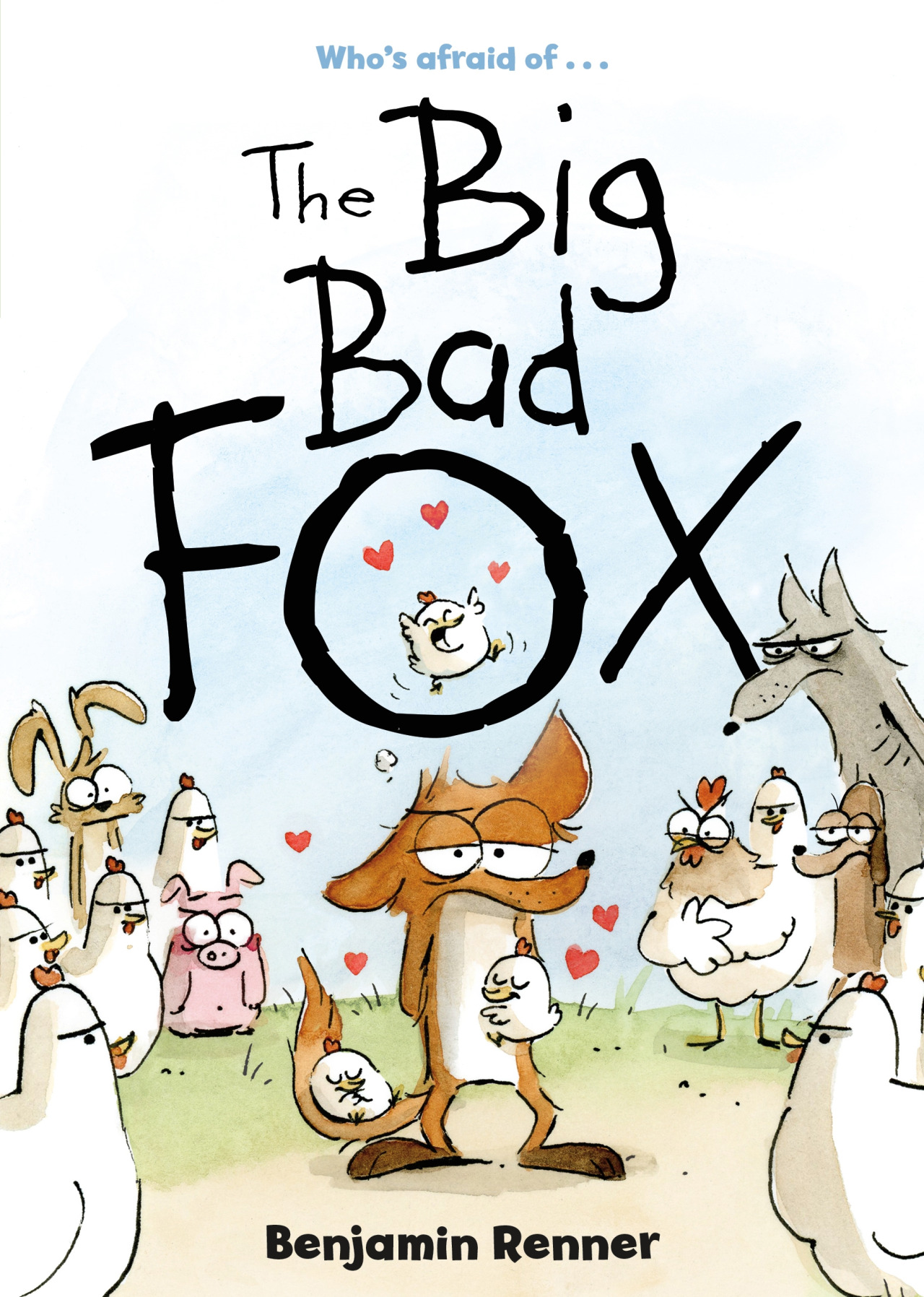 Author: Benjamin Renner
Release Date: June 20, 2017
Publisher: First Second
Review Spoilers: Moderate
GoodReads | Amazon

The Big Bad Fox
is a surprisingly touching story for a book about a fox raising baby chicks up so he can eat them. Translated from it's original French, it's a really fun book that reads more like a super long picture book than a graphic novel. Renner's cute illustrations and clever storytelling make this a great book for families to read together. And it's a great choice if you're looking for a book to help young readers make that transition from picture books to comics.
But let's get back to the whole eating the baby chicks thing.
The 'Big Bad Fox' from the title is not actually a particularly big or bad fox. In fact, he's kind of pathetic and hasn't managed to eat a chicken ever. He gets by with the help of some of his barnyard friends who get him vegetables now and again. But his buddy the wolf comes up with a much better idea. If the fox can't catch an eat a chicken he needs to steal some eggs and raise those chicks into chickens himself. Great idea, right?
Yeah, sure.
Until the chicks hatch and basically fall in love with their fox mother.
Because the chicks are too tiny to be much of a meal, the fox plans to keep them around until they're older. But as they become more attached to him he starts to love them in return. In the end he has to decide what matters more to him: eating the chicks or keeping them safe.
Along the way we're introduced to a host of quirky characters. There's a dog at the farm who does almost everything he can to avoid actual work. When the fox steals a hen's eggs, she ends up mobilizing the other chickens and training them to defend themselves – because they obviously can't count on the dog. The chick's themselves have wonderful personalities. And all kinds of shenanigans arise when they insist on acting like foxes (like their 'mom') instead of chickens.
The Big Bad Fox is definitely an entertaining read and though it may seem like a kid's book, older readers will enjoy it, too. The artwork is cute and fits the story well — and the story itself is a lot of fun. It has even been adapted into a film already in it's native France. Le grand méchant renard et autres contes came out June 21, 2017 in France. And with any luck it'll someday make it's way stateside! For now, though, enjoy reading Benjamin Renner's The Big Bad Fox translation from First Second Books.