This week, Sam continues on with Grass Kings while Kylee ventures into the newest Si Spurrier offering, Godshaper – both from BOOM! Studios. Kylee also read a spectacular new issue of Harrow County and a less-spectacular issue of the American Gods adaptation, both from Dark Horse Comics. Meanwhile, Jackson took a look at the latest issue of Hal Jordan and the Green Lantern Corps from DC Comics.
Want to hear more about what we thought about these issues? Read on – and let us know what you thought in the comments below.


Sam's Reads
Grass Kings #2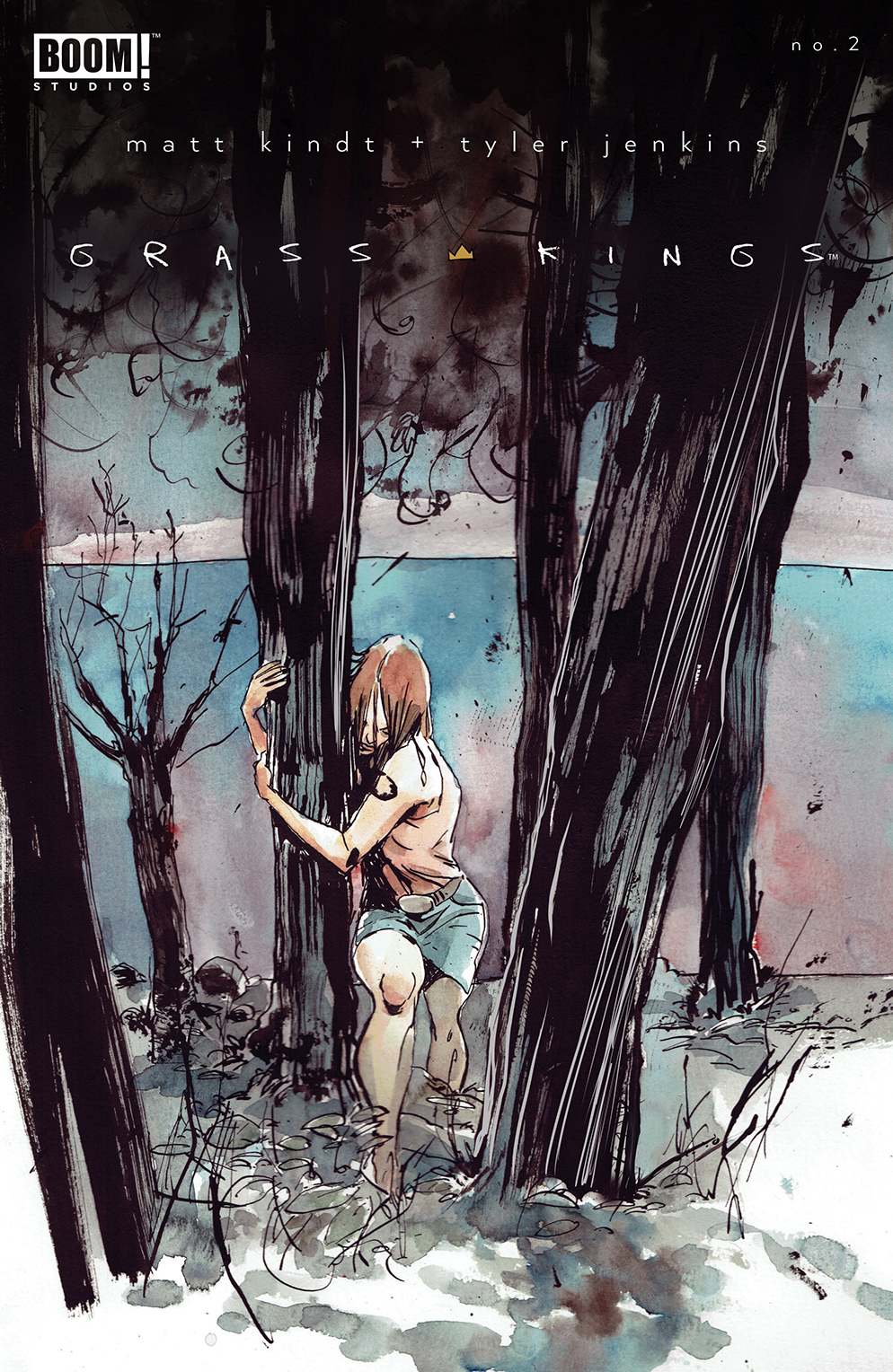 Author: Matt Kindt
Artist: Tyler Jenkins
Publisher: BOOM! Studios
Source: BOOM! Studios DRC
★★★☆☆
If you remember my review for the first issue of Grass Kings you'll probably remember this line: "Ultimately, not much happens." The same can be largely said of this issue as well with one caveat – there's a lot more character development and exposition built into this one.
Whereas last issue we saw Bruce, the brother of 'King' Robert and the resident lawman, talking to an outsider, this time we sit in on a handful of conversations between (for the most part) residents of the Grass Kingdom. One of the primary focuses of these conversations is dissatisfaction. There's dissatisfaction in Robert's rule since he's become reclusive after his daughter's disappearance and his subsequent divorce. And from the younger generation that's a growing sense that they are missing out. Ashur – Robert and Bruce's younger brother – listens to a friend describe sneaking out just to see a movie and how that was an incredibly life changing moment. Meanwhile Robert tells his life story to the girl he pulled out of the lake while he thinks she's asleep.
Now, this issue does set some events in motion. The sheriff in the town across form the lake is dead set on chasing down this girl and breaking up the Grass Kingdom for good. And he's not above using dirty tactics to do it – including having someone possibly murder Ashur's friend. But even what happens to the kid is ambiguous. So we just have to sit here and wait to see what comes next.
At times seemingly a more laid back version of Briggs Land, Grass Kings has a lot of potential and has an incredibly unique look. But it's a slow burn with a plot that's only just starting to really unfold into conflict at the very end of it's second issue. Still, it brings me back every month because it's really well written and the amount of exposition and backstory we've gotten makes me want to know just what their building us up for in later issues.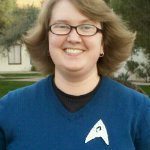 Sam Wildman is a co-founder and co-editor at Nerdophiles.


Kylee's Reads
Godshaper #1
Author: Si Spurrier
Artist: Jonas Goonface
Publisher: BOOM! Studios
Source: BOOM! Studios DRC
★★★★★
When technology gives out sometime in 1958, cars stop working, electricity disappears, and modern conveniences cease to exist. In their place, a new, metaphysical currency emerges: gods. Part bank account, part status symbol, and part everything else, Si Spurrier has created a fascinating landscape in Godshaper, his latest creator-owned series from BOOM! Studios. Read our full review here and our interview with Si Spurrier at Wondercon 2017 here.
Harrow County #22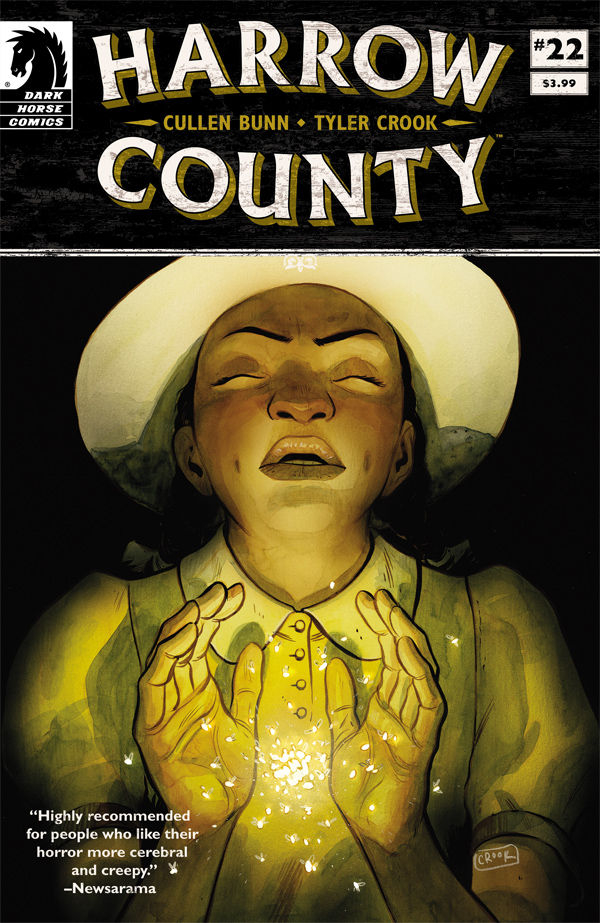 Author: Cullen Bunn
Artist: Tyler Crook
Publisher: Dark Horse Comics
Source: Dark Horse DRC
★★★★★
One of my personal favorite characters returns in this issue of Harrow County. After spending more time with Lovey, Bernice is more convinced than ever that she'll have to learn to protect herself against the haints of Harrow County without relying on Emmy's protection. Naturally, Emmy is hurt and confused to find her best friend behind the recent haint hunts.
Tyler Crook's artwork is always on point for Harrow County, but even more so in this issue works to showcase to readers two sides of the same keyhole ghost and the differing perspectives of the girls. Panels completely filled with red that spills out further as the ghost lashes out creates a sense of urgency and seems to drive home the point that Bernice is making.
This sad progression of Emmy and Bernice's friendship is no less hurtful to read than it is for Emmy to experience. It's not surprising, given that Emmy has been checked out of her small town for several issues while dealing with her uninvited 'family' members that Bernice felt the need to step up and become another protector. While Emmy is left torn between loyalties, Bernice has no such qualms about siding with humans and putting her lessons from Lovey to good use.
Cullen Bunn masterfully showcases the characters' growth from the first issue to now and the differences are startling, but wonderfully conveyed. The cliffhanger at the end of the issue may unfortunately cement the friends on opposite sides of the supernatural battle waging in Harrow County.
American Gods #2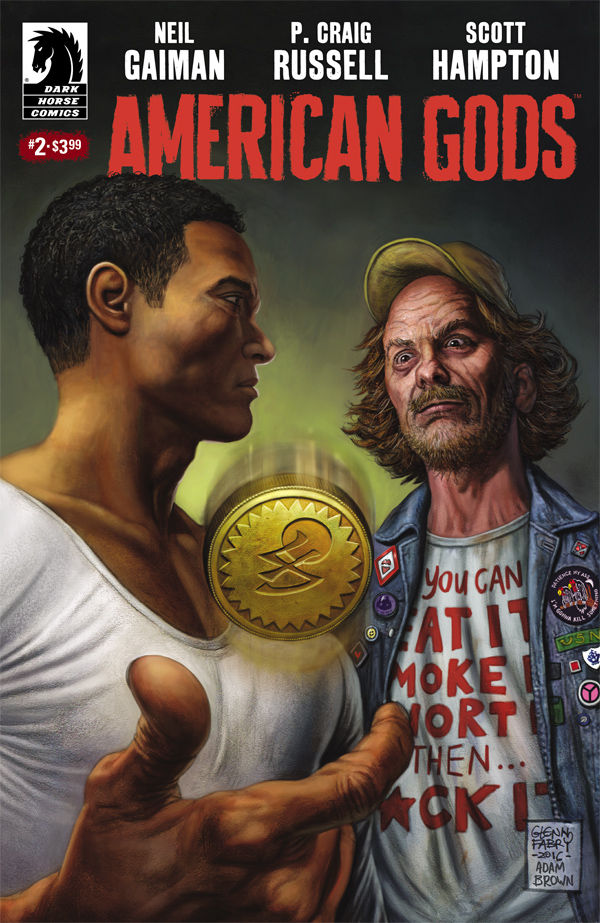 Author: Neil Gaiman, P. Craig Russell
Artist: Scott Hampton
Publisher: Dark Horse Comics
Source: Dark Horse DRC
★★★☆☆
The problem with this adaptation may be just how faithfully it sticks to the source material. Partial blame could be placed upon the flashy, updated television show set to premiere in May, but that doesn't excuse this comic feeling like it's frozen in 2001 when the novel was first published.
In this issue, Shadow reluctantly agrees to work for Mr. Wednesday after realizing he has no other option. He also meets Mad Sweeney, a leprechaun who trades the secret of a coin trick for a fight – though Shadow has no memory of how it's done when he wakes up the next morning. He attends his wife's funeral, learning the truth about her death from her best friend, and is abducted by a fat boy in a limousine over his new employment. It sounds busy because it is.
For an adaption such as this, the art is really the only surprise in the book and it's pretty to look at, but ultimately busy and unfortunately repetitive still. Add in the introduction of the menacing Technical Boy who… looks decidedly low-tech and average compared to Bilqis' fantastical introduction in the previous issue and it's mostly disappointing.


Kylee Sills is an associate editor at Nerdophiles. The evolution of Bernice in her own right has been wonderful to watch unfold. Follow her on Twitter @kyleewho.


Jackson's Reads
Hal Jordan and the Green Lantern Corps #18

Author: Robert Venditti
Artist: V. Ken Marion
Publisher: DC Comics
★★★☆☆
More than any book in DC's Rebirth initiative, Hal Jordan and the Green Lantern Corps has struggled with an identity crisis. Lacking the focus of Green Lanterns, which puts the spotlight on the newest members of the Corps in an emotionally resonant buddy-cop story, Hal Jordan is a team book without a perspective. It is as indebted to Geoff Johns' color-coded space opera as it is to Gerard Jones and Cully Hammer's lyrical '90s masterpiece, Mosaic. It's a series where the title character feels like a lesser presence, especially in a story that seems to acknowledge DC has paid too much attention to the character in the last decade.
Hal Jordan and the Green Lantern Corps #18 makes a muddled, if somewhat compelling argument for the series as an exploration of DC's wildest cosmic concepts. With the Sinestro Corps and the Green Lanterns sharing a planet, not for the first time, tensions are high and John Stewart and Soranik Natu try to keep the new intergalactic police from destroying each other. While Kyle Rayner reckons with his return to the Corps, Saint Walker takes a new mission from Ganthet and Sayd and a visitor from the future arrives with a dire warning.
There's a lot going on in this issue and, while an awful large percent of it feels pretty familiar to those who've been reading since Johns' run, there's quite a bit here that feels at home in an older era for the team. The sprawling team dynamics recall '80s Green Lantern books as much as they recall the Legion of Superheroes and X-Men. It's a refreshing change of pace for readers, like myself, who may have been worn out by Johns' obsession with pushing Hal Jordan as the savior of the Corps or the way various minor Lanterns were pushed to the side.
Writer Robert Venditti has been working on the Green Lantern franchise on one title or another since 2013 in a run that's often tried to tie the disparate elements of the series' history together in new and interesting ways. He's had mixed results, with the "Godhead" crossover standing out as the series' highpoint, but it helps that Hal Jordan and the Green Lantern Corps offers a fairly straight forward status quo with lots of room for experimentation in regards to characters, adversaries and plot development.
The book has had a rotating art team, with some superstars turning in some excellent work but I have to admit that V. Ken Marion, who does pencils here, may be the best, offering stylish, cartoony alien figures with dynamic poses and sharp, expressive faces. This is the highest-profile gig of his career and it's a strong debut, particularly in dynamic pages like the arrival or Rip Hunter and the construction of a new Sinestro Corps Power Battery. DC would be wise to keep him on the book.
Hal Jordan and the Green Lantern Corps #18 struggles with both a lack of purpose and a nonexistent point of view. It's a comic that works best in the small moments and character interactions than the hints of storylines to come. It's a book at its best when its at its wildest and in a series that has played it safe for the last decade, more or less, that's a very promising thing.



Jackson Adams is a staff writer at Nerdophiles. He would like to talk about Green Lantern: Mosaic some more. Follow him on Twitter @JacksonInACup.