Now that the super blood moon eclipse has occurred and the pumpkin spice latte cravings are happening (apparently), fall has officially arrived. There were some worthwhile summer movies this year. From Mad Max: Fury Road to Inside Out – here's a look back at the summer flicks I got to watch and those I didn't, but wish I had.
First off, let me throw a little party for avoiding the movies that seemed sub-par to begin with. As we all realize, sadly, Fantastic Four was a major bomb. Whether or not the poor result was really due to production or Josh Frank (and his tweet) is unclear. Agent 47 and Terminator Genisys also fell short of the bar. Coincidentally, each of them was trying to reboot or refresh their franchise. Pixels was a huge disappointment, but we won't warrant the movie with any more coverage.
Movies that I did manage to watch were: Avengers: Age of Ultron, Mad Max: Fury Road, Mission: Impossible – Rogue Nation, and Minions. (There's a weird pattern there.) While I didn't get to watch as many movies in theaters as I would have liked this summer, here are some brief thoughts on why you should or shouldn't watch those four, if you haven't already. (And what I wish I watched instead.)
---
Avengers: Age of Ultron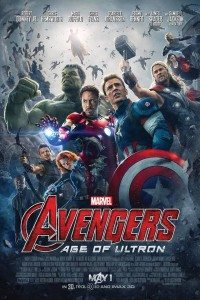 Release Date: May 1, 2015
Cast: Robert Downey Jr., Chris Hemsworth, Mark Ruffalo, Chris Evans, Scarlett Johansson, Jeremy Renner, James Spader, Samuel L. Jackson, Don Cheadle, Aaron Taylor-Johnson, Elizabeth Olsen, Paul Bettany, Cobie Smulders, Anthony Mackie, Hayley Atwell, Idris Elba, Linda Cardellini, Stellan Skarsgard, Andy Serkis
Director: Joss Whedon
Studio: Marvel Studios
Distributor: Walt Disney Studios Motion Pictures
Genre(s): Action, Adventure, Sci-Fi
Rating: ★★★☆☆
Nerdophiles | IMDB | Rotten Tomatoes | Wikipedia
While, Avengers: Age of Ultron was entertaining, it had all the hallmarks of a filler episode. The exeption being that this filler "episode" had a budget over $279.9 million, over ten well known cast members, and a nerd-appreciated director. Age of Ultron did little for the franchise's overall plot arc. Instead of a link, it feels like it will be the most dislocated and forgettable movie of the franchise. The Infinity Stones were more in the background and Age of Ultron seemed more of a platform to introduce new characters. Pietro and Wanda Maximoff, and Vision were well enough characters to get excited about. However, since they were only minor characters, little time was devoted to them.
Like with any of the Avengers/Marvel movies the toughest job is to provide enough screen time for all of the characters. After all, these characters have been existence since the 60s and have beloved fanbases. So, for a movie that was a little over 2 hours, with a top-tier cast, immense budget, and a bland plot, it didn't leave much of an impression. Age of Ultron still had its memorable moments such as the Thor's hammer/Sword in the Stone trial and sprinkling of witty one liners. However, the cheese seemed to be laid on a little thick. If you're still enthralled with the Marvel Cinematic Universe, it's worth a watch. Otherwise, you really wouldn't feel as though you were left out on anything once Avengers: Infinity War Part 1 and Part 2 hit theaters in 2018 and 2019, respectively.
What I Wish I Watched Instead: Jurassic World or Ant-Man
Jurassic World – After hearing people rave about Jurassic World, I felt like I had missed out on the theater experience. Although Jurassic World is seemingly most like its other movies – oh hey, scary dinosaurs on the loose, again?! –  it sounded fun and a good booster to the Jurassic Park franchise. It seems less disappointing to walk into a movie knowing what to expect than a movie that has too much hype around it and an unsure plot. Plus, we can't really get enough of that Chris Pratt can we?
Ant-Man – About the same notion as Jurassic World. I heard it was fun. It looked fun. Ant-Man is Paul Rudd for Stan Lee's sake. I'm not sure if it was the idea that just didn't have me rushing to the theaters to see it or that somehow I felt I could only watch one Marvel movie this summer. Either way, Ant-Man seems as though it would have been less chaotic. With the focus on the backstory of Ant-Man and not really many other characters to hold in the spotlight, I don't think it would have been as disappointing as Age of Ultron.
---
Mad Max: Fury Road
Release Date: May 15, 2015
Cast: Tom Hardy, Charlize Theron, Nicholas Hoult, Hugh Keays-Byrne, Rosie Hutington-Whiteley, Zoe Kravitz
Director: George Miller
Studio: Kennedy Miller Productions, RatPac-Dune Entertainment, Village Roadshow Pictures
Distributor: Warner Bros. Pictures
Genre(s): Action, Adventure, Sci-Fi
Rating: ★★★★★
Nerdophiles | IMDB | Rotten Tomatoes | Wikipedia
Mad Max: Fury Road was definitely unlike the preceding movies from the 80s. The very literally, full throttled post-apocalyptic action movie, was a thrilling ride. It seemed that with Fury Road there was no middle ground. People either hated it or loved it. George Miller who directed and wrote the first three movies, reimagined Mad Max for the modern age. As both a sequel and a reboot, some didn't like how Mad Max (Tom Hardy) appeared as a secondary character to that of Imperator Furiosa's (Charlize Theron) dominating presence.
However, I found it refreshing and I think a lot of women and audiences had the same reaction. Mad Max's character was more of a drifter, tumbled into Furiosa's cause to find a way to battle his own demons. Even though, George Miller has expressed he is in no immediate rush for a sequel, we can only hope he changes his mind to make it sooner. Mad Max: Fury Road, to me, was undoubtedly what summer blockbusters should be. Some movie goers complain of a scant plot, but I'm not sure what they really expected from a Mad Max movie. Fury Road still left me on the edge of my seat, stress eating through the chase scenes, and satisfied that I had just experienced a world like no other. If you haven't given Mad Max: Fury Road a chance, it's not too late!  Just be aware it is an intense movie but in the best sense, especially for sci-fi fans.
What I Wish I Watched Instead: Mad Max: Fury Road in IMAX 3D
Having only been able to see it regular theatrical format I feel as though I really missed out on the full experience. The scenes were so ruggedly beautiful. You would think post-apocalyptic desert wasteland would be drab and brown, but boy, does cinematographer John Seale know how to milk more out of what George Miller already laid foundation for. I won't hesitate next time when there's a new Mad Max.
---
Mission: Impossible – Rogue Nation
Release Date: July 31, 2015
Cast: Tom Cruise, Jeremy Renner, Simon Pegg, Rebecca Ferguson, Ving Rhames, Sean Harris, Alec Baldwin
Director: Christopher McQuarrie
Studio: Bad Robot Productions, Skydance Productions, Cruise/Wagner Productions, China Movie Channel, Alibaba Pictures
Distributor: Paramount Pictures
Genre(s): Action, Adventure, Thriller
Rating: ★★★★☆
Nerdophiles | IMDB | Rotten Tomatoes | Wikipedia
Rogue Nation really intrigued me because while I did enjoy M:I – Ghost Protocol (2011), I couldn't fathom how another Mission Impossible movie, Rogue Nation, was getting a higher rating on Rotten Tomatoes than Ghost Protocol. It was curiosity that really drew me into the theatre. And while I did enjoy M:I – Rogue Nation for the most part, I felt it's Rotten Tomatoes ratings led me astray. I forgot that Rotten Tomatoes is merely the statistic of its aggregated review pool. Just because it has a 92%* positive reviews doesn't mean it's a perfect movie that's going to blow my pants off.
Rogue Nation was a fun movie for its action and slight comedic nature. However, it didn't compel me to want to talk about it more. I'd say if you're looking for a characteristic summer movie that maybe isn't memorable but will keep you enthralled for those 131 minutes, Rogue Nation hits that sweet spot. With Mission: Impossible's movie ratings only going up after each installment, I can only hope that the next will really give me something to talk about. (It's ok, sing Bonnie Raitt with me.)
*At the time of this article
What I Wish I Watched Instead: Spy
I actually kind of wished I watched Spy instead. Even though Rogue Nation has its comedic aspects that worked at times. I'm a connoisseur of cheese, in the sense that I can only handle so much and only of certain quality. At times the one liners seemed forced. I think Spy would have done better to deliver on that facet and with Melissa McCarthy and Jason Statham, there's already a formula for hilarious chemistry. Sadly, I didn't notice the ratings in time and the trailers didn't seem to pull me in, likely because the good stuff wasn't allowed in the trailer due to Spy's R rating. Whereas Rogue Nation with its PG-13 rating already had featured some of its cooler moments in the trailer. (Sadly there were only a bit more in the actual movie.)
---
Minions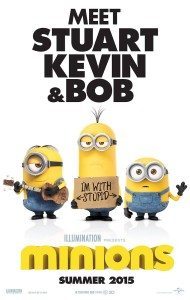 Release Date: July 10, 2015
Vocal Cast: Sandra Bullock, Jon Hamm, Michael Keaton, Allison Janney, Steve Cooogan, Geoffrey Rush, Steve Carell
Directors: Kyle Balda, Pierre Coffin
Studio: Illumination Entertainment, Illumination Mac Guff
Distributor: Universal Pictures
Genre(s): Animation, Comedy, Family
Rating: ★★☆☆☆
IMDB | Rotten Tomatoes | Wikipedia
Minions was one of those movies with which I should have headed the ratings' warnings. Instead I gave into my desire to see something cute. On that front, Minions delivered. I'm not quite sure if it was the plot or that its main characters speak gibberish that had the movie falling flat. Even the novelty of watching it outdoors in the summer, didn't lend much charm to the movie.
Minions had felt as though it lacked something, some sort of umph– maybe it was Gru, but I couldn't put my finger on it. There certainly were adorable moments and chuckles here and there but maybe as an older movie goer, I wasn't particularly its target audience. If you happen to be babysitting or just struggling to find something to fill an hour and a half feel free to turn Minions on. If not, you're not missing out on very much.
What I Wish I Watched Instead: Inside Out
I don't know why I didn't think Pixar's Inside Out would be a fun watch. I mean, it's Pixar. It could have been because I was burned by watching Monsters University, which, I still am confused why that was made. Emotions having emotions, sounds like a crazy concept. I can say with certainty that if I had a Tardis and went back in time to leave myself a note to see Inside Out instead, I would. Sometimes it's better not to bet against ratings and hope that cute mumbling yellow characters will outrank in cuteness.
---
On top of the movies I wish I had seen instead, there are still a whole other list of movies I still want to watch:
Dope: The plot and sort of crime/coming of age mash-up still intrigues me and I don't doubt it will be entertaining and compelling.
Man from U.N.C.L.E.: What I hear is it's a fun spy movie and really that's all I expected of it. Get available to rent sooner!
Pitch Perfect 2: No matter its lower ratings, we all knew it probably wouldn't be as good as the first. Still, I'm sure it'll provide some adequate laughs.
Self/Less: Even if it's terrible. I'm just a sad sad Matthew Goode stan.
Straight Outta Compton: Despite my hesitation due to its portrayal (or lack thereof) of certain events and reinforcing some of raps more negative themes, I still would appreciate the overall message it is trying to convey.
Hopefully, I'll get to share my thoughts on movies I missed out on when they hit digital or blu-ray release. But, for now, definitely share with us what your favorite or not so favorite summer movies were!