The Architect of Song
Haunted Hearts Legacy Book 1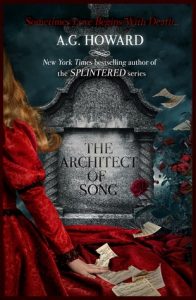 Author: A.G. Howard
Publisher: Golden Orb Press
Publication Date: August 15, 2016
Source: Rockstar Book Tours
Genre: Supernatural Romance, Mystery
Spoilers: Medium

Amazon
|
Goodreads 
First, listen to "Ghost Story" by Charming Disaster, because it's eerily similar to the plot of this novel, then get back to me.
The book opens on a deaf young woman, Juliet, who has just lost her mother. Distraught, she attends her mother's funeral and afterward gets sidetracked by a man fighting to break into a gated grave plot. Avoiding the man, she later breaks into the grave and steals a mysterious flower growing on top of the grave. As soon as she touches one of the flower's petals, a ghost appears. Ahem, a hot ghost. A hot ghost that can hear all her thoughts and can make her hear him.
The book follows the mystery of the ghost (named Hawk), his identity, his journey to the afterlife, and Juliet's *ahem* visceral connection to him.
Meanwhile, outside ghost-scapades, Juliet's estate is in danger of being sold to a man named Nicholas Thornton,  an equally mysterious architect who dresses in loud and garish colors and invites Juliet to his estate to  win her hand in marriage.Okay, so this book's premise is delicious. And I loved every second of reading it. There's just one little thing.
When I read a book like this, I'm ready for ghost sex.
In this, and in only this respect, the book did not deliver.
The mystery of ghost!Hawk's identity and ties to Juliet's traumatic past drives the majority of the story, with romance between her and the ghost  becoming a sub-plot. A love triangle between the ghost, Lord Thornton, and Juliet gradually builds until the story's conclusion, at which point the reader's allegiances shift.
The suspense and mystery aspects of this book were really what kept me eager to read more. Juliet's romantic relationships with the men were truly secondary, which seems unusual, though welcome, given the book's synopsis.
One of the best parts of this book was that, much like Juliet, the reader never quite knows who to trust between the two romantic leads. As the relationship with her ghost becomes more and more controlling and possessive (read: abusive), the reader's choice between one corporeal, potentially dangerous suitor and his ghost rival becomes more difficult with their polarized behaviors.
This book was an extremely compelling read, and is highly recommended for any psychological mystery fans or avid romance novel readers. The one caveat: no explicit sex scenes. There is plenty of innuendo and sexually suggestive imagery, but since the majority of the romance here takes place between a woman and a ghost without a physical presence, there isn't much opportunity for titillation.
I expected this book to be a bit laughable from its synopsis, but what I got instead was a well-written, plot driven book with a splash of paranormal romance.
Final Thoughts: Overall, the only things bringing this otherwise 5 star book down to 4 stars were the romanticized abusive relationship with ghost!Hawk and the profound lack of aforementioned ghost sex. Other than these few sour notes, this book is a symphony.