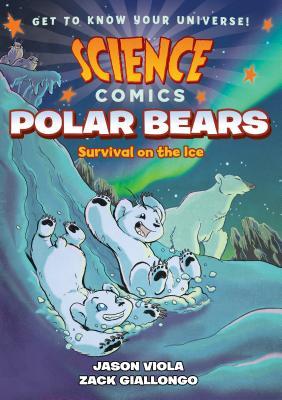 Title: Polar Bears
Series: Science Comics
Author: Jason Viola
Illustrator: Zack Giallongo
Release Date: December 31, 2018
Publisher: First Second Books
Review Spoilers: N/A
GoodReads | Amazon
As the introduction says, polar bears are one of the most recognizable animals on our planet. There's just something awe-inspiring by the massive, dangerous, and often beautiful creatures. As kids we're amazed by them. And, unfortunately, as adults we come to realize just how much they've become a symbol of the way global climate change is devastating habitats around the world.
Kids hoping to learn more about polar bears will find a lot of great information in Science Comics: Polar Bears. The setup is fun. A mother polar bear is teaching her twin cubs, Anik and Ila, how to survive in the arctic. Young readers join them on this journey and watch the cubs grow as they learn more and more about their species.
Over the course of about a year the twins learn all kinds of things about life as polars bears. They learn how to hunt seals, build dens, and tell the difference in types of ice. While the topics may be serious at times, the book keeps things fun and a bit silly. The illustrations are often funny with polar bears in swim wings or ordering take-out at a fast food restaurant for bears only.
There is actually a whole section on polar bears hunting various prey including a part where they eat a seal. But the illustrations keep things very tame and there's little blood or mess. There's actually a quite cheerful diagram of how to eat a dead seal. Shortly thereafter, there's an image of a starving, young polar bear who is struggling to survive on his own which admittedly could upset some young readers. Another very brief scene shows polar bears being hunted and killed while highlighting the dangers of interaction with humans.
Unfortunately, the story of polar bears in general can be upsetting. While this is a very fun, informative book it's not all fun and games. The creators don't shy away from the realities of a polar bear's struggle to survive. A decent portion of the book is dedicated to the environmental dangers faced by the polar bears. There's a frank discussion on the way climate change has rapidly effected their habitat, the way industrial toxins have seeped into their environments, and more.
I think that Viola and Giallongo did a wonderful job showing young readers just how awesome polar bears are while also giving kids a whole lot of new information they may not have known before. Kids who love animals – especially polar bears – are going to be a great target audience for this one. With any luck Polar Bears will get them more interested in learning more about conversation efforts not just in the arctic but at home, too!