Southern Bastards, Vol. 1: Here Was A Man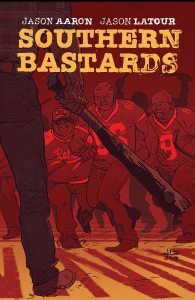 Author: Jason Aaron
Artist: Jason Latour
Release Date: October 1, 2014
Publisher: Image Comics
Source: Bought and Owned
Genre(s): Crime, Drama, Southern Gothic
Rating:  ★★★☆☆
Review Spoilers: Low
Comixology | Things From Another World
On the back cover of Southern Bastards, Volume 1, there's a quote from Matt Fraction. This is not unusual for a comic book in this day and age. I could spit on my comic book collection from the past six months and find a book Fraction has commented on from where it lands. However, I really couldn't think of anything better to sum up my experience with this book than his words: "…made me both terrified and homesick."
I grew up in a small town in North Georgia, about 45 minutes away from Atlanta if traffic isn't bad (hint: it usually is). My parents were both from the West Coast and I was born on a military base in Hawaii, but I spent most of my adolescence in that town. It may not be in my blood, but it's certainly embedded in my soul. I ran away from it as soon as I could, but I clearly didn't get far considering the fact I just live in Atlanta now. Anytime I go to a state where the people don't know what makes a drink Sweet Tea instead of sweetened tea or an Arnold Palmer, or where people just aren't polite let alone politely sarcastic, I feel out of place. Every time I go to see my grandparents, I realize how much I miss seeing the stars at night. However, there are parts of my childhood, people I knew, the hatred I saw and felt… Those I want to leave as far behind as possible.
Southern Bastards' first arc "Here Was a Man" is ultimately a story about that. How you don't want to go back home, but something always seems to be pulling you back there. For the protagonist Earl Tubb, it's the legacy his daddy, the former sheriff of Craw County, Alabama, had left behind. Tubb ran away to Vietnam and never looked back, but he eventually has to when his uncle living in his old family home becomes too old to look after the place. He wants to make it a short visit, but seeing the state the town has fallen into over the years with a man known as Coach Euless Boss running things behind the scenes, this makes leaving kind of hard to do.
I have to admit, I'm not really a huge fan of the crime tropes that run rampant in the first arc. Man comes home after years away, sees a crime boss has turned it to hell, and after some soul searching, decides to take matters into his own hands as an avenging angel/vigilante/dark anti-hero with a new purpose. We've seen it before. However, the book has such a distinctly southern flair that it was easy to look over and immerse myself in the story, as terrified as I was because of it.
This isn't the genteel south of Gone With The Wind, Midnight in the Garden of Good and Evil, or Cold Sassy Tree. It's not even To Kill a Mockingbird. It's humid August days with BBQ cooking and that person sitting next to you at the football game that you know has been smoking meth for years. Jason Aaron and Jason Latour remember what it was like to grow up in the South and they made it so easy to fall into a state of being comfortable and uncomfortable all at once both in writing and art.
It made me sad though that the only female character we see constantly is Shawna the waitress. Not that I don't love and respect Southern waitresses, but Southern women can be just as ruthless and terrifying as any of the damn men in this book. Hell, probably more. However, the very end of the book gave me some hope that we might see some more in the future. Hell hath no fury like a woman scorned. Especially if she grew up in Alabama…
Final Thoughts:
I'm not certain how this book translates if you didn't grow up in the South, but it's a hell of a trip if you did. A humid crime drama with a sinister drawl, Southern Bastards is definitely worth a read. Not to mention it totally gives you a recipe for fried apple pies courtesy of Aaron's mother Betty, just like any good book about Southern culture.