Summary for 1×01-2: A year after the end of World War II, Peggy Carter is still working for the SSR and being disrespected the entire way. When her old friend Howard Stark comes to her claiming that his tech has been stolen, it's up to Agent Carter to find the culprit and outstep her compatriots in the SSR.
Rating: ★★★★★
I've waited nearly two years for Agent Carter to hit my screen and in the first 30 seconds, I'm crying. Well, mostly because the show opens with the very end of Captain America: The First Avenger when Steve is hurtling towards the ice and Peggy's on the line with him. If you cried the first time, prepare to cry again.
A year later, Peggy Carter (Hayley Atwell) is still working for the SSR in New York, though not receiving the kind of respect she did during the war. Everyone else in the office treats her like a secretary instead of an agent, minus Agent Daniel Sousa (Enver Gjokaj), a disabled veteran of the war. Sousa is already my favorite of the guys Peggy works with, but I'm biased towards Gjokaj over Chad Michael Murray. I mean, have you seen Dollhouse?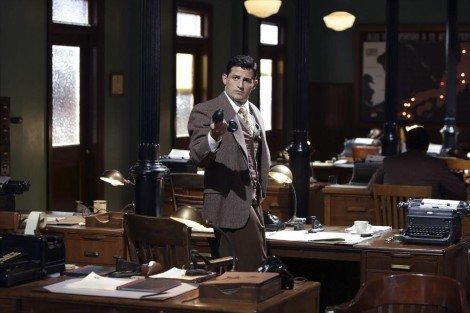 Much like his unborn son we all know and love, Howard Stark (Dominic Cooper) has come under suspicion from Congress for selling his tech on the black market. Peggy believes that he's innocent because, hey, he may be a cad that she punched into the Thames on V-E Day for trying to kiss her, but he's not a traitor. Of course, no one else in the SSR believes so.
At the diner later that evening, Peggy commiserates over how rough her job is with Angie Martinelli (Lyndsy Fonseca), a waitress at the diner and wannabe actress. Angie tells Peggy that she's gotta pay her dues, but that her big break will come. However, before the conversation can continue, Angie is called away by one of the super sexist regular patrons, who is berating her at every turn. As Peggy gets up to get dessert, she finds a note at her table to meet in the alley in five minutes. She goes out there and meets a mysterious British man, who asks Peggy to come with him. Peggy being Peggy, she immediately punches him and begins to run for her life from a speeding car. When she gets cornered, the driver reveals himself to be the one and only Howard Stark.
Like Peggy suspected, Stark is being set up. He keeps an underground lab full of his "bad babies," which is the stuff unsuitable to sell. However, that lab was broken into and his "babies" stolen and put on the black market. With nowhere else to turn to, he's asking Peggy to hunt down the objects being sold in the US and to help clear his name. Peggy is uncertain, since this puts her job at risk, but again, Howard's a friend and she agrees as Howard goes off on a boat to Europe to hunt down the rest.
If you've seen the Agent Carter one-shot from the Iron Man 3 Blu-Ray, you know how this ends: Stark will get his name cleared and be asked by the US government to begin S.H.I.E.L.D. and he'll ask Peggy Carter to join him. As we all know though, the journey is the worthier part and this is the start of said journey.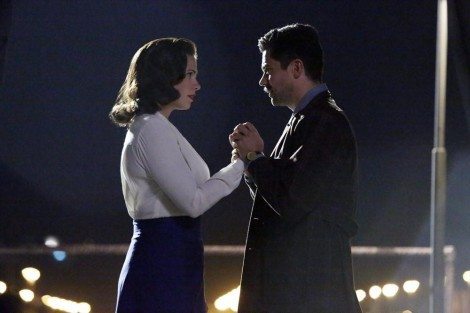 Howard leaves Peggy with his butler Edwin Jarvis (James D'Arcy), who was the mysterious British man in the alley. Immediately, I am in love with him. He's so quiet and British. He asks Peggy to call him before nine if she needs him because that's when he goes to bed. He's so devoted to his wife, Mr. Stark, and Peggy over the course of the episodes. He uses extracting women from Howard's place as an excuse to explain why he was out with Peggy because it actually happened, making me believe he would have gotten along with Pepper Potts famously. Peggy calls him while he's making a soufflé for his wife. No wonder Tony based his A.I. off of him. He's wonderful.
Peggy sets off to work immediately, tracing down the first of Howard's "bad babies": a formula for the series Macguffin. Does it matter what it's called? Not really. It just glows a lot and can level a city if used properly. With a clever excuse of coffee pouring and using her period, Peggy manages to get out of work to go hunt down gangster Spider Raymond (Andre Royo) and investigate the Macguffin formula. With a blonde wig and a knockout kiss, Peggy manages to get into Raymond's office. However, she finds that the formula has actually been used, creating a glowing amber orb. She calls Jarvis, who gives her the formula needed to neutralize it. Peggy slips it into her purse and gets out as fast as she can before getting caught by her SSR compatriots.
Rushing home, Peggy manages to disarm the orb using objects found in her kitchen. However, this doesn't stop her roommate from being killed by a man with a mysterious scar on his neck. Peggy manages to fight them off before they kill her, but she mourns the loss of her friend. Jarvis assures her that she's doing the best she can, even with all the losses.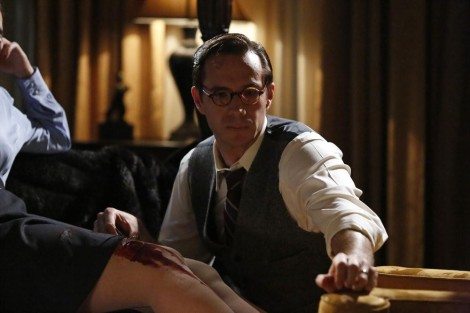 While Jarvis himself does not know much about the formula, he knows someone who does. He takes Peggy to see Anton Vanko, a Stark scientist who pinpoints where the formula was being developed. If you can get past your screaming over the name "Vanko," you'll hear the name "Roxxon Oil." With Jarvis' help, Peggy goes out to Roxxon to discover more of those glowing amber orbs being synthesized by a scientist played by James Urbaniak (no, not this one) and another man with a scar on his throat. She knocks out the scientist and chases down the man, who doesn't tell her who he is, but mentions something called "Leviathan." He throws one of the orbs down and Peggy goes running for her life. She and Jarvis get out in the nick of time to see Roxxon implode on itself. So… that went well.
With not much to go on besides a dairy delivery company, Peggy decides that's where her next focus should be. That is, of course, before she threatens the guy trying to use his status as a POW to be a jerk to Angie and Jarvis telling Stark that Peggy doesn't suspect a thing. Wait, what?!
There's not a whole lot of time to dwell on that because Jarvis is trying to convince Peggy to stay in one of Howard's houses while she's looking for an apartment. This is while Angie is trying to convince her to move in down the hall from her. Peggy is being hesitant because she doesn't want anyone getting close to her for all the same bull reasons a typical male action hero goes through. Which is… kind of refreshing, in a weird way. It's so rare that women actually get that kind of characteristic in the action genre. Peggy has a lot of those tropes here and it's so nice to see them being allowed to her. In fact, if anything, Steve Rogers is the fridged one in this story. Literally. He's on ice.
While Peggy commences her investigation of the dairy company using the tech developed by Dr. Erskine, the rest of the SSR is grinding their teeth trying to figure out who is already a step ahead of them. They go to Roxxon to see if they can find "the blonde" and ask Peggy to help in the investigation. Peggy tries her best to cover up her involvement, throwing away her watch radiating vita waves and attempting to break into Sousa's desk to retrive the photos of her taken the night Spider Raymond was killed. Peggy is in the clear, but she still recognizes the scientist from the refinery. He attempts to run, but Peggy cuts him off with a well timed briefcase.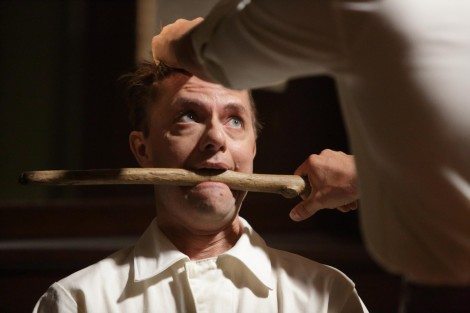 The boys at the SSR begin to interrogate the scientist named Miles Van Ert, but Peggy is already ahead of them, telling Jarvis to dump the car and to drive her up to New Jersey to find the man who owned the milk truck. However, she's not going to be alone because both the SSR and the mysterious man who killed her roommate, Raymond, and a host of others in some of the most intense scenes of the episode are not too far behind.
Peggy gets to the farm first, telling Jarvis to head back without her. She beats up the man who used the dairy truck in time to listen to the Captain America Adventure Show on the radio, which Peggy hates, but the editing on it made me have spangled stars in my eyes.
However, Peggy is not alone and the mysterious man known as Leet Brannis is there. But Jarvis is there to help her, completely against her orders. Peggy is furious, but at least she has Brannis where she wants him. He doesn't tell her much outside of a demand for protection, but we do know that he betrayed Leviathan and the other mysterious and silent man is extremely dangerous. The three begin to head back to the city, but they are soon attacked by the other mysterious man. Jarvis attempts and fails to shoot him off the roof while Peggy gives him an actual fight on the roof of a moving milk truck. He still manages to get away though and Peggy, Jarvis, and Brannis all jump for it while the truck filled with orbs drives off a cliff and into the water, causing a huge implosion. Brannis dies from his injuries, but not before giving Peggy one last clue about Leviathan: a heart with a squiggly line through it. Peggy and Jarvis escape before the rest of the SSR shows up, which just pisses Chief Dooley off even more since the man Peggy beat up didn't have much to tell him in the way of information about the mysterious woman.
Back in the city, Jarvis tends to Peggy's wounds. She expresses frustration with him over the fact he didn't leave, but he just flat out tells her that she needs support in her line of work and that no one person can carry the entire world on their shoulders. Peggy claims that Steve did, but Jarvis informs her that Howard told him that Steve considered her a huge support in his life. Moved by this sentiment, Peggy decides to stop shutting Angie out and interviews for the open apartment in her place. The landlord tells her there's a strict curfew of 10 p.m. Ha ha, Miriam. Ha ha.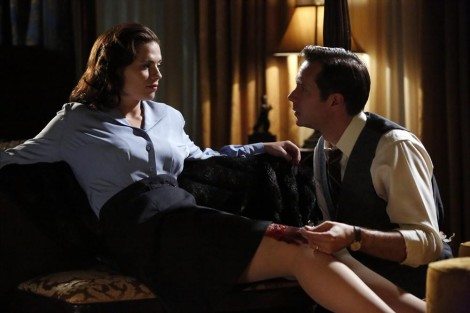 Back at the SSR, all the pictures of "the blonde" prove to be not useful since Peggy managed to dodge the camera fairly well, but they come across a bigger piece of evidence: the plate to Howard's car. Uh oh.
If the first two episodes are any indicator, Agent Carter is showing that Marvel's TV game is starting to strengthen. Stylistic and fresh with a badass female lead who carries on like a typical action hero and a supporting cast that don't feel an inch out of place in her world, Agent Carter might be the beginning of something beautiful. I want so badly for this show to succeed, so you can bet I'll be tuning in next week to see where Peggy's quest to clear Howard Stark's name takes her next.