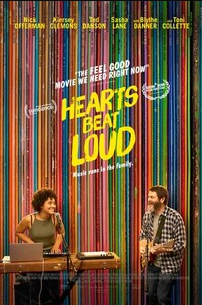 Release Date: June 8, 2018
Cast: Kiersey Clemons, Nick Offerman, Ted Danson, Toni Collette
Director: Brett Haley
Production: Burn Later Productions, Houston King Productions, Park Pictures
Review Spoilers: Moderate
IMDB | Wikipedia| RT
If you are looking for the perfect summer feel-good film, look no further than
Hearts Beat Loud
from director Brett Haley. The film follows the story of Frank Fisher (Nick Offerman) and his daughter, Sam (Kiersey Clemons), the summer before she is set to move across the country to attend UCLA. After a late night jam session, the two inadvertently create the titular song that takes off on Spotify and gives Frank the idea of starting a band appropriately called "We're Not A Band."
Set in Brooklyn's Red Hook neighborhood, the film does a phenomenal job of reflecting a little piece of what it is like to live in New York City. The neighborhood, introduced first through Frank's record business, becomes a character unto itself as the movie progresses. Shot primarily on location over the course of 19 days, Hearts Beat Loud reminds us of how the right setting can provide a deeper understanding of the film.
Most remarkable though is the film's use of music to drive the story. I cannot recall a single film I have seen in the past that managed to create its own soundtrack throughout the course of the film. Brett Haley and his team use music to tell the story of the father-daughter relationship portrayed in Hearts Beat Loud, as well as to express the character's own personal stories as they reflect on a hard past and try to navigate fresh relationships.
What was refreshing about Hearts Beat Loud was its warm take on the relationship between Sam and her father. The film's authentic take on the reveal of Sam's sexuality was a break from the usual heartbreaking drama that surrounds coming out. Instead, the film treated it as a normal fact of their life and their relationship. At a screening Q&A Kiersey Clemmons spoke briefly about it, praising the movie for not creating unnecessary drama.
At the end of it, Hearts Beat Loud is about relationships in all of their forms, in all seasons. The film sends home a wonderful message which comes from Sam's girlfriend Rose (Sasha Lane): sometimes you have to be brave before you can be good. The advice holds true whether we are discussing a possible career in music, romantic relationships, or what the father-daughter relationship looks like as both grow older.
If you are looking for a positive, heart-lifting film to kick off the summer then we have found it in Hearts Beat Loud. Even more wonderful is that after the film is over, fans can purchase the full original soundtrack and have a soundtrack for the summer.
Small indie movies like this one warm our hearts and depend on our support to flourish. Hearts Beat Loud is available at select theaters across the country and you can find a theater near you by checking out their website.