[youtube https://www.youtube.com/watch?v=h334vn103YM]
Marvel and Netflix have announced that their new Daredevil series will premiere on April 10, 2015, which is about a month earlier than previously announced.
Here's the official synopsis:
"Marvel's Daredevil follows the journey of Matt Murdock, who was blinded as a young boy but imbued with extraordinary senses, now fighting against injustice by day as a lawyer, and by night as the super hero Daredevil in modern day Hell's Kitchen, New York City."
Executive Producer and Showrunner Steven S. DeKnight (Buffy the Vampire Slayer, Spartacus) and Consulting Producer Drew Goddard (Cabin in the Woods, Buffy the Vampire Slayer, Lost), are both very well versed in genre and comic-style storytelling. Goddard wrote the first two episodes and was originally set to be showrunner but handed the reigns over to DeKnight last May, probably to work on Sony's Sinister Six film. However, given the collapsing state of Sony's Amazing Spider-Man franchise that film may not even happen.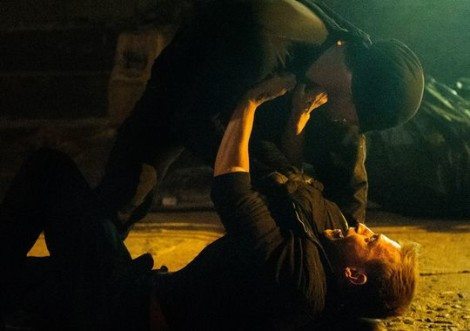 Deknight told critics at the TCA that thanks to Netflix, "we're able to explore morally gray areas, where you're rooting for the bad guy and questioning the good guy, which is more difficult on network TV."
The show stars Charlie Cox (Boardwalk Empire) as Matt Murdoch/Daredevil, Deborah Ann Woll (True Blood) as Karen Page, Elden Henson (The Hunger Games: Mockingjay) as Foggy Nelson, Rosario Dawson (Sin City) as Claire Temple, and Vincent D'Onofrio (Law & Order: Criminal Intent) as Wilson Fisk/Kingpin.
Daredevil is the first of Marvel's Netflix series, followed by AKA Jessica Jones, Luke Cage, and Iron Fist. So far only the titular roles of Jessica Jones and Luke Cage have been cast, played by Krysten Ritter and Mike Colter, respectively. Iron Fist has yet to be cast. All of these shows will be released a year apart from one another and build up to The Defenders mini-series event.
All 13 one-hour episodes of Marvel's Daredevil will be available on Netflix at 12:01 a.m. PT starting April 10th.