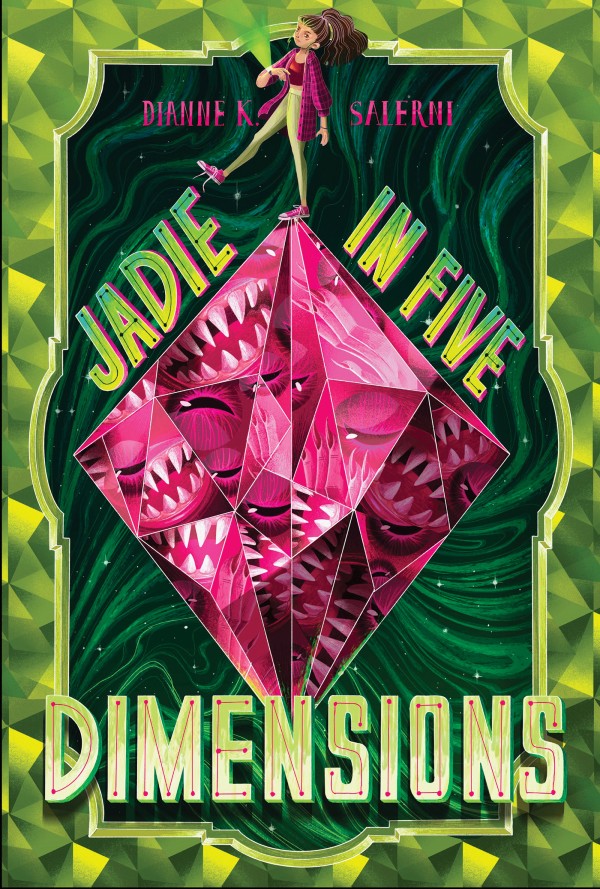 Title: JADIE IN FIVE DIMENSIONS
Authors: Dianne K. Salerni
Pub. Date: October 5, 2021
Publisher: Holiday House
Formats: Hardcover, eBook, Audiobook
Pages: 288
Find it: Goodreads, Amazon, Kindle, Audible, B&N, iBooks, Kobo, TBD, Bookshop.org
Jadie in Five Dimensions is a fast paced story that takes readers between dimensions on a high stakes adventure. Our heroine, Jadie, as well as her friends and family work for mysterious taskmasters that send them on short missions to cause chaos around the world. The ultimate goal is unknown to Jadie and the others. She's long since learned that there's never any guessing what end results the "Seers" are hoping to achieve. Some of the missions are innocuous like opening a gate across the world or bumping into a certain person at a certain place. Others, though, can be more nefarious. But they're told that everything they do will make the world a better place.
While on an unauthorized mission, Jadie (who was adopted at a young age thanks to the Seers) finds herself wrecking havoc on her own biological family. She quickly discovers that the story she thought she knew about herself is a complete lie. Soon she and her friends find not just questioning the Seers but directly at odds with them.
Jadie in Five Dimensions is a quick read that blends quality science fiction with a journey for self discovering. The book is told from multiple viewpoints which helps move the story along. Each character finds themself facing incredible odds but together they march forward. It's a fun read that will keep readers engaged as they wait for each layer of the story to reveal itself.
Want to learn more about the book? Read on! To read our review of one of Dianne K. Salerni's other great books, check out our review of Eleanor, Alice, and the Roosevelt Ghosts!
About the Book
A thirteen-year-old girl seeks answers about her past in the fourth dimension–and beyond–in this think-outside-the-box adventure.

What do you do when it turns out your whole life has been a lie?

Jadie Martin was always told she was abandoned by her parents. Creatures from the 4th dimension rescued her and placed her with a loving adoptive family. Now, Jadie acts as an agent for the beings, also known as Seers. She uses the 4th dimension as a short-cut to travel anywhere on Earth, performing missions calculated to guide the world toward a brighter future.

But then Jadie discovers that her origin story is fake. In reality, her birth family has suffered multiple tragedies and disasters engineered from 4-space, including the devastating loss of their baby girl. Her!

Doubting the Seers, Jadie starts anonymously observing her long-lost family. Why are they so important? What are the true intentions of the Seers? And what will all-powerful four-dimensional beings do to a rebellious human girl when they realize she's interfering with their plans?

A Wrinkle in Time meets Flatland in this thrilling journey that challenges the meaning of family, loyalty, and our universe at large.

A Junior Library Guild Gold Standard Selection
Reviews
"Salerni offers a page-turning adventure tale and adeptly breaks down the math and science elements behind multidimensional theory for middle-grade readers. The book also has heart, touching on the emotional lives of two adopted 13-year-olds and the true meaning of family."—Booklist

"A thrilling ride through a multidimensional universe and high-stakes action"—Kirkus Reviews

"A complex, engaging sci-fi adventure that offers a different perspective on our world, literally from a dimension beyond."—School Library Journal
Giveaway
3 winners will receive a finished copy of JADIE IN FIVE DIMENSIONS, US Only.
a Rafflecopter giveaway
About Dianne K. Salerni
Dianne K. Salerni has written many books for children and young adults, including state-award nominated series The Eighth Day and Junior Library Guild selection Eleanor, Alice, and the Roosevelt Ghosts. She attended the University of Delaware and the University of Pennsylvania before teaching fourth and fifth grades for many years. Now Dianne spends her time hanging around creepy cemeteries, climbing 2,000-year-old pyramids for book research, and volunteering at her local rescue animal shelter.
Website | Twitter | Facebook | Pinterest | Goodreads | Amazon
Tour Schedule
Week One:
Week Two: