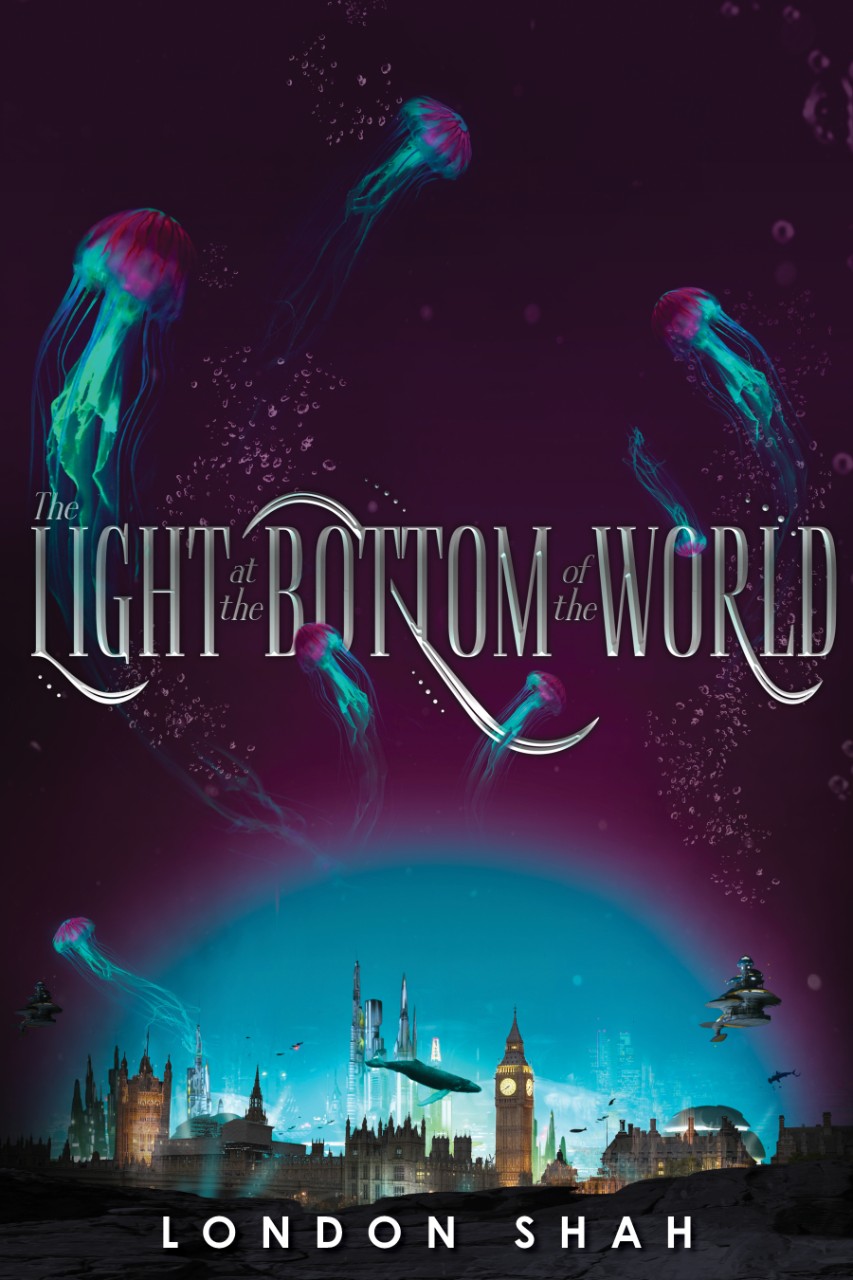 Title: The Light at the Bottom of the World
Series: The Light at the Bottom of the World #1
Author: London Shah
Pub. Date: October 29, 2019
Publisher: Freeform
Formats: Hardcover, eBook, Audiobook
Pages: 320
Find it: Goodreads, Amazon, Kindle, Audible, B&N, iBooks, Kobo, TBD
Dystopian young adult fiction takes a deep dive underwater in London Shah's debut, The Light at the Bottom of the World. Set in a not-to-distant future where our world has changed drastically, Shah envisions a world in which mankind must survive in re-built communities at the bottom of the ocean. The Light at the Bottom of the World follows a young woman named Leyla McQueen who has been forced to take care of herself following her father's unexpected, wrongful arrest as she's thrust into a death-defying adventure under the sea.
A hobbyist racer who has spent most of her time submersible racing using a friend's craft, Leyla suddenly finds herself racing in the biggest event in her local London. It's an opportunity she can't pass up because it could mean her father's freedom. But the world is a much different place and the waters are dangerous. Man-made Anthropoids and other creatures lurk below and there are even greater threats closer to home.
Leyla's journey keeps the reader on edge and The Light at the Bottom of the World proves to be a great addition to the dystopian, post-apocalyptic genre. These days I've seen fewer and fewer of them as magical fantasy and high sci-fi seems to be all the rage. This story seemed almost directly aimed at older readers like me who grew up on these types of books which probably made me love it even more.
I loved Shah's world-building and the high-concept setting works well with the story she's told. There's action, romance, and plenty of challenging authority. Shah's world is unique and that's a welcome reprieve from sometimes all too similar YA settings. Plus I love the nostalgia driven society she's built that focuses so much on the past when they're literally living in this crazy future.
The Light at the Bottom of the World is a great story that will certainly appeal to both fantasy and sci-fi fans – as well as old school dystopian/post-apocalyptic fans. Definitely worth checking out!
If you want to know more about the book or to enter a giveaway to win your very own copy, read on.
Synopsis
Hope had abandoned them to the wrath of all the waters.
At the end of the twenty-first century, the world has changed dramatically, but life continues one thousand feet below the ocean's surface. In Great Britain, sea creatures swim among the ruins of Big Ben and the Tower of London, and citizens waver between fear and hope; fear of what lurks in the abyss, and hope that humanity will soon discover a way to reclaim the Earth.
Meanwhile, sixteen-year-old Leyla McQueen has her own problems to deal with. Her father's been arrested, accused of taking advantage of victims of the Seasickness-a debilitating malaise that consumes people,often claiming their lives. But Leyla knows he's innocent, and all she's interested in is getting him back so that their lives can return to normal.
When she's picked to race in the action-packed London Submersible Marathon, Leyla gets the chance to secure his freedom; the Prime Minister promises the champion whatever their heart desires. The race takes an unexpected turn, though, and presents her with an opportunity she never wanted: Leyla must venture outside of London for the first time in her life, to find and rescue her father herself.
Now, she'll have to brave the unfathomable waters and defy a corrupt government determined to keep its secrets, all the while dealing with a secretive, hotheaded companion she never asked for in the first place. If she fails, or falls prey to her own fears, she risks capture–and her father might be lost forever.
Giveaway
Three winners can get a copy of their very own thanks to Freeform and Rockstar Book Tours! Enter now. (US addresses only.)
a Rafflecopter giveaway
Praise
"A work of fathomless imagination."
——Samantha Shannon, New York Times best-selling author of The Bone Season and The Priory of the Orange Tree
"Riveting and exciting, The Light at the Bottom of the World is a heart-racing adventure that reveals compelling and necessary truths about several critical issues of our times, while delivering all the thrills and twists of an epic quest. A stand-out, must-read book that engulfed me in its enthralling world and characters. Leyla McQueen is queen of the (under)seas!"
——S. K. Ali, author of 2018 Morris finalist Saints and Misfits and Love from A to Z
"The Light at the Bottom of the World is a wonderfully refreshing epic adventure, with dynamite worldbuilding and a crafty heroine. Leyla's determination and talent will keep you hooked in her story, and you will be begging for Shah's next book before you've even finished this one."
——Rachel Strolle: Teen Librarian, Glenside Public Library District
"Shah's debut is a fast-paced masterpiece from start to finish. Readers will fall in love with passionate, persistent Leyla as well as her secretive, swoon-worthy companion, Ari. While the tropes of dystopian fiction—corrupt government, fear of the unknown—will be easily recognizable by fans of the genre, Shah has skillfully shaped a gorgeous world unlike any those fans have seen before. But be forewarned: the book ends on a jaw-dropping cliff-hanger. Highly recommended."
——School Library Journal
About the Author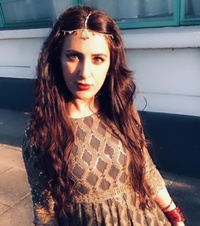 London Shah is a British-born Muslim of Pashtun ethnicity. She has lived in Britain's capital for most of her life, via England's beautiful North. When she's not busy re-imagining the past, plotting an alternate present or dreaming up a surreal future, she's most likely drinking copious amounts of tea, eating all the sweets and cakes, strolling through Richmond Park or along the Thames, getting lost on an evening in the city's older, darker alleyways—preferably just after it's rained—listening to punk rock, or losing herself in a fab SFF book or film. If she could have only one super power, it would be to breathe underwater of course!
​Her debut novel, THE LIGHT AT THE BOTTOM OF THE WORLD, a YA sci-fi, is out now. You can read more about it here.​
You can find her on Twitter, Instagram, and/or get in touch with her here.
Website | Twitter | Instagram | Goodreads