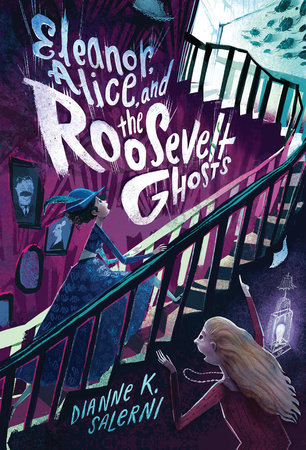 Title: Eleanor, Alice, and the Roosevelt Ghosts
Authors: Dianne K. Salerni
Pub. Date: September 1, 2020
Publisher: Holiday House
Formats: Hardcover, eBook, Audiobook
Pages: 240
Find it: Goodreads, Amazon, Kindle, Audible, B&N, iBooks, Kobo, TBD, Bookshop.org
It's that time of year again! Halloween is fast approaching and now is the perfect time to check out a new spooky read. Having spent my formative years reading my dad's Stephen King hardbacks, it's nice to settle down with a fun, middle grade spook-tactular tale now and again. Eleanor, Alice, and the Roosevelt Ghosts had me hooked from the beginning and I read through the whole thing in just two sittings.
We're thrilled to sing this book's praises as part of this book tour!
One of the reasons I loved it so much is that it blended two of my oldest literary loves – historical fiction and horror. The Eleanor and Alice Roosevelt in this book are THE Eleanor and Alice Roosevelt cousins we all know from history. They're joined by a number of other familiar faces and names. But make no mistake – this isn't your usual historical fiction story.
Eleanor, Alice, and the Roosevelt Ghosts takes place in an alternative history where ghosts are an every day fact of life. They exist in homes and manifest for unknown reasons either friendly or mischief making, vengeful and murderous, or even unaware of their circumstances. We're introduced to a handful of them in the story but their effects on the world are massive. There are agencies that deal with their manifestations. Historical events are attributed to vengeful, angry spirits. Dianne Salerni does some very cool world-buliding and these ghosts are presented as such an ordinary part of life that you really never once question it.
The other reason – or reasons – that I loved this book is the main characters: Eleanor and Alice. Drawing from their real lives and childhoods, these two very different cousins find themselves working together to solve a sudden haunting at their beloved Aunt Bye's home. Set against the backdrop of the onset of the Spanish-American War, they're left to solve not just the devastating mystery behind the death of their new, mischievous spectre but also the mysteries in their own lives. Watching these two mismatched young women come into their own and change their own stories is wonderful and empowering. The fact that it's told through a ghost story just makes it all the more fun.
Eleanor, Alice, and the Roosevelt Ghosts is a great read for young people – especially young women – who love adventure, history, and a good dose of the supernatural. This year is weird. Halloween may or may not happen for our kids and so a great way to help them get into the spirit of things might just be to give them all the frightful books you can. This is a must read in my opinion!
Want to check it out for yourself?
Read on for more information about Diane Salerni's Eleanor, Alice, and the Roosevelt Ghosts and enter to win a copy of your very own!
Synopsis
Murderous ghosts and buried family secrets threaten young Eleanor and Alice Roosevelt in this thrilling middle-grade novel that puts a supernatural spin on alternate history.
It's 1898 in New York City and ghosts exist among humans.
When an unusual spirit takes up residence at the Roosevelt house, thirteen-year-old Eleanor and fourteen-year-old Alice are suspicious. The cousins don't get along, but they know something is not right. This ghost is more than a pesky nuisance. The authorities claim he's safe to be around, even as his mischievous behavior grows stranger and more menacing. It's almost like he wants to scare the Roosevelts out of their home – and no one seems to care!
Meanwhile, Eleanor and Alice discover a dangerous ghost in the house where Alice was born and her mother died. Is someone else haunting the family? Introverted Eleanor and unruly Alice develop an unlikely friendship as they explore the family's dark, complicated history. It's up to them to destroy both ghosts and come to terms with their family's losses.
Told from alternating perspectives, thrills and chills abound in Dianne K. Salerni's imaginative novel about a legendary family and the ghosts that haunt their secrets.
A Junior Library Guild Gold Standard Selection
"A spooky, fast-paced, and inventive tale. Salerni expertly blends fact and fiction, providing a glimpse of Eleanor and Alice Roosevelt's childhood that is so compelling, you almost wish the ghost parts were true."—Erin Bowman, Edgar Award–nominated author of Contagion and The Girl and the Witch's Garden
"This mix of history and fantasy creates a nifty setting for a middle-grade mystery" —Kirkus Reviews
Giveaway
3 winners will receive a finished copy of ELEANOR, ALICE, AND THE ROOSEVELT GHOSTS, US Only.
a Rafflecopter giveaway
About the Author
Dianne K. Salerni is a former elementary school teacher living in Chester County, Pennsylvania with her husband and two daughters.
Dianne's first novel, We Hear the Dead (Sourcebooks 2010), recounts the true story of Maggie Fox, a teenaged girl credited with the invention of the séance in 1848. A short film based on We Hear the Dead and titled The Spirit Game premiered at the 2013 Cannes Film Festival.
Her second novel, The Caged Graves (Clarion/HMH 2013), is inspired by a real historical mystery in the mountains of Pennsylvania and was named a Junior Library Guild Selection, a finalist in the Tome Society IT List, and a Best YA Historical Novel for 2013 by BookPage.
The Eighth Day, a middle grade fantasy about a secret day of the week, is the first in a series by HarperCollins, which also includes The Inquisitor's Mark (Book 2) and The Morrigan's Curse (Book 3). The Eighth Day has been featured on state reading lists in Florida, Georgia, Virginia, Maine, Minnesota, and Indiana.
Dianne's sixth novel, Eleanor, Alice, & the Roosevelt Ghosts, a Junior Library Guild Gold Standard Selection, releases from Holiday House on September 1, 2020.
Photo taken at the grave of Sarah Ann Boone in Catawissa, Pennsylvania.
Website | Twitter | Facebook | Instagram | Pinterest | Goodreads | Amazon
Tour Schedule
Week One
Week Two