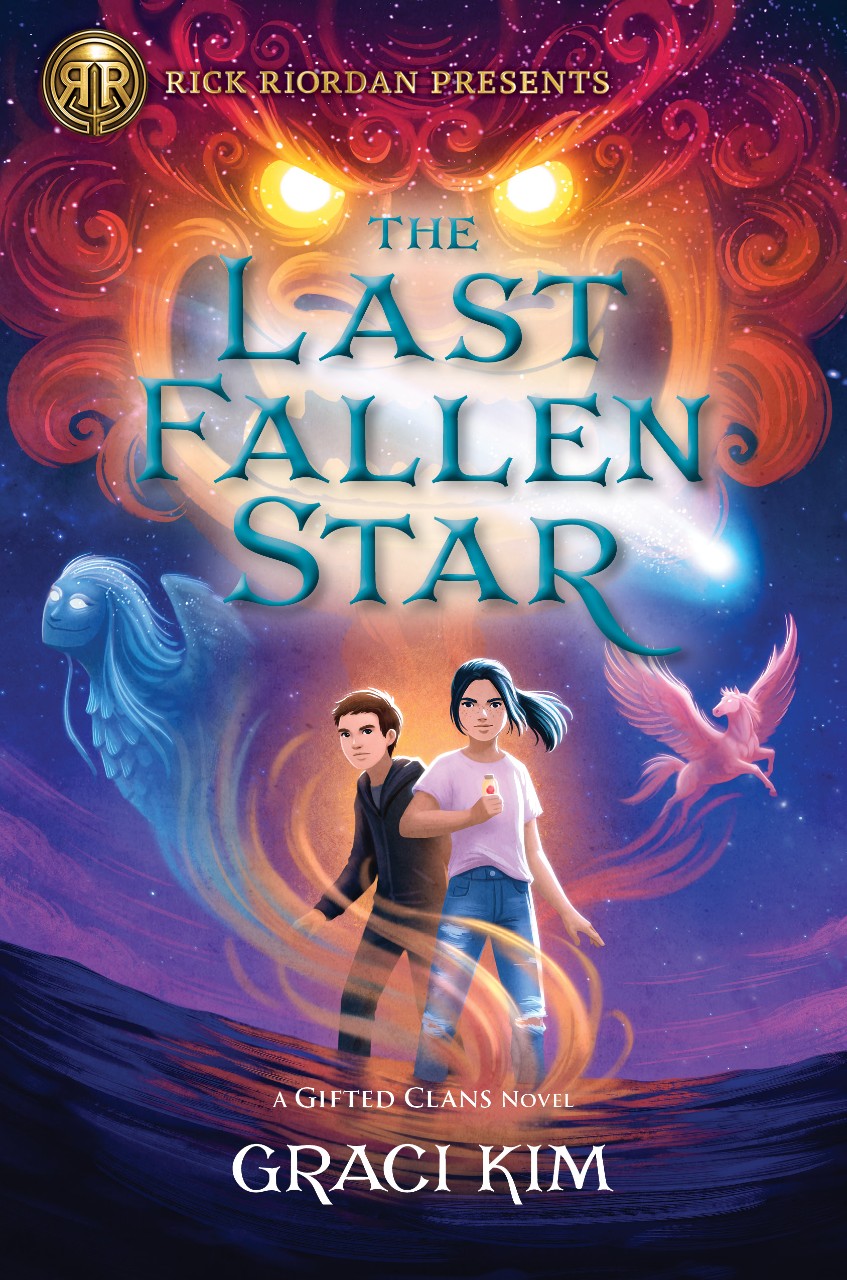 Title: THE LAST FALLEN STAR
Author: Graci Kim
Pub. Date: May 4, 2021
Publisher: Rick Riordan Presents
Formats: Hardcover, eBook, audiobook
Pages: 336
Find it: Goodreads, Amazon, Kindle, Audible, B&N, iBooks, Kobo, TBD, Bookshop.org
Let me start out by saying that Graci Kim's The Last Fallen Star is one of the best mythology based middle grade novels I've ever read. It kicks off what could very well turn into one of my favorite Rick Riordan Presents series. Of course, I'm probably biased. Having lived overseas in Korea and also being an adoptive parent, The Last Fallen Star kinda checks off a lot of narrative boxes for me.
The Last Fallen Star introduces us to Riley Oh, a non-magical preteen adopted by a magical family being raised in a secretive community of Korean magical clans living in Los Angeles. Despite not having access of magic herself, Riley is determined to fit in and make her family proud. It's hard, though, when she's constantly reminded – both by her peers and everyday aspects of her community – that she doesn't belong. It becomes even more apparent with her sister Hattie prepares to undertake her own coming-of-age ceremony where she'll fully come into her own magical abilities.
Hattie doesn't see Riley as different, though. The two sisters are as close as can be and when Hattie finds a way to potentially help Riley have powers, too, she can't be talked out of it. However, their plan opens up old wounds the sisters never could have known existed and soon Riley is forced to undertake a grand adventure in hopes of saving Hattie's life.
It's really hard to write a review about this book without spoiling some of the major moments. That's mostly because I want to explain just how amazing they all are! Riley finds herself on a journey not just to rescue Hattie but to also uncover the secrets of her community and the truth about her own origins. There are some great twists and turns throughout and I ended up reading the whole book in one sitting. Graci Kim does a phenomenal job of creating this hidden world of magic users and building a rich, magical world rooted in Korean mythology. Plus she also does a great job introducing young readers to modern Korean and Korean-American culture through her characters and setting.
I also think that she handles the adoption angle better than most authors. Far too often characters are orphaned and then adopted or taken in as cheap plot elements that inevitably end poorly. Having now adopted my own kids it makes me very critical of these kinds of storylines. There are a lot of potentially triggering parts of this story for readers – especially young readers who may have been adopted. But while I can't go too much into things because that would spoil some pretty key elements of the story, adoption doesn't feel like a cheap plot point. (Feel free to DM us on Twitter if you have any specific questions about how adoption is handle in the book!)
The Last Fallen Star blends Korean mythology and modern Korean-American culture into a truly amazing adventure that's full of magic, friendship, and family. I fell in love with Riley and her friends and was immediately stricken by her and Hattie's relationship as sisters. The Last Fallen Star is action packed and emotional; a perfect blend as far as I am concerns. This is a great read for Rick Riordan fans and those young readers who are falling in love with Korean culture thanks to newfound interests in kpop and kdramas! Definitely one to check out.
About The Last Fallen Star
Best-selling author Rick Riordan presents Graci Kim's thrilling debut about an adopted Korean-American girl who discovers her heritage and her magic on a perilous journey to save her witch clan family.
"Graci Kim does such an amazing job of blending Korean mythology into the modern world, I am now wondering how I ever lived without knowing all this cool information."–New York Times #1 best-selling author Rick Riordan
Riley Oh can't wait to see her sister get initiated into the Gom clan, a powerful lineage of Korean healing witches their family has belonged to for generations. Her sister, Hattie, will earn her Gi bracelet and finally be able to cast spells without adult supervision. Although Riley is desperate to follow in her sister's footsteps when she herself turns thirteen, she's a saram–a person without magic. Riley was adopted, and despite having memorized every healing spell she's ever heard, she often feels like the odd one out in her family and the gifted community.
Then Hattie gets an idea: what if the two of them could cast a spell that would allow Riley to share Hattie's magic? Their sleuthing reveals a promising incantation in the family's old spell book, and the sisters decide to perform it at Hattie's initiation ceremony. If it works, no one will ever treat Riley as an outsider again. It's a perfect plan!
Until it isn't. When the sisters attempt to violate the laws of the Godrealm, Hattie's life ends up hanging in the balance, and to save her Riley has to fulfill an impossible task: find the last fallen star. But what even is the star, and how can she find it?
As Riley embarks on her search, she finds herself meeting fantastic creatures and collaborating with her worst enemies. And when she uncovers secrets that challenge everything she has been taught to believe, Riley must decide what it means to be a witch, what it means to be family, and what it really means to belong.
Praise for The Last Fallen Star
"The Last Fallen Star folds Korean culture as well as diaspora feelings into a magical adventure. The way Graci Kim takes traditions and lore and incorporates them into an exciting contemporary fantasy setting makes my heart soar as a Korean reader. This fantastical story is filled with heart and humor. Readers who love magical adventures, complex family relationships, and sisterhood—not to mention food!—should pick up THE LAST FALLEN STAR immediately!"—Kat Cho, internationally best-selling author of Vicious Spirits
"Korean mythology gets a modern twist in this rollicking adventure by debut author Graci Kim. From entering a secret temple by way of the fried chicken counter at H-Mart to summoning a goddess at the Santa Monica Pier, every chapter of this novel delights and surprises. At times laugh-out-loud hilarious, at times heartwarming and poignant, The Last Fallen Star will capture the imaginations of readers for years to come!"—Axie Oh, author of Rebel Seoul and Rogue Heart
"Reading The Last Fallen Star is like taking a course in Korean mythology taught by your favorite teacher ever—while riding a gigantic roller coaster beneath a sky filled with shooting stars! I loved following Riley's thrilling adventures, and pass the bulgogi tacos, please."—Linda Sue Park, Newbery Medalist for A Single Shard
"Like a true magician, Graci Kim intertwines Korean mythology with an all-too-relatable sister story in her heart-stopping adventure that's sure to capture the heart of anyone who's ever felt like an outsider. You can't help but root for plucky Riley Oh as she engages on a quest to find belonging and acceptance." —Jessica Kim, author of Stand Up, Yumi Chung!
"I wish I could go back in time and hand this book to young Ellen. I would have loved it so much, because this was what I was missing in my life. Thank you, Graci, for writing it!"—Ellen Oh, author of The Dragon Egg Princess and the Spirit Hunters series"The Last Fallen Star by Graci Kim absolutely shines. Riley Oh's positive voice is infectious and will have readers wanting to follow her adventures long after the last page is turned." — Zoraida Córdova, award-winning author of the Brooklyn Brujas series
Giveaway
3 winners will win a finished copy of THE LAST FALLEN STAR, US Only.
a Rafflecopter giveaway
About Graci Kim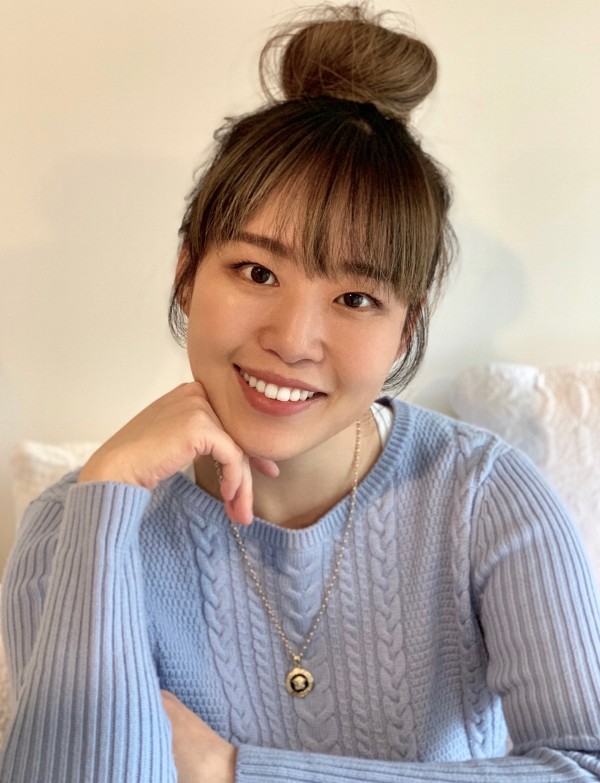 Graci Kim is a Korean-Kiwi diplomat turned author who writes about the magic she wants to see in the world. The Last Fallen Star is her middle grade debut. In a previous life she used to be a cooking show host, and she once ran a business that turned children's drawings into plushies. When she's not lost in her imagination, you'll find Graci drinking flat whites, eating ramyeon, and most likely hugging a dog (or ideally, many). She lives in New Zealand with her husband and daughter. Follow her on Twitter @gracikim and Instagram @gracikimwrites.
Website | Twitter | Instagram | Goodreads | Amazon
Tour Schedule
Week One:
Week Two:
Week Three:
Week Four:
Week Five:
Week Six: