We're getting back into the swing of things here at Nerdophiles after a brief break in our weekly comic coverage. We picked a great time for it, too. Last week saw the return of many of our favorites from BOOM! Studios with series new and old picking right back up from where we left them.
Limited series Broken World and UFOlogy are both starting to wind down leaving us to wonder whether we're going to get all the answers we've been promised. Meanwhile things are really just starting to heat up in the second issue of The Spire. In fact, both The Spire and The Woods are leading up to what could be some pretty climactic battles as outside invaders edge ever closer to our heroes' strongholds.
Basically, there's a lot going on this week and a lot more to come for all of these series. Check out what we thought of last week's issues. If you read any of them, let us know what you thought in the comments!


Sam's Reads
The Spire #2 (of 8)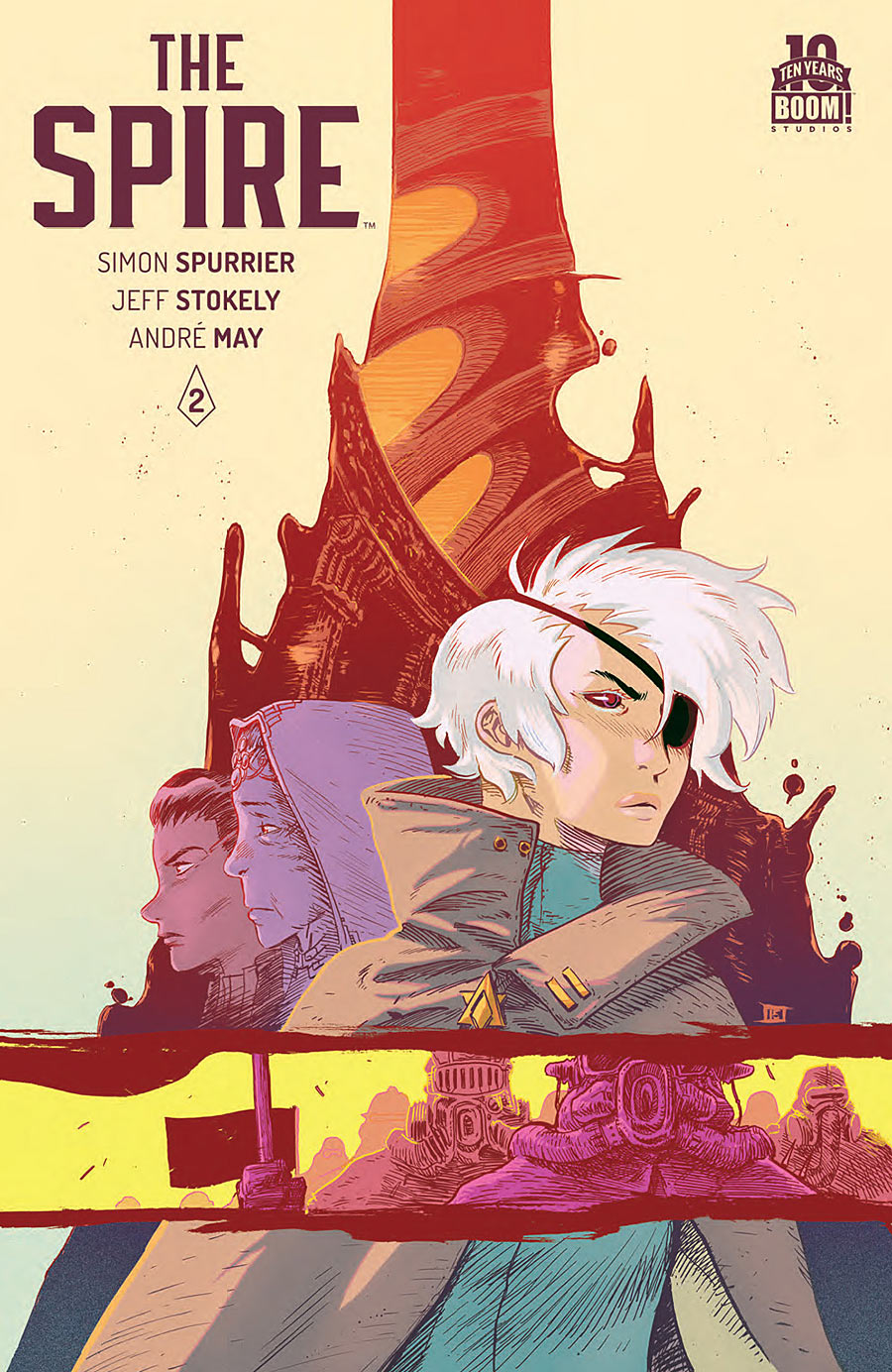 Author: Simon Spurrier
Artist: Jeff Stokely
Publisher: BOOM! Studios
Source: BOOM! Studios DRC
★★★☆☆
Sha continues her investigations as someone attacks the Marchioness while she's touring a medical ward. The soon-to-be-Baronness puts the pressure on her to figure out what's going on but so far there aren't really any leads. She has Milk out looking for culprits with the Spire's version of pig-esque bloodhounds but they just keep taking him further and further towards the top of the spire. So who knows who the rich bad guy is going to be. But we can be sure that making accusations against the wealthy isn't going to gain a sculpted cop like Sha any friends. Meanwhile an army from the wastes is heading for the Spire.
Not much really happens that's all that exciting. It wasn't as good as the first issue but I'm hoping it picks up again in subsequent ones.
UFOlogy #4 (of 6)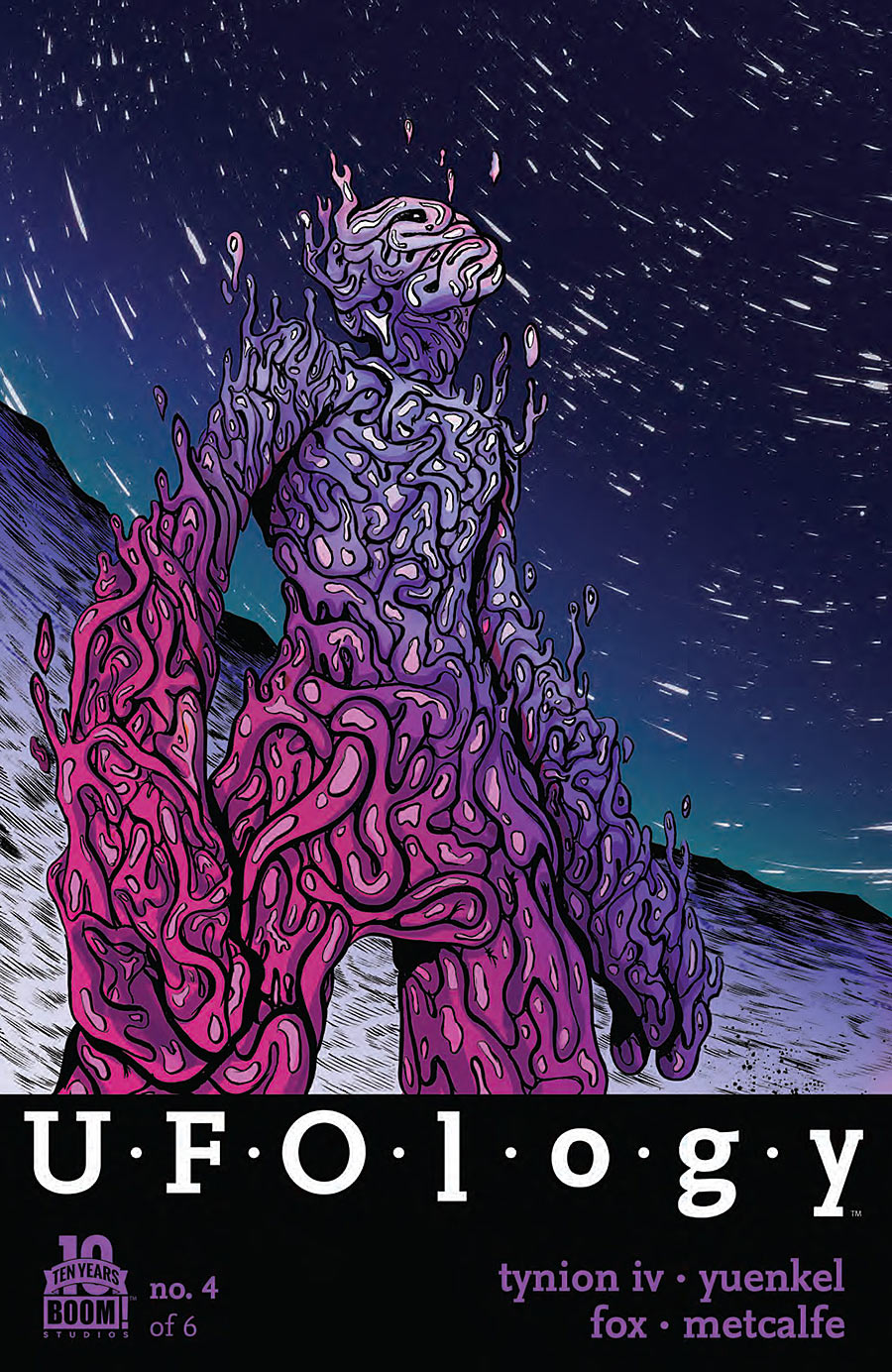 Author: James Tynion IV & Noah J.Yuenkel
Artist: Matthew Fox
Publisher: BOOM! Studios
Source: BOOM! Studios DRC
★★★☆☆
The creepy alien figures that showed up at the end of the last issue seem to be hallucinations – at least that's what Malcolm and Becky initially think. But when they discover a book hidden away in storage that links Becky up to something else entirely they have to really start questioning that. Unfortunately they don't get much of a chance before our creepy, slimy killer hitchhiker shows up to confront them. Talk about cliffhangers.
Still one of the best books around, I highly recommend this one once it comes out in trade paperback.
The Woods #15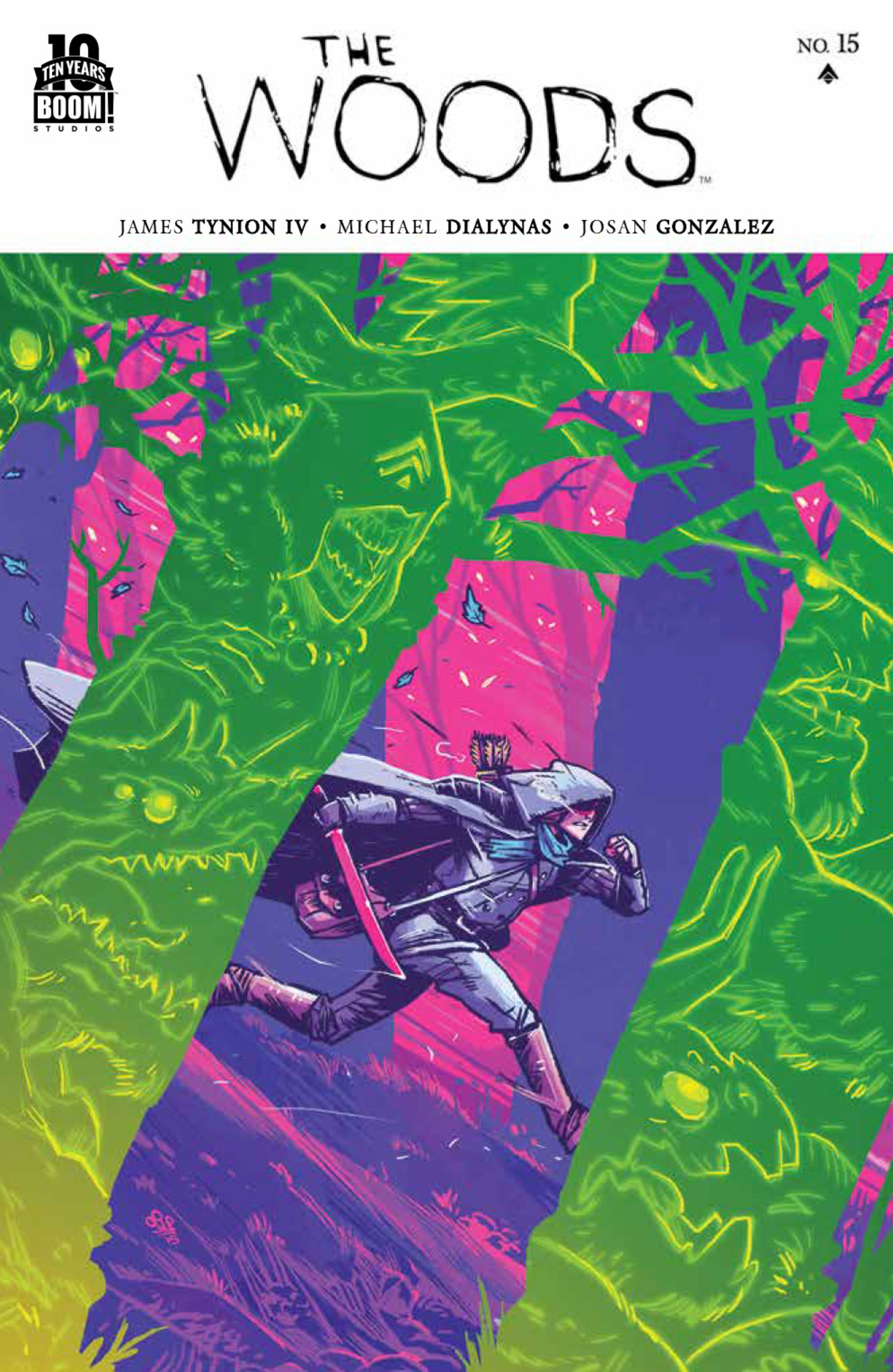 Author: James Tynion IV
Artist: Michael Dialynas
Publisher: BOOM! Studios
Source: BOOM! Studios DRC
★★★☆☆
Casey is working with the oncoming horde to get votes in the upcoming student council elections. He knows they are coming and has cut some sort of deal with them. Poor Calder has to watch as he turns Karen over to them though luckily Sander shows up shortly after. He brings him to the others to let them know that Karen is in danger but their reactions are mixed. Most of them don't want to trust Calder any more. Isaac refuses to care about Karen which brings him and Ben to a breaking point. The whole inner circle we grew to love in earlier issues really does start to fall apart. But they determine to rescue Karen and now Sander has to tell them everything – or listen to his father and leave them in the dark. Big decision, Sander.
And surprise twist!
It seems like Adrian may not be dead. Or he may just be a figment of Isaac's insane imagination. More likely, though, this is just another level to which Adrian has ascended courtesy of the planet's alien forces at work. We got a good plot twist at the end and good look at the horde but ultimately this issue got three stars because this whole squabbling between our main characters is getting a little old. We need to move forward – and that's exactly what it looks like we'll be doing next issue!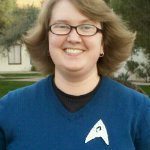 Sam Wildman is a co-founder and co-editor at Nerdophiles. She has scars but they don't make her hallucinate aliens so that's lame. @samaside


Kylee's Reads
Broken World #3 (of 4)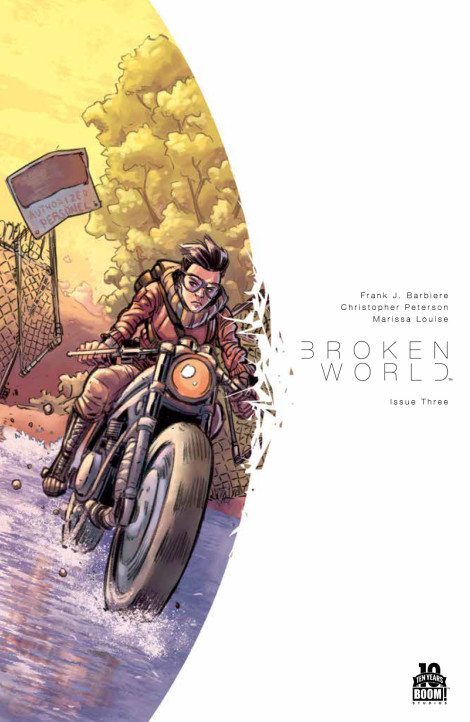 Author: Frank J. Barbiere
Artist: Christopher Peterson
Publisher: BOOM! Studios
Source: BOOM! Studios DRC
★★★☆☆
I'm worried that Broken World won't answer all the questions it has posed for readers in its last issue of the series, but we'll have to wait and see. Meanwhile, this issue showed us how far Elena is willing to go for the people she cares about. After Emma and David get their tires shot out approaching the camp, Elena is captured and held captive by Captain Griffin, someone she knows. He explains that the camp isn't taking in just any stragglers that come to them and gives her a mission in exchange for keeping Emma and David around.
Elena must head to one of the Children of the Revelation camps, where the leader Ted Holmes is rumored to be, and execute him. Another familiar face from her past makes an appearance and assists her in getting close to Holmes. The man projects confusingly pure intentions and readers are left with a cliffhanger going into the final issue. Questions remain about Elena's past (why couldn't she get on a shuttle in the first place?) and where exactly this fabled extra shuttle might be – or what those shuttles in space are doing. Do they even know the Earth survived? It will be interesting to see how Barbiere chooses to wrap up this compelling series.


Kylee Sills is an associate editor at Nerdophiles. She probably would've made it onto one of those transport spaceships in Broken World and then you know… Space. No reason to leave that. @kyleewho