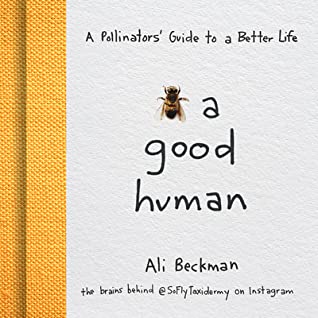 Title: Bee A Good Human: A Pollinators' Guide to a Better Life
Author: Ali Beckman
Publisher: Red Lightning Books
Publication Date: May 4, 2021
Find It: Goodreads | Amazon
Synopsis:
Combining inspiration, humor, and entomology, Instagram artist Ali Beckman (@SoFlyTaxidermy) is the internet's go-to gal for bug-related content that makes you a happier human.
Beckman's witty comics, which use actual insects in everyday situations, illustrate the importance of pollinators as well as body positivity and mental health awareness. Using creatures that are donated, purchased, or found dead to create amusing cartoons, Bee a Good Human highlights the integral role of insects in our environment while also demonstrating we all have a part to play in this world. Beyond bugs, Beckman's art speaks to the value of self-love as she shares a narrative of growth and finding confidence within.
Bee a Good Human features the best of Beckman's @SoFlyTaxidermy Instagram art. With 106 color illustrations, many of which have never appeared online, this gift of a book will make you consider the bigger picture—and laugh a little too.
Nerdophiles Review:
What comes to mind when you think of taxidermy? For me, it's a toss-up between lifeless deer heads with glassy eyes mounted on cabin walls, musty museum displays with Cro-Magnon in the foreground, or the quirky Bachelor contestant (and taxidermy enthusiast!) Kendall Long.
Bee a Good Human is most like that third option.
This cute book breaks the macabre stereotypes of taxidermy to bring light and humor to your coffee table. Created by Ali Beckman, of @SoFlyTaxidermy Instagram fame, each page has posed taxidermied insect(s) and doodles accompanied by a funny or motivational line. This quick, entomological romp is designed to make you smile.
Bees, butterflies, moths and flies are the stars of this book, with occasional guest appearances by spiders (arachnophobes be warned!) and beetles.
The beginning of the book starts with a motley series of reviews from science and celebrity backgrounds – Bachelor contestant Kendall Long has a quote at the beginning of the book, along with a smattering of other celebs, including my favorite musician lately, Phoebe Bridgers. Those, coupled with a beautiful forward by Kate Franzman, build the anticipation for a lovely, uplifting, clever, and refreshingly unique read.
Beyond the content, the book itself is gorgeous: the binding pops in pollinator-yellow and the photo-paper pages feel glossy and luxe. It's a great eye-catcher for any bookshelf or coffee table.
Bee a Good Human is adorable and witty and brought a smile to my face. And you can enjoy it guilt-free, because no insects were harmed in the making of the book- all the insects were found or sent to Beckman!
Check it out to see what all the buzz is about!